Beethoven's 5th AND 9th
Sometimes "Fate knocks at the door," and two local Orchestras decide to perform the two greatest musical works of all time – one week apart. This month Beethoven is in competition with himself as the Brevard Symphony presents Beethoven's 5th Symphony on Saturday, October 16. One week later, the Bach Festival Choir and Orchestra will perform Beethoven's 9th Symphony on October 23 and 24.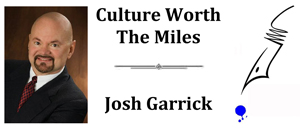 Pundits may argue which is greater till the end of time, but for those of us who luxuriate in the perfect sound that begins with the 4-note motif – ba ba ba BUM – there is a thrill in hearing these works performed live that cannot be replaced. Those 3 G's followed by E-flat have commanded attention for over 200 years. The 5th will be performed at the King Center in Melbourne. Phone 321-242-2024 or email [email protected].  Beethoven's 9th requires a great orchestra AND a great chorus, because the 9th Symphony presents us with the Master's "Ode to Joy." Completely deaf by the time he created the 9th Symphony, Beethoven was such an extraordinary human being that the sheer JOY in the sound he would never hear will always stand as an example of humanity's potential for greatness.  The Bach Festival will perform Beethoven's 9th on October 23 and 24 at the Knowles Chapel on the campus of Rollins College. Call 407.646.2182 or visit bachfestivalflorida.org.
Online ART Auction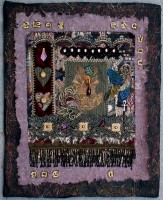 Real Art Collectors 'know' that auctions and fundraisers are the BEST places to find original, unique ART at great prices! Now – in support of the Museum of Florida Art (DeLand) – 85 of Florida's most celebrated Artists have donated original works of ART, and the bidding is ONLINE – from the comfort of your home.  With 'Opening Bids' as low as $30, we all have a chance to bid on original works of ART throughout the month of October leading to a LIVE AUCTION at the Museum on the night of November 11.  We don't even have to be at the live auction to 'win' an original piece of ART.  With 85 pieces of Art from which to choose, you could own your new piece of ART – by bidding online – much below the Gallery price!  Go online to MuseumofFloridaArt.org and click on "Art Attack – Florida Artists Give Back," place your bid, and support Florida's own Museum of Art.
Noises Off and Laughter On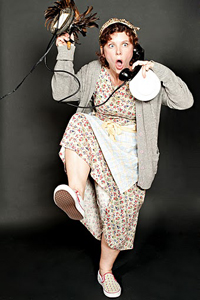 The idea for the comedy play Noises Off – which opens the season at the Winter Garden Theater – came about when playwright Michael Frayn was watching one of his own plays from backstage and thought, "It was funnier from behind than in front. One day I must write a farce from behind."  Frayn creates "a play within a play" – a bad sex comedy called "Nothing On," and all three acts of Noises Off contain a performance of Nothing On. We follow "the play" from rehearsal to opening night and on tour as romances and arguments break out, entrances are missed, relationships deteriorate, and the play falls apart. The laughter comes from the slapstick off-stage chaos affecting the on-stage performance. Noises Off is presented from October 15 through November 7 at the Garden Theatre,160 West Plant Street in Winter Garden. Visit gardentheatre.org or call 407.877.4736 x303
On Your Toes …
It's truly happening. Artistic Director Robert Hill is turning the Orlando Ballet Company into a great company, and he's doing it by breaking down pre-conceptions of what ballet IS.  He is seamlessly mixing the "classics" with what is sleek and new and modern. Opening the season with one of the greatest of the classics – Giselle – he is making sure it gets all the coaching it needs. The Orlando Ballet Dancers recently had the unprecedented opportunity to be coached by one of the greatest dancer-teachers in the world – the Artistic Director of American Ballet Theatre Kevin McKenzie. Giselle is a ballet which is all about subtlety, and it is exciting to anticipate the ways in which the dancer's special "coaching" will show up on-stage in this not-to-be-missed performance. Giselle will be performed on October 22, 23, and 24 at the Bob Carr. Call 407.426.1739 for tickets.
Art 'Veterans'
That jewel-box of a museum – The Mennello Museum – will open its Fall Season with two of the most beloved Fine Artist/Master-Teachers of Central Florida. Opening on October 15 with a reception from 6pm to 8 pm, the Museum will honor Maury Hurt and Grady Kimsey who have painted, created, taught, and influenced Florida artists and art students for over 40 years. Maury Hurt's facility with oil paint captures landscapes, dreamscapes and portraits with technical brilliance. Hurt will be joined by Grady Kimsey, locally celebrated and nationally recognized for his mysteriously whimsical sculptures. Grady Kimsey continues to inspire generations of artists, 'fusing' his mixed-media sculptures with fantastic narrative possibilities. The Mennello Museum of American Art is in Loch Haven Park at 900 East Princeton Street.  Call 407.246.4278 or visit MennelloMuseum.com
A Tribute to Frank Sinatra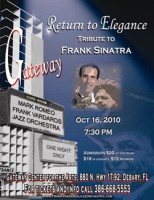 He emerged from the big band era to become the unrivaled interpreter of American song.  Frank Sinatra and his music have become legendary through a lifetime of recording and live performances. A Return to Elegance – to be presented at the Gateway Center for the Arts in DeBary – will cover the life of Sinatra from the big band era through the Vegas Rat Pack and into the Concert years. More than a tribute, A Return to Elegance brings Sinatra to life by Mark Romeo and the Frank Vardaros Jazz Orchestra. Taking the best from the 20th century vocalists, Mark Romeo combines those traditions to offer a modern interpretation to music we all love.  On October 16 at 7:30 pm, we can all re-live the thrill of a Sinatra concert at the Gateway Center for the Arts (located within Gateway Park) at 880 N. Highway 17-92 in DeBary. Visit www.gatewaycenterforthearts.org or call 386.668.5553.
Batman's Bad Boy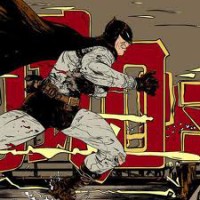 Illustrator, comic artist, print-maker, clothing and costume designer Paul Pope is one of the most influential comic artists in the world. And he has worked all over the world – from the experimental World Manga project in Japan, to his Vertigo series HEAVY LIQUID and the graphic novel 100%, to the award winning BATMAN YEAR 100. In a welcome piece of (for the public) programming, Paul Pope has been invited to give an artist's talk – an illustrated survey of his career – at 7 pm on Tuesday, October 19 at Stetson University in DeLand. The event is FREE and open to the public and will be held in the Rinker Auditorium at 345 N. Woodland Blvd. Members of the audience may ask questions following the talk.  Visit www.stetson.edu or call 386.822.7214.
And Not to be Missed …
Pump Boys and Dinettes
The "feel good, put a smile on your face 'Southern' musical" Pump Boys and Dinettes comes to The Winter Park Playhouse on October 15 and runs through November 7. Call 407-645-0145 or visit www.winterparkplayhouse.org
PHANTASMAGORIA
Put Frankenstein, Kafka, and Edgar Allen Poe in the hands of the always-inventive Director John Didonna, call it PHANTASMAGORIA, and we can be assured of an intriguing Halloween entertainment. Call 407.328.9005 or visit redchairproject.com
Florida Highwaymen at the History Center
"Against All Odds: The ART of the Highwaymen" brings together 26 African-American artists who sold paintings by the side of the road, collectively producing more than 200,000 paintings – through January 2. Call 407.836.8500 or visit thehistorycenter.org.
The Art of Edward Gorey
"Elegant Enigmas: The Art of Edward Gorey" shows off the sophisticated illustrator whose atmosphere of potential danger made 'creepiness' into fun – running through Halloween at the Orlando Museum of Art. Call 407 896 4231 or visit www.omart.org
Charles Turzak, Master of Modernism
American Modernist Charles Turzak epitomized the American Modern Art movement in the 1930s. His Art Deco woodcuts are on display at the Albin Polasek Museum running through November 14th.  Call 407-647-6294 or visit www.polasek.org