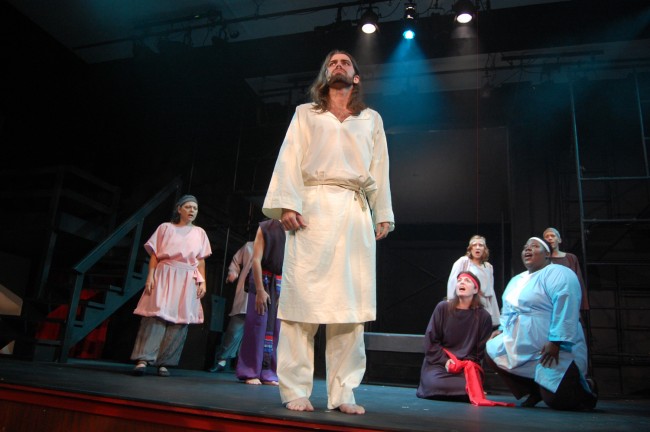 "What more fitting play to do in an old church than Jesus Christ Superstar?" says John Sbordone, the Flagler Playhouse's director. He was referring to the troupe's 5-year-old home, the much older, former First Baptist Church of Bunnell, where the Playhouse is inaugurating its 32nd season tonight with the play that made its debut just six years before the Playhouse was born, back when it was the Little Theater of Palm Coast. You could call the play and the troupe, and Sbordone himself, contemporaries.
"It's one of my favorites," Sbordone said of the play during a rehearsal break this week. "It's a perennial classic now. I know it had some trouble when it first came out, but it's something when you have the right cast, it's a great show to do—having a terrific Jesus, a terrific Judas, a terrific Mary, and then a large chorus that can sing and move." The terrific Jesus being Ryan Dineen, a character actor for Disney, a pianist and Andrew Lloyd Webber fanatic who went through a passion of his own this week when, during rehearsals, he stubbed and broke a toe and got stepped on to boot, making his agony just a little less imaginary.
The terrific Judas is Andrew Ramos, the play's intentional Jesus-upstager, whose ambiguous character provides one of the more compelling tensions in the play. And that kiss. And the terrific Mary—that is, Mary Magdalene, the ex-slut, not Mary the mother of god—being LaNiece Wilson, who gets to sing some of the play's few lines that still flirt with the daring:
He's a man
He's just a man
And I've had so many
Men before
In very many ways
He's just one more
Tim Rice, who wrote the opera, must have been under John Updike's spell.
There are pitfalls. For the actors, the play is extremely demanding, Sbordone says. For the audience, there's always that risk, especially in one of the Bible Belt's surlier buckles, of being offended by a biblical portrayal that doesn't hew strictly to the velvety Jesus of Holy Land experiences and Thomas Kinkade portraiture.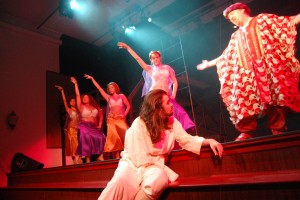 "If they come with pre-conceptions, we hope that they will be able to accept the Webber-Rice version of these events, because that's what it is," Sbordone says. "Although we follow the last days of Christ, it is certainly told from a relatively contemporary perspective for the late 60s, early 70s, and the politics, I'm sure, were a great deal more vibrant in 1970, 1969, than they are now."
The play, to Sbordone's knowledge, has never been staged in Flagler County before. But the times have radically changed. The play's political resonance is nothing like what it was when it was first staged, because the politics have changed, memories have faded, and what made "Jesus Christ Superstar" the cultural phenomenon that it was is not even remembered by more than half the population. Christ is a superstar these days, but for tamer, more commodified reasons. The Jesus of "Jesus Christ Superstar" had, ironically, tapped into the subversive nature of the original Jesus of 2000 years ago and turned it on the establishment it was critiquing. That audacity is mostly Greek to today's audiences–and interpretations of Christ, who might as well be wearing Brooks Brothers shirts.
By the time "Jesus Christ Superstar" premiered on Broadway on Oct. 12, 1971, the "rock opera," released as an album a year earlier, had already sold two and a half million copies. Christ was a superstar all over again, though this time he shared almost equal billing with Judas. The composer behind the opera, Andrew Lloyd Webber, who'd also written "Joseph and the Amazing Technicolor Dreamcoat," was becoming a superstar himself, as was Tim Rice, the lyricist.
Controversialists were finding the play, then the movie, a terrific excuse to make stars of their own carping. The National Jewish Community Relations Advisory Council, which represented nine Jewish organizations, accused Universal Pictures of reviving "religious sources of anti-Semitism" and Norman Jewison, the movie's director, of creating an "insidious work" that distorted biblical history. (The play's stereotypical portrayal of Jews as tormentors is relatively innocent compared to the brutality of Mel Gibson's portrayals of Jews.) At the time of course the nation was still agonizing through its own crucifixion in Vietnam. The civil rights movement had been eviscerated by assassinations and the South's latest rebellion. And Nixon's disgrace was right around the bend.
Not fun times.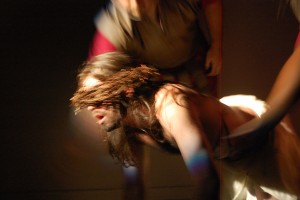 Against that backdrop "Jesus Christ Superstar," with is funky beat and contemporary lyrics, its nods to irony and gentle Mel Brooks-like spoofs of some of the Passion's most heartrending moments, the musical was a literal soundtrack to what a young generation saw as its own passion.
"'Jesus Christ Superstar' is the story of the last 10 years of my life—my life and the lives of all of us in our dead movement," wrote Meyer Kantor, a writer The New York Times invited to defend the play and the movie against clerical attacks and explain its significance to youth. "The character called Jesus is, to those of us who were involved in the civil rights and antiwar struggles, every sacrificing man of God we ever followed, from Martin Luther King to Dan and Phil Berrigan. Each started out teaching truths, basic and important truths. Each spoke of peace and equality for all men, of feeding the poor, housing the homeless, curing the sick. Each became the center of a cult." No, Kantor wrote, "Jesus Christ Superstar" is not the Bible's rock version. "All it is is a story about the ragtag army of the young who trudged through the sixties trying to build a better world, succeeding sometimes and failing sometimes, and being human always."
Maybe the play will resonate with a new crop of disillusioned youth. They're certainly around, after the dash and hope of 2008, down to the right's vilification of that young generation's latest lead idealist as a misconceived black messiah. Maybe it'll just resonate with older audiences who'll find something altogether nostalgic and comforting in that 70s beat wrapping around subversion–the kind of subversion that, by today's standards of Daily Show and Colbert satire, seems beyond quaint. And then there's the story itself. "With the crucifixion, and the lashes," Sbordone says, "it's so absolutely moving that anybody who has a soul will be able to go with us."

"Jesus Christ Superstar"
Oct. 22, 23, 29, 30 and Nov. 5, 6, 12, 13 at 7:30 p.m.; Matinees – Oct. 31 and Nov. 7 at 2:00 p.m. At the  Flagler Playhouse, 301 E. Moody Blvd.  in Bunnell, across from Holden House and next to the old courthouse.
Box office (386) 586-0773 or online at www.flaglerplayhouse.com
Tickets are $20.
Music by Andrew Lloyd Webber
Lyrics by Tim Rice
Music by Andrew Lloyd Webber
Directed by John Sbordone
Music Direction by Marina Lapina
Choreography by Diane Ellertsen
Light Design by Jack Neiberlein
Costumes by Nancy E. Howell
Produced by special arrangement with Rogers & Hammerstein Theatricals. Backing tracks to Jesus Christ Superstar produced by "The Pumproom" at http://www.pumproom.com.au
Cast: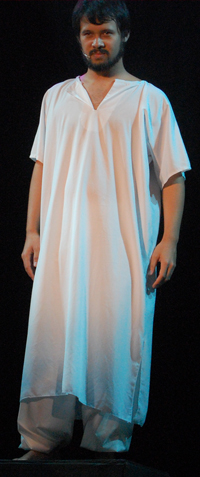 Jesus Christ…………Ryan Dineen
Judas Iscariot ……….Andrew Ramos
Mary Magdeline ……..Laniece Wilson
Caiaphas …………….Andre Maybin Jr.
Annas ………………..Leslie Van Brink
Pilate …………………Jack Neiberlein
Peter …………………Brett Cunningham
Herod ………………..Adam Mayo
Priest ………………..Josh Fagundes
Simon Zealotes ………Katrina Papillon
Apostles …
Alena Alfonso, Angela Andress, Frank Anello, Nella Dixon, Nancy Howell, Evelyn Lynam, James Menard, Henry Orlowski, Violet Stoll, Paul van de Graaf
Chorus …
Brittany Brubaker, Caitlin Burns, Onicas Gaddis, Gabie Jackman, Jim Lynam, Forrest Mason, Shelby Newport, Gabriel Savage
Principle Dancers …
Alena Alfonso, Angela Andress, Gabie Jackman, Shelby Newport
Understudy for Mr. Dineen .….Andre Maybin
Understudy for
Mr. Ramos & Mr. Maybin Jr.…Josh Fagundes
Production
Light Board Operator: Diane Ellertsen
Sound Board Operator: Tiffany Rufino
Assistant Stage Manager: Jim Lynam
Follow spot Operators: Jack Wilbern
Special Musical Assistance: Kelly Nelson
Special Recording Assistance: Ryan Dineen & Adam Mayo
Technical Director: Robert Long
Sound Engineering: Bruce Brady
Tech Crew: Robert Long, Jack Neiberlein, Brian Sellers, David Hayes, William Johnson
Dressers: Margaret Lynne DiCianni, Jenica Frederickson, Tori Miller
Costume Crew: Nancy E. Howell, Lynn DiCianni, Jenica Frederickson Maryanne Lopez, Tori Miller, Sharon Stoll, Monica Toner, Bonnie Turnbow
Make up: Jenica Frederickson