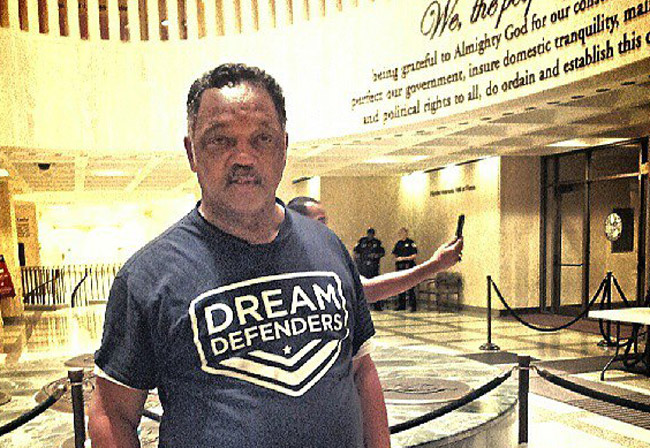 Gov. Rick Scott and other Republican leaders slammed the Rev. Jesse Jackson on Wednesday after the civil-rights veteran called a sit-in protest at Scott's office "the Selma of our time" while implicitly comparing the state to South Africa and Scott to George Wallace.
In a statement issued by his office, Scott took Jackson to task for the Selma comments made Tuesday and an earlier reported comment labeling Florida an "apartheid state."
"Jesse Jackson owes every Floridian an apology for his reckless and divisive comments," Scott said. "It is unfortunate that he would come to Florida to insult Floridians and divide our state at a time when we are striving for unity and healing."
Appearing on the Rick Sanchez Radio Show a few hours later, Jackson dismissed the call for him to apologize as "absurd."
Jackson also drew scorn from some Republicans for apparently comparing Scott to Wallace, an infamous, segregationist governor of Alabama, during remarks Tuesday.
Jackson spoke ahead of an overnight visit with the Dream Defenders, a group that has staged a sit-in at Scott's office to demand a special legislative session to consider changes to the state's self-defense laws, initiatives to end racial profiling and an end to zero-tolerance discipline policies in schools.
"We've seen Southern governors before have to change their minds," Jackson said when asked about Scott's insistence that he wouldn't call a special session. Jackson mentioned Wallace as an example of someone who had to change his mind.
That drew the ire of other Republicans.
"With Jesse Jackson having a history of making offensive remarks, like calling New York City 'Hymietown,' it's surprising to see that Democrats are not denouncing Jackson for what he said about Florida and Governor Rick Scott," Republican Party of Florida Chairman Lenny Curry said in a statement. "Jesse Jackson's attacks are offensive, inappropriate, divisive and ill-informed."
Pensacola Rep. Mike Hill, the only black Republican in the Legislature, also blasted Jackson's comments as "a disgrace" in a sharply-worded statement.
"When Jackson uses language that describes us as an apartheid state and compares our governor to one of history's most notorious bigots, he is either hopelessly out of touch or purposefully dishonest," Hill said.
The multipronged attack on Jackson came as the protests wore through a 16th day at the Capitol. Protesters have called their own "People's Session," and held a committee meeting in Scott's office to take testimony on zero-tolerance policies in schools.
During that meeting, officials from local chapters of the Democratic Black Caucus of Florida delivered a letter to Scott endorsing the protests. After being told Scott wasn't at the Capitol and chief of staff Adam Hollingsworth was in a meeting, the group read the letter from Henry Crespo Sr., the organization's president, before handing it to Scott's receptionist.
"As governor of Florida, you have the power to calm the fears of thousands of Florida families, especially blacks and Latinos, who are questioning the ability of this state to protect their children from the gross deficiencies of the aforementioned laws," the letter said.
Also Wednesday, Senate Minority Leader Chris Smith, D-Fort Lauderdale, unveiled a new website — FloridaStandYourGround.org — to help push for changes to the "stand your ground" self-defense law that has spurred a large amount of the debate.
"The website is a one-stop information center for anyone who wants to know more about the law, what it does, how it's being misused, and the proposed changes to fix its dangerous flaws," Smith said.
–Brandon Larrabee, News Service of Florida