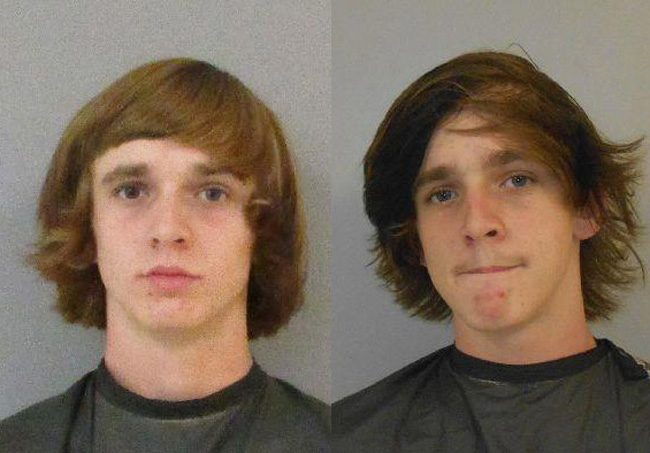 Jesse James Fisher turned 18 four months ago. He's had a long history of arrests, including felonies, going back to 2013, when he was 14. None of the incidents had involved firearms–until late last November when Fisher allegedly leaned out of a car in Palm Coast's L-Section and pointed a shotgun at another car occupied by a family of three. The truck Fisher was riding in followed that car a distance, then turned onto another street. Fisher knew at least one of the occupants of the car.
When Fisher was first charged over that incident, the charges were filed in juvenile court, where his case was proceeding. But at a pre-trial Monday, the State Attorney's Office transferred the case to adult court and started felony proceedings against Fisher as an adult.
That afternoon Fisher was booked at the Flagler County jail on three felony charges–three counts of aggravated assault (one for each of the persons in the car at whom he was allegedly pointing the shotgun) and a first-degree misdemeanor count of improper exhibition of a firearm. Before noon today he had posted bail on $16,000 bond.
The alleged incident took place the evening of on Nov. 23 outside a house on Leidel Drive. A young man who had been visiting his girlfriend there was outside the house with his girlfriend, waiting for his mother and his aunt to pick him up. Fisher and Fisher's girlfriend drove by in a maroon pickup truck, with Fisher's girlfriend at the wheel. As the alleged victims described it to Flagler County Sheriff's deputies, Fisher yelled out from the truck, "Yo, Robert, you want to fight?" He then reportedly yelled an obscenity and sped to the end of the street.
After the young man's mother and aunt had picked him up in their Nissan Altima, the three people in the car described to deputies Ficher and his girlfriend following them in their pick-up truck after passing it on Lee Drive. The maroon pick-up had been idle on the side of the road. As the pick-up truck was following the Altima, the witnesses all said, Fisher allegedly leaned out and pointed a rifle at them. A neighbor had witnessed the scene on lee Drive, saying she witnessed "a young white male in a pickup appear to be shooting at another vehicle, a smaller black Nissan Altima, with three occupants," according to the arrest report.
That evening deputies were not successful in locating Fisher. They searched the roads in the area and found no evidence of shots being fired. But he was subsequently arraigned in January. His previous arrests, as a juvenile, have included charges for giving false name while detained, theft, burglary, domestic violence, aggravated assault and criminal mischief. His first set of charges, when he was 14, were burglary, criminal mischief and grand theft.