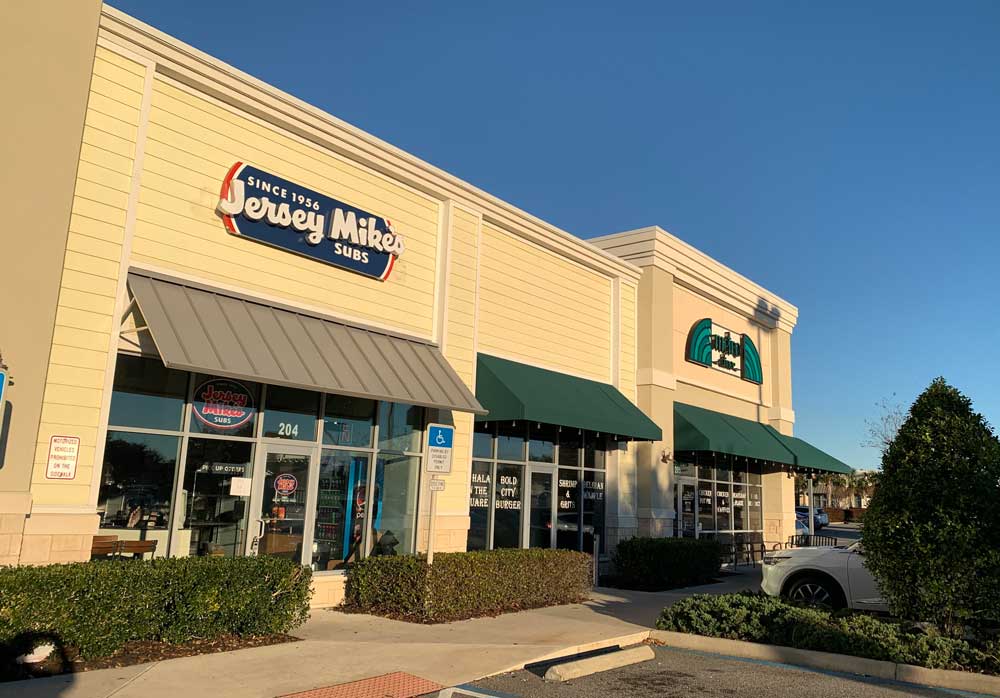 Jersey Mike's Subs will open its first location in Palm Coast or Flagler County on Wednesday at Island Walk, where it'll be sandwiched between Brass Tap and Tropical Cafe on one side and Metro Diner on the other.
FlaglerLive reported Jersey Mike's was on its way last July, when it had locked in on the store previously known as Crisp and Clean Dry Cleaning. Jersey Mike's has been a rapidly growing franchise, opening its 2000th restaurant last year. (See: "Confirmed: Jersey Mike's Subs Opening Restaurant at Palm Coast's Island Walk, Near Brass Tap.")




Local franchise owners Mark DeBiase and Drew Maider will hold a grand opening and fundraiser at the Island Walk location from Wednesday, January 18 to Sunday, January 22 to support Vincent's Clubhouse, the Florida non-profit that runs summer camps for children with autism and other sensory challenges. For Maider, the Palm Coast restaurant is his 14th, with stores form Fernandina Beach to Port Orange.
Customers who receive a special fundraising coupon distributed through a grassroots effort prior to the opening can make a minimum $2 contribution to Vincent's Clubhouse in exchange for a regular sub. Customers must have a coupon to be eligible.
The company was started with its first location on the Jersey shore in 1956, where it developed an ardent following and grew from there. Its latest marketing star is Danny DeVito, who grew up a few miles from the original location and is featured in commercials, marveling–in one of the 30-second spots–at the sizzles he thinks he hears inside a sub as he holds it up close to his hear.
So it goes with a franchise that has developed (and continues to nurture) a cult following. Franchise Times, the trade publication on franchising, ranked Jersey Mike's 16th in its 2023 top-40 of all types of franchises in the country, with 64.4 percent sales growth between 2019 and 2021, and 24 percent growth in the number of stores during the same time period. The company is privately held.
Maider in July said the Palm Coast location will employ 12 to 14 people.
Until now, its fans had to travel to Ormond Beach or Daytona Beach to watch meats and cheeses sliced on the spot and piled against the laws of physics on in-store baked bread.




"Jersey Mike's fans crave their subs made Mike's Way with the freshest vegetables – onions, lettuce and tomatoes – topped off with an exquisite zing of 'the juice,' red wine vinegar and an olive oil blend. Authentic cheesesteaks are grilled fresh," in the words of a company release issued ahead of the Palm Coast opening.
The release states that customers can place orders in-store or for pickup through the website or through the Jersey Mike's app. Delivery is available in most areas through the Jersey Mike's app or through third-party delivery partners. Curbside pickup is available for orders placed in Jersey Mike's app. The Palm Coast restaurant's hours are 10 a.m. to 9 p.m., seven days a week. You can contact this location directly at 386-585-4582.
The company is big on contributing to non-profits. Since 2010, its locations have raised more than $90 million for local charities. In 2022, the company's 12th Annual Jersey Mike's Month of Giving in March raised $20 million for the 2022 Special Olympics USA Games.