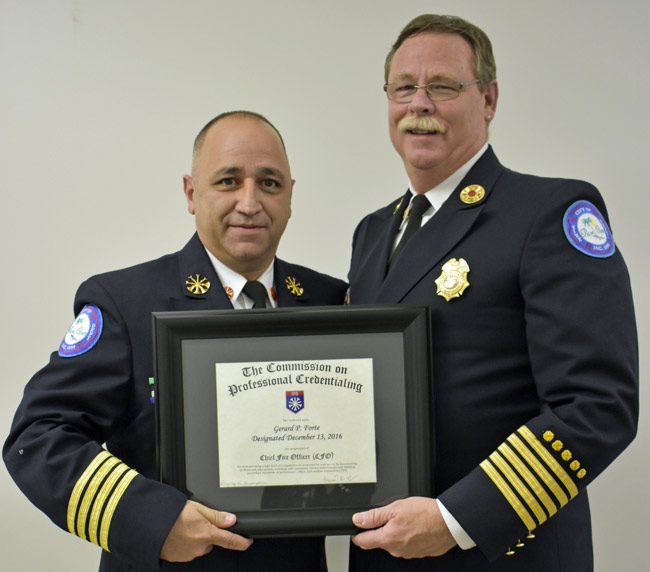 Palm Coast Deputy Fire Chief Gerard "Jerry" Forte has successfully completed the process to be awarded the professional designation of "Chief Fire Officer" from the Commission on Professional Credentialing, the city announced in a release this morning.
Deputy Chief Forte was recognized Tuesday by the Palm Coast City Council, with the Chief Fire Officer designation presented by Fire Chief Mike Beadle.
Forte is one of only 1,204 CFOs worldwide. The Commission on Professional Credentialing awards the CFO designation after an individual successfully meets all of the organization's stringent criteria. The process includes an assessment of the applicant's education, experience, professional development, technical competencies, contributions to the profession and community involvement. In addition, applicants are required to identify a future professional development plan.
The CFO designation program uses a comprehensive peer review model to evaluate candidates seeking the credential. The Commission found that Deputy Chief Forte has a rich knowledge of the emergency services professional and has far surpassed critical core competencies for personnel serving in senior fire officer positions.
Forte started with the Palm Coast Fire Department in 1992 and has risen through the ranks to second-in-command. He has served as Deputy Fire Chief since 2009. He is a graduate of Daytona State College's fire science program and also has earned a bachelor's degree in public administration and a master's in public policy.
Deputy Chief Forte has a strong record of leadership in City of Palm Coast government, including creating the City's Emergency Management Matrix that tracks employee assignments during emergencies, leading the team for the ISO assessment resulting in a rating of 2, and serving as operations chief of infectious disease response during the Ebola outbreak. Forte often stars in the City's public safety videos.
"The CFO program is not just about climbing the career ladder; the designation is about being a professional. Seeking this professional designation shows that you take what you do seriously with honor, purpose and dedication," Chief Beadle said at Tuesday's Council meeting. "It gives me great honor and pleasure to present Chief Jerry Forte with the 'Chief Fire Officer' designation."
The Commission on Professional Credentialing, an entity of the Center for Public Safety Excellence Inc., administers the CFO Designation Program. The CPC consists of individuals from academia, federal and local government, and fire and emergency medical services professions. To learn more about CPC, visit www.publicsafetyexcellence.org.
Palm Coast Fire Chief Beadle also holds the Chief Fire Officer designation.