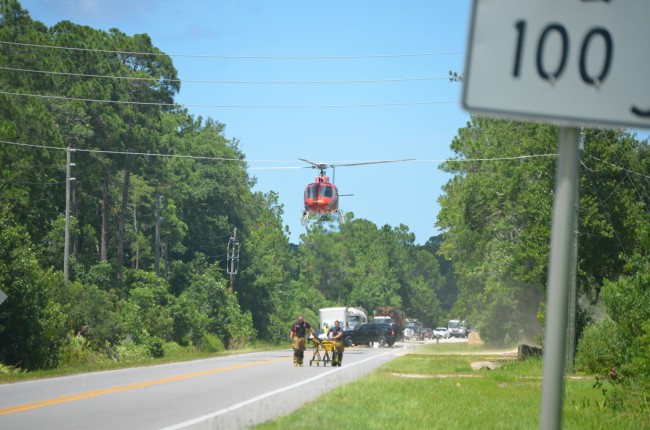 Jerry Culver, a 65-year-old resident of west Bunnell (on County Road 305), was evacuated by air to a trauma unit at Halifax Hospital Thursday afternoon after he lost control of his Ford Explorer on State Road 100 just west of Bunnell.
Culver was traveling east toward Bunnell when, for unknown reasons, he failed to properly negotiate the curve just past Deen Road and the Bimini Bar and Lounge. He Skidded off the road and overcorrected, sending the dark Explorer flipping two or three times, a Bunnell police officer at the scene said, as it smashed across a waterlogged ditch and into the wood-line.
Culver was partially ejected from the Explorer, and had to be extracted by Flagler County Fire Rescue units, who were assisted by Bunnell's Volunteer Fire Department.
The wreck took place around 2:30 p.m. State Road 100 was closed from Bunnell's welcome sign to Deen Road for about half an hour as Flagler County Fire Flight landed a small distance from the wreck to evacuate Culver. A Flagler County Fire Rescue captain at the scene said Culver suffered possibly a broken arm, had facial trauma, and was in an "altered level of consciousness."
No other vehicle was involved, and no one was traveling with Culver.
The Bunnell Police Department investigated with assistance from the Flagler County Sheriff's Office, which also provided traffic control as the Palm Coast Fire Police was engaged at another wreck on State Road 100 near the high school. Saxon's Towing cleared the wreck.
Fire Flight was back at its Flagler County Airport base at 4:12 p.m.
---
Watch Saxon's Wreckers At Work

[media id=331 width=500 height=400]