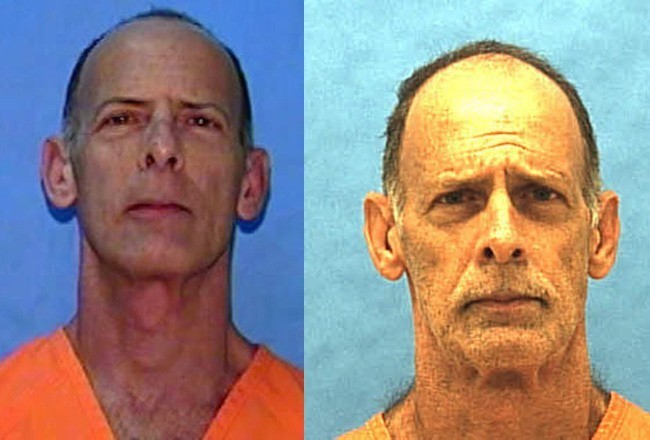 Update: Jerry Corell's execution is scheduled for Oct. 29 at 6 p.m. at Florida's Starke prison.
The Florida Supreme Court today (Oct. 2) lifted a stay of execution for Death Row inmate Jerry Correll, who argued that the state's lethal-injection method would violate his constitutional rights.
Justices issued a 30-page unanimous ruling that rejected arguments raised by attorneys for Correll, who was convicted in the 1985 stabbing deaths in Orlando of his ex-wife Susan Correll, their 5-year-old daughter Tuesday, his ex-mother-in-law Mary Lou Hines and her sister, Marybeth Jones.
Gov. Rick Scott ordered Correll's execution in January. Correll asked for stay. The execution was put on hold pending a U.S. Supreme Court decision in an Oklahoma case that centered on the use of the drug midazolam in the lethal-injection process.
States such as Oklahoma and Florida use midazolam as the first part of a three-drug combination, and Death Row inmates argued it violated constitutional protections against cruel and unusual punishment. The U.S. Supreme Court in June upheld the use of midazolam, but the Florida Supreme Court refused to lift a stay of Correll's execution, raising the possibility that the court would rethink capital punishment. That was not to be.
Correll, 59, argued that midazolam posed a higher risk to him because of his alleged brain damage and history of drug use, and the Florida Supreme Court said a circuit judge should consider that issue. Orange County Circuit Judge Jenifer Davis held a hearing in August and ruled against Correll. The Supreme Court decision Friday upheld Davis' ruling. The Supreme Court said "Correll's challenge to the use of midazolam fails first because he has failed to show that he is very likely to endure needless suffering upon the administration of midazolam."
The murders took place in early summer in 1985. The bodies of the four victims were discovered July 1 at Hines's home in orlando. According to the appeals court transcript, reproduced in the Supreme Court's decision (see below), all victims "had been repeatedly stabbed and died from massive hemorrhages; the three older victims had defensive type wounds on their hands. A sheriff's department investigator was called to the crime scene and
approximately an hour and a half after his arrival encountered Jerry Correll there. Correll was asked for a statement and subsequently went to the sheriff's department where he gave first an oral and then a tape recorded statement.
"In his statement, Correll indicated that on the night of the murders he had been drinking and smoking marijuana with a woman, who later drove with him to Kissimmee. While at the sheriff's department, Correll consented to having his fingerprints taken and having pictures of the scratches, cuts and bruises on his hands and forearms taken. The next day, Correll was again interviewed and subsequently arrested. After being advised of and waiving his Miranda rights, Correll gave another statement after his arrest. Several bloody fingerprints and palm prints found at the murder scene were later matched to Correll's. Evidence that he had previously threatened to kill his ex-wife was also admitted. In addition, he could not be ruled out as the person whose bloodstains were found at the scene and whose sperm was found in Susan Correll's vagina."
The jury recommended sentences of death by a vote of nine to three for the murder of Susan and 10-2 for Tuesday Correll, Mary Lou Hines, and Marybeth Jones. Florida is the only state in the nation where a majority, rather than unanimity, of the jury is required for a recommendation of execution. (In Alabama, a supermajority of 10 of 12 jurors is required.) A judge imposes sentence regardless.
Correll will be the 22nd inmate executed on Gov. Rick Scott's watch. Scott in early 2014 broke the record for most executions by any Florida governor in a single term. Jeb Bush ordered the execution of 21 people, but did so over two terms. The last inmate executed in Florida was Johnny Kormondy, on Jan. 15, after 10 years on death row. As of today, there are 395 people on Florida's Death Row.
–FlaglerLive and News Service of Florida