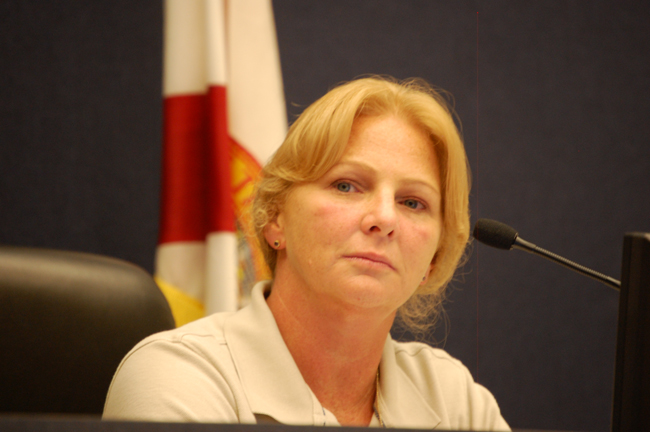 Carver Gym in Bunnell will not close. That's the confident prediction of Bunnell City Commissioner Jenny Crain-Brady, who last week led a meeting with key agencies on the fate of the embattled old gym in South Bunnell and reported back to her city commission Monday evening that all were interested in keeping it open.
Brady also proposed that Bunnell gradually take ownership of the gym from the county over the next four years and possibly relocate the Bunnell Police Department there and develop new ballfields on the 11 acres around the property. The rest of the Bunnell commissioners agreed, two of them reluctantly, as long as the county continued to contribute money to programs or upkeep there. (Bunnell Mayor Catherine Robinson was in Orlando, doing work related to her day job with Florida Health Care, so she was not part of the decision.)
That was the good news. The bad news is that that prediction is the direct result of a meeting Crain-Brady organized with City Manager Armando Martinez last week without noticing it according to the Sunshine law, which requires that all public meetings be open to the public. Crain-Brady's meeting was by invitation only, and the decision not to notice it publicly was intentional. "We didn't have to notice it," Crain-Brady said. "I asked and I was told no, just because it was a brainstorming, it was a vision meeting."
Whatever Crain-Brady terms it is irrelevant: "The Sunshine Law does not provide that cases be treated differently based upon their level of public importance," a 1994 district court of appeal case concluded. And at any rate the meeting's public importance was paramount. Crain-Brady and Martinez gathered a slew of key government officials, most of them elected or appointed to public boards, to discuss one of the most divisive and public issues of the last three months, which has been a repeated subject of discussion for the school board, the county commission and the Bunnell city commission.
Included in the meeting, held at 10 a.m. last Thursday at the old Bunnell city hall, were Brady herself, two county commissioners—George Hanns and Barbara Revels—three Flagler County Housing Authority members, School Superintendent Janet Valetine and School Board member Colleen Conklin, Bunnell City Manager Armando Martinez, Bunnell City Attorney Sid Nowell—who happens to be running for a circuit judgeship—Bunnell Police Chief Arthur Jones and Armando Martinez.
Nowell says he didn't know the meeting was not noticed. Nor had he asked, however, whether it had been.
"We didn't get legal advice. We just did it that way," Martinez said. "There was no mal-intent behind it." He added: "We didn't close it to anybody that wanted to attend. The only thing that wasn't done is it wasn't noticed."
Crain-Brady herself called it "a workshop." Workshops are not exempt from the sunshine law. And while she may argue that she was only representing herself at the meeting (which means her city commission did not explicitly delegate her to represent Bunnell, which would have required whatever sort of meeting she was attending, with whoever she was attending it, to be noticed publicly), Crain-Brady signed in as a representative of "City of Bunnell," not as herself, she expressly led that meeting with decision-making in mind, and said as much: "Thursday's meeting was just step one of many steps," she said. And Martinez said Hanns, the chairman of the county commission, "was there representing the county with the county administrator." Hanns also signed in as "Flagler County." As such, then, he was at least perceived at the meeting as a delegate of the commission, just as Conklin was seen as a delegate of the school board (she signed in as such). Crain-Brady certainly referred to them at Monday's meeting as that sort of representative: she was not conveying their personal opinions about Carver Gym when she said that everyone was on board to keep it open, but official intentions.
The meeting, in sum, was at the heart of the decision-making process—a process that involved what Crain-Brady described as transferring ownership of the gym from the county to the city, establishing the Boys & Girls Club as a lead activities coordinator there, involving the school board to offer classes there and moving the city's police department there, although it isn't clear whether Bunnell Chief Arthur Jones likes the idea ("He didn't oppose it," Crain-Brady said, while Jones himself was reluctant to comment on it). The dynamics of Thursday's meetings are unclear, however: it wasn't recorded. Jenny-Crain said government representatives at the meeting were to each go back to their respective boards to further discuss additional steps.
That's precisely why the Sunshine law is on the books: to ensure that the public is included at every step of the decision-making process, not just the final vote. The law, written in response to an era of scandalous back-room corruption, is to be construed "so as to frustrate all evasive devices," the Florida Supreme Court ruled. In other words, it's not just the letter of the law that must be followed, as it may have been in Thursday's meeting, but the spirit of the law.
Martinez says no one who showed up at the meeting would have been turned away. But Crain-Brady and the Bunnell city administration were at least evasive of public participation, however well-intentioned the meeting was.
And it isn't necessarily true that no one would have been turned away. Someone already was.  Bunnell City Commissioner Daisy Henry, for example, said she wanted to attend the meeting but was told by Martinez not to so as not to run into Sunshine Law issue. Yet Brady said Revels and Hanns, two members of the same commission, did not break the law because one sat at the table while the other was in the audience, and didn't stay for the whole meeting anyway (whether she stayed for five minutes or an hour is irrelevant). Why, under that assumption, the same opportunity was not extended to Henry isn't clear, though this is: Henry was directly instrumental in confronting the county commission last month over the commission's intention to close the gym. Henry had ideas of her own for the gym. Crain-Brady, by excluding her from a key meeting, was able to redirect decision-making her way. Bunnell City Commissioner Elbert Tucker was never told about the meeting.
Revels, in fact, received an invitation by email. She said she assumed the meeting was noticed publicly, and went to the meeting. County Administrator Craig Coffey tried to shoo her away, but Revels had received the invitation, was interested in the issue, and did not see Hanns as a representative of the county. Coffey, like Crain-Brady and Martinez, clearly knew the implications of the meeting–and that his administration hadn't publicly noticed it, either.
Tuesday morning Martinez conceded that not noticing the meeting publicly was "an honest mistake," and that all such future meetings would be clearly noticed. "The intentions were all good. The intention wasn't to exclude anybody. The intention was to include as many people as possible to try to find a solution," Martinez said, though that wasn't how Crain-Brady saw it: "I wasn't going to call you guys or the public. I felt like here's my list of people that I was going to call and I said I'm not, we won't get anywhere. I won't get anywhere if I have a roomful of all these organizations." None of the people who addressed the county commission last month in efforts to keep the gym open were invited. (A sign-in sheet was circulated during the meeting, and Crain-Brady had her own list of people she wanted invited. Both lists are public records that may not be discarded.)
Crain-Brady and Martinez said after the Monday meeting that the sunshine issue should not detract from the Carver Gym issue. They're right. But the detraction is their doing, displaying either ignorance or contempt for public participation, or both. Bunnell as a city has a spotty, sloppy record when it comes to respecting sunshine: earlier this month, Commissioner Jimmy Flynt pulled one of his frequent stunts during meetings—getting up in the middle of a public meeting, without calling for a recess, and summoning Nowell literally to a back room for "a consult." During meetings elected officials are to conduct all business in the open. And after meetings, they're not to huddle and chat about what they've just done or discussed, though those quickie huddles are frequent, too, and not just on the Bunnell commission.
Crain-Brady's meeting last Thursday is only the latest example of a culture of contempt for the Sunshine Law.