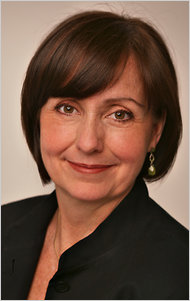 As the first social media editor of The New York Times, Jennifer Preston was given the task of identifying the role of social media in journalism. She'll discuss the subject at the Flagler College Forum on Government and Public Policy series on Oct. 7.
Preston served as the paper's social media editor from 2009 to 2011. She is now a reporter for the Times, "covering the intersection of social media, politics, government, business and real life," her Times biography states, and continues to be an evangelist for using social media tools for reporting, real-time publishing and engagement inside and outside the Times newsroom.
"A lot of journalists focus on using these tools to build their brands. That is important, of course," said Preston. "But it is also important that we keep the focus on how we can use these tools for journalism."
After returning to reporting in 2011, Preston focused on the impact of social media in politics, government, business and real life. She was also a writer of the now defunct Lede, a New York Times blog combining original reporting with curated news video, user-generated content from social platforms and old-fashioned blogging.
Before joining the Times as a political reporter in 1995, Preston was a deputy metropolitan editor and circulation-marketing manager at New York Newsday, the former city edition of Newsday. Preston is also the author of "Queen Bess," a biography of Bess Myerson, which grew out of her reporting on the municipal corruption scandal in the late 1980's in New York.
For more than 30 years, the Flagler College Forum on Government and Public Policy has invited nationally-recognized journalists and commentators to St. Augustine to discuss issues of importance in regional, state and federal government.
All forums take place at Lewis Auditorium at Flagler College, 14 Granada St., at 7 p.m. Forums are free and open to the public thanks to the generosity of speakers who donate their time in support of the series. Seating is on a first-come, first-served basis. Sign language interpreters are provided. Call (904) 819-6400 for more information.