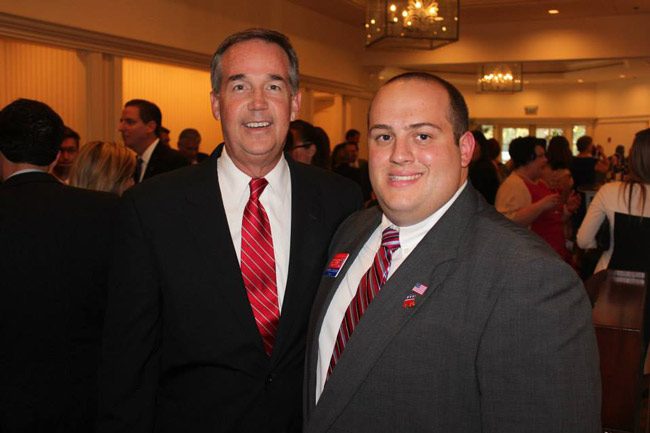 By Nancy Smith
Plenty of elected officials have served longer and noisier than Chief Financial Officer Jeff Atwater, but few have done so at every level of government with as much integrity and character.
That's just a fact. Just how it is. This unassuming public servant with Florida-royal blood in his veins, grew from a banking industry CEO into a political superman who is only leaving government because he — and nobody else — says it's time.
It's why, had you asked around last year and followed the polls, you would have known the smart money was on Atwater defeating anybody in his path — even incumbent Marco Rubio in the Republican senatorial primary, had Atwater run for Rubio's Senate seat and decided to stay in 'til the end.
"There's just nobody like him," Don Gaetz, president of the Florida Senate from 2012-2014, told me Sunday. "He and I served together for 10 years. In fact, he recruited me for the Senate, helped me through a tough primary. I can tell you, Jeff Atwater is the most gracious person in politics in Florida, bar none."
How so, gracious?
"He's helped so many who have come through the Legislature," Gaetz explained. "Anything you need … No one who has been in personal pain or difficulty in their life failed to get a helping hand from Jeff if he knew about it."
"My district is in Northwest Florida, he's from Palm Beach County," said Gaetz. "But through hurricanes, oil spills, any trouble we had in or around Pensacola … Jeff would get in his truck and drive up with supplies and help, or at least offer to do it. I mean, personally. That's the kind of man he is."
It's going to feel strange without Atwater's steady hand and keen mind in the Florida Capitol. When the 2017 legislative session ends, so does the Atwater reign. He has accepted the position of vice president of strategic initiatives and chief financial officer for Florida Atlantic University.
"Reign" is the right word. Atwater really is Florida royalty. He and his five siblings have a strong political pedigree. His great-grandfather was Napoleon Bonaparte Broward, governor of Florida from 1905 to 1909, after whom Broward County was named. And Hardee County was named for his mother's second cousin, Cary Hardee, governor from 1921 to 1925.
In my first interview with Atwater in West Palm Beach, when he first ran for the Senate, I asked him if he aspired to be a great man with a lasting legacy like his great-grandfather. His reply was this: "There are no great men. There are only men standing on the shoulders of other men and what they have done.'"
Which might be why Mike Haridopolos, Senate president from 2010 to 2012, told me he was always dumbfounded by Atwater's inate humility. "I remember when he was running for Senate president, when he had it in the bag, and he would say to me, 'Do you really think I'll have enough votes, Mike?' It was that humility, his even keel and his gift for putting a positive spin on the hardest of times, the toughest of circumstances … so much I admire about Jeff," recalled Haridopolos.
Atwater told me politics didn't interest him in the slightest growing up in Palm Beach County. He was known in his family and among his friends for his hard work, his sense of responsibility and patriotism — but never for any desire to run for office.
He told me the person he most tries to emulate is his father, John Stafford Atwater, a World War II fighter pilot and celebrated FBI agent who later became police chief of the Village of North Palm Beach.
"There really was a moment that changed my whole life," Atwater told me during a 2009 interview. "Like a lot of World War II vets, my dad wanted to visit Europe one last time. I went with him. And that did it. That was it. When we stood on the beach at Normandy, my future became crystal clear. Seeing a place so deeply marked by the sacrifice of American soldiers on D-Day … You just can't look upon that field and say 'I've done enough.'"
---
A consummate public servant who never really wanted to run for office.
---
Ken Pruitt, Senate president from 2006 to 2008, was instrumental in grooming Atwater for stardom in the Senate and nurtured Atwater's rise to succeed him as president. But he laughs now and admits Atwater's preparation might have been the easiest task he ever had. "I just looked on in admiration of Jeff every day."
Pruitt told me, "I was so impressed by his work ethic and his attitude. He didn't care about the political ramifications, if Florida needed something, he did it. He wasn't afraid of anything, least of all hard work. It was a privilege to work alongside him."
What a lot of people don't realize about him now is, as CFO, he's the one actually running the state, Pruitt told me. Rick Scott leads the state, he's the governor, but the day-to-day operations fall to Atwater. "And he has raised the bar in Florida government. It won't be easy to fill his shoes."
Gaetz and Pruitt both told me, almost in the same words, nobody loves Florida like Atwater.
Said Pruitt, "If ever there is a book written about the consummate public servant, it should be written about Jeff. He is what we should all aspire to be going into public office"
Atwater was elected to the North Palm Beach Village Council in 1993 but resigned a year later when his banking career took him to Vero Beach. In 1998 he returned to Palm Beach County, and in 2000, when a north-county House seat came open, he ran against two Republican opponents in the primary, winning 71.2 percent of the vote. He then took the seat outright in the general election with 57.6 percent of the vote. With his high energy and collegiality, he quickly made his mark in the House. When the Legislature carved out a new Senate seat, Atwater filed to run for it.
In fact, in the 2002 District 25 race, he stunned former Attorney General Bob Butterworth, one of the state's most recognized Democrats, by defeating him with 55.2 percent of the vote. And suddenly, a star was born.
At the urging of Senate President Jim King (2002 to 2004), Atwater was a key framer of the Senate's constitutional revision package. He also helped negotiate state takeover and funding of local courts and championed legislation to help migrant workers, local hospitals and trauma centers. In fact, the legislation he sponsored during his Senate years is a testament to conservatism, compassion and common sense, a three-way partnership he believes works best for the people of Florida.
Gaetz said one of his fondest memories of Atwater was the last speech he delivered, as he was leaving the Senate.
"He was admonishing senators, telling them always to freely and fiercely debate the issues they believe in, but do it on the Senate floor, never take it into the hallways, and once the debate is over and the vote is taken, accept the results. This is the process of our government.
"I'm telling you, that was the best farewell speech as Senate president I've ever heard, and I've heard a bunch of them."
Legislators saw the measure of Jeff Atwater when he walked new FAU President John Kelly office to office in the Capitol, introducing him to every lawmaker he could find. Atwater had applied for the FAU president's job three years ago and lost out to Kelly. Yet he sung Kelly's praises from pillar to post and gave the new man a head start in Tallahassee.
A lesser man than Atwater might not have been so inclined to help. Certainly it was evidence of the graciousness Gaetz was talking about.
In turn, Kelly jumped to hire Atwater as his No. 2 at FAU, recognizing the Florida CFO's qualities. It might also be said a lesser man than Kelly would not want the worry of hiring a man who had so ardently sought his job.
These leaders speak well for the future of Florida Atlantic University.
Nevertheless, you get the feeling Atwater isn't done in Florida government. Or maybe it isn't a feeling, it's just the hope of people who know him best.
"I haven't given up that sooner or later, Jeff will be governor of Florida or our U.S. senator," Gaetz told me. "When that day comes, I will be one of his many supporters."


Nancy Smith is the editor of Sunshine State News. She started her career at the Daily Mirror and The Observer in London before spending 28 years at The Stuart News/Port St. Lucie News as managing editor and associate editor. She was president of the Florida Society of Newspaper Editors in the mid-1990s. Reach her by email here, or follow her on twitter at @NancyLBSmith.