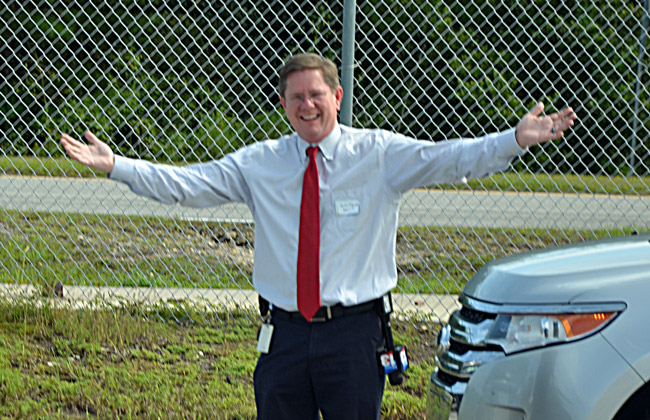 Jason Wheeler, for the past eight years the face of Flagler County news on Orlando's News 13 channel, has left his reporting gig at the television station to become the face of the Flagler County School District: he is its first-ever public information officer. He started Monday.
The new, $60,000-a-year-position—officially called "information specialist"—hasn't yet been entirely defined beyond certain obvious parameters common to most public information officers, but one reason Wheeler was chosen from among dozens of applicants was his savvy with video and on-air media, suggesting that the district will be more aggressively playing up its multimedia capabilities in the public eye. The model for Wheeler's task is likely to be Palm Coast TV, whose Tom Hanson has made into a juggernaut of productions, giving the city a much higher profile and presence at almost every community or political event it is involved in.
Wheeler, 45, will be reporting to Lynette Shott, the former principal at Flagler Palm Coast High School now heading a new department that combines the old student services division with what has become the office of student and community engagement. Katrina Townsend, who'd headed the student services for many years, was shifted to Belle Terre Elementary, where she will be an assistant principal.
The reorganization is reflective of Superintendent Jacob Oliva's intention to broaden the marketing of the district's programs to the community in hopes of further engaging the community at large—and not least, students—with those programs. It's also part of the district's efforts to counter what has been a slow but steady erosion of student enrollment in traditional public schools, with charter schools, voucher programs and home-schooling taking an increasing share of the district's student population. The district's traditional student population has remained stagnant for the past five years.
None of the reorganization will add costs to the district's administrative office, Oliva said. To the contrary: the reorganization is shaving some costs, he said.
---
A marketing push to stem the erosion of students to non-traditional schooling choices.
---
"As we were going through some district realignment and how we prioritize meeting our goal, the student and community engagement Shott is now overseeing is a big component of the district meeting its mission and vision," Oliva said. "We want to do a better job with our stakeholders in communications internally and externally."
Much of the task ahead for Wheeler will be to enhance perceptions of the district and better explain key developments such as the various schools' flagship programs—an Oliva priority—which are bridging the workplace with the classroom. Some schools, such as Flagler Palm Coast High School, developed their own recruiting videos. Wheeler, presumably, will be used in various capacities to provide similar services district-wide.
"It was just a different challenge. I've been in the TV industry for almost 20 years," Wheeler said (with a two-year hiatus along the way). He has lived in Palm Coast for nine years, has two sons in the Flagler school district—at Rymfire Elementary and Matanzas High School—his wife Shelley is invested locally as the co-owner of U Name It, the apparel and graphics company. He had no plans to go anywhere else, and for many journalists, the media industry has become a disheartening, unpredictable grind. Wheeler described it as the "same old, day in and day out, always on call, not being able to pick and choose what you want to be able to do. It just kid of wore on you."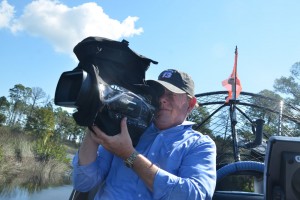 Shifting to the school district provides new opportunities in line with his expertise. Wheeler's goal: "Really, to I guess get a unified message out, that there are a lot of good things going on in the school district. Every organization has its warts and such, but I think there are a lot of great things going on here. They've had difficulty getting that word out. That's my number 1 challenge, I believe."
A Mobile, Ala., native, Wheeler was raised in Gainesville and graduated from the University of Alabama.
In television news, Wheeler was the only Flagler County-based reporter for any of the Orlando or Jacksonville stations that cover the county, and the only television reporter with any institutional history of the county. His routine generally included filing a story a day, five days a week, from Flagler.
That may continue with his eventual replacement.
"Essentially we plan to continue to be the best source of television news in Flagler County," Channel 13 News Director Susan D'Astoli said Thursday. "Please know that we're currently interviewing applicants who want to carry on that tradition. We're looking. We're not going to ignore Flagler County."
Of Wheeler, D'Astoli said: "He's certainly quality people."
"As we move forward with our commitment to community and student engagement Jason will be a great asset," Shott said in a news release the district issued today. "His expertise and passion for Flagler County and our school district will help us continue to improve our partnership with our families and community as we all work together to help every student reach their full potential