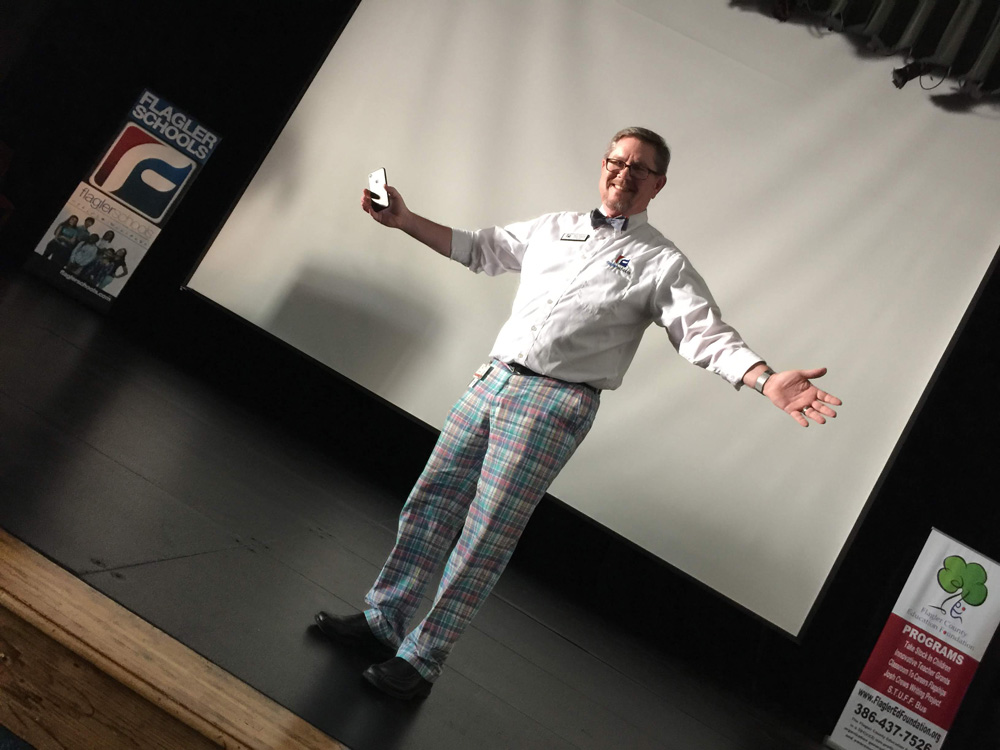 Jason Wheeler, the former television reporter hired eight years ago to build and anchor the Flagler County School district's communications hub, will be leaving the district at the end of the year for a similar job in the Panhandle. His departure adds to a continuing erosion of veterans with deep institutional knowledge of the district, with a brand new superintendent at the helm.
Asked if the school board's chronically abrasive, unpredictable and at times embarrassing antics are playing a role in his decision, Wheeler insisted that he does not answer to the board but to the superintendent–that's the case with all administrative position–and that he would have been just as happy to stay.




"I wasn't looking to get out. I would have no problem working this job until I retired," Wheeler said. "This is one of those jobs. Is it stressful? Yeah, but every job is stressful. This is a great job in a great school district." He was especially buoyed by the appointment of LaShakia Moore as superintendent. "I love LaShakia Moore. She's going to be a phenomenal superintendent," he said (past the point where he needs her recommendation letter, so obviously he was being sincere). "She's my fourth superintendent. She gets it. She has a vision. There's not a doubt she'll find someone who'll help her spread that vision."
As for him, he got an excellent opportunity to broaden his strategic communication skills for a different government. He'd done something similar four years ago, when his son was about to begin high school–an appropriate time to make a life change, if the family were to move. He'd applied for a job in Seattle, making then-Superintendent Jim Tager, who developed a close professional relationship with Wheeler, wonder whether he wasn't happy. Wheeler told him he was, but was just curious about a next challenge.
The job didn't come through. He committed for another four years. When his son graduated–one of his sons works in the district for the technology department, another, who attended Flagler Palm Coast High School's Fire Academy, is about to enter the local fire services as a firefighter-paramedic–he looked around again, and this time it "fell into my lap," he said. "At this time of my life it fits," Wheeler, 53, said. "I leave on great terms. No regrets. I think the people I work with and work for wish me well and they hate for me to go and I hate to go as well, but they also understand the decision I made. I think I could walk into any school and I'd be welcomed back. I haven't burned any bridges."




The job posting for his replacement was published at the district's website Monday, with a Dec. 1 deadline for a job that pays up to $76,000.
"I'm very sad to se him go," School Board Chair Cheryl Massaro said. "The value of the department is incredible and it's changed and he's done a lot of great things for the district, but I understand it's also a chance for him to continue to grow and I wish him well in his new position." Massaro said Wheeler brought the district's communications into the 21st century, "and we need to continue to grow so it's going to be big shoes to fill." She added: "We're going back to the drawing board on this one to see who's out there and who's interested."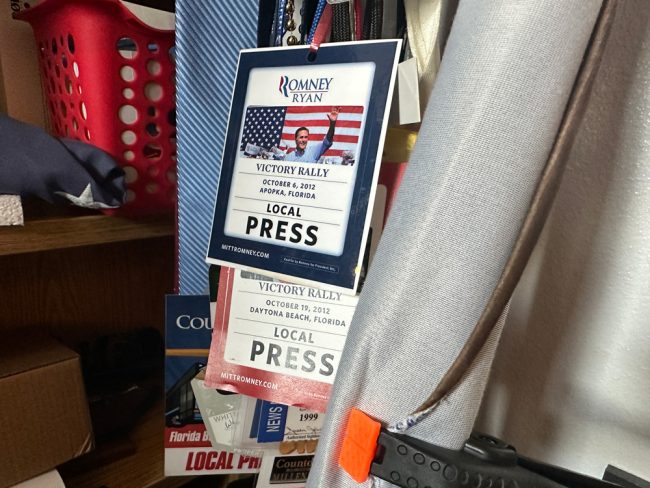 Local governments have typically had a difficult time filling communications positions. Palm Coast government flipped through a few communications directors before landing on Brittany Kershaw, who'd been the Sheriff's Office's ace in that role. That left the Sheriff's Office scrambling through candidate after candidate for a couple of years before finding stability with Ava Hanner, a more Kershaw-like professional. Flagler County government has been trying to fill its Communications and Engagement Manager slot without success, coming close with one candidate who accepted the job then retreated last July, citing "a better cultural fit."
Wheeler's communications skills applied inside and outside the district, among similarly positioned colleagues and with local media–an essential part of the job. "I admire someone who is willing to wear a quirky suit, quirky socks, like Jason Wheeler. He's got a good sense of humor," Brian McMillan, who's known Wheeler as an editor of the Palm Coast Observer, and now as the paper's publisher, since Wheeler's arrival. "I think that's important in the news communications world. It kind of helps to show you're willing to be professional about your job and keep it at an appropriate arm's length." McMillan had admired Wheeler for going from television news to what amounts to a public service job on Flagler schools' behalf.




"Jason has been a great colleague over the years as a fellow communications professional in Flagler County," Kershaw, Palm Coast government's communications and marketing director, said. "He was one of the first to join the Flagler County Crisis Communicators group and we've worked together through a myriad of storms, both figuratively and literally. I wish him the best on his new adventure. His new team is truly fortunate to have such a seasoned professional joining their ranks."
A native of Mobile, Ala., Wheeler started his career as a television reporter in Augusta, Ga., was the anchor of a morning news show in Mobile for five years, then covered Flagler and Central Florida for News 13 (now Spectrum News 13) for eight years before then-Superintendent Jacob Oliva hired him as the district's first communications coordinator. Oliva was especially interested in marketing the district through video and using Wheeler's television skills. It didn't look like a difficult transition, and Wheeler hasn't missed the reporter's beat.
Not that his current position hasn't lacked in challenges. Wheeler speaks of the magic of being around kids, and of seeing teachers "working their tails off" every day: he's just completed producing the video profiles of all the teacher of the year candidates, spending half an hour in each teacher's classroom, seeing the work getting done first-hand. "Unfortunately all the other stuff drowns that out sometimes," he said, without specifying. Not that he needed to: district employees' collective eyerolls at the behavior of some school board members can be spotted from space.




Then there's social media, a challenge in and out of the communications field. Wheeler said there's been no point in trying to put off fires on social media accounts every time a rumor crops up: he's relied on the district's own social media pages to tell the district's stories. That landscape keeps changing, and is very different from when Oliva hired him. He's since worked with Tager, Cathy Mittelstadt and now Moore.
"People come and go but this job remains the same. The other stuff, the outside noise, is it more challenging? Yeah, it's challenging but not in a bad way," Wheeler said. "I think it makes jobs like this more important for us to tell these stories and empower our folks on our campuses to rise above all that noise. I think the vast majority of our parents support what we're doing." They're not always on social media saying so, but they show it in more substantial ways, as when 69 percent of voters approved the renewal of the district's half-cent sales tax supplement in 2022.
That, Wheeler said, is "an indication of where we are in the community." At least before three new members took the board in unusual directions.
###