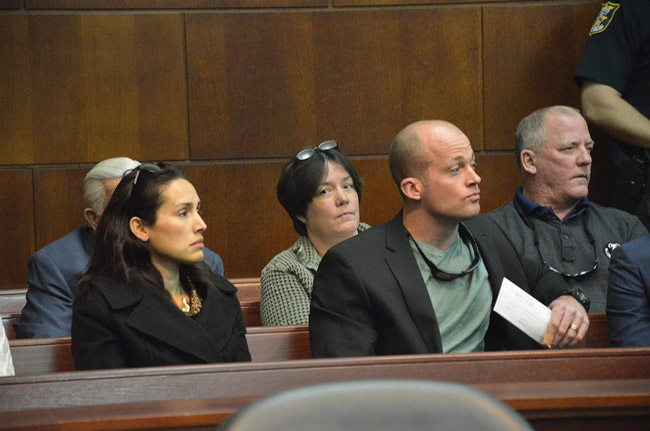 Jared Parkey, the 31-year-old Flagler County firefighter accused of throwing a deadly missile at a car in a road-rage incident–a felony–pleaded to two misdemeanor charges in a St. Augustine courtroom this morning, and was sentenced to two years' probation.
The incident took place during a road confrontation with ex-Flagler Beach cop Nathaniel Juratovac, who in March 2013 twice shot and wounded Parkey, who was unarmed, after the two had pafrked their cars on the side of U.S. 1 in St. Johns County. Both men had their wives and a child in their respective cars. Juratovac, whose wife is a deputy with the St. Johns County Sheriff's Office, was charged with attempted murder. He was sentenced to four years in prison, an unusually light sentence for the crime. Days after that proceeding, in another odd wrinkle to the case, Parkey was charged with the felony.
He pleaded down to simple battery and criminal mischief. According to the News-Journal's Tony Holt, who first reported the conviction this morning from St. Augustine, Parkey's driver's license is suspended for 30 days, but that won't affect his right to drive to or for work. And he will have to deliver five talks to students about the dangers of road rage, and pay $8,000 in restitution for damages to both vehicles involved in the incident, including his own.
"I Just got off the phone with him," Flagler County Fire Chief Don Petito said this morning. "He pled down to misdemeanor charges, he's able to keep his license for work, so as far as the county is concerned he's an employee in good standing and he will remain that way." Parkey is a firefighter-paramedic. "He does a lot of our water rescue and technical rescues, drives a ladder truck, a tanker, and he's very active in all the aspects of fire rescue."
"He's an excellent employee, comes to work every time, does his job, does extra, never had any incidents where he had to be written up," Petito said. "He's happy it's over. Now he can get on with his life now that the court is over."
The previous story is below.

Jared Parkey, Flagler Firefighter Involved in Road Rage Incident, Faces Felony Charge
February 15, 2014–Jared Parkey, the 31-year-old Flagler County firefighter twice shot in a road rage incident on U.S. 1 by an ex-Flagler Beach cop last year, was charged with a second-degree felony for throwing a water bottle at the ex-cop's car during the incident.
The ex-cop, Nathaniel Juratovac, was sentenced to four years in prison last month as Parkey watched the proceedings with his wife, among a sparse audience.
Parkey, a resident of St. Augustine, turned himself in at the Putnam County jail on Thursday on a warrant issued by the St. Johns County Sheriff's Office, and was released on $5,000 bond. Parkey reported to work at Flagler County Fire Rescue the next day.
The Sheriff's Office filed the charge against Parkey almost a year after the March 2012 incident on U.S. 1. The extent of the delay is unusual, though the case has been overlaid with with idiosyncrasies and surprises from its origins.
The charge, throwing a missile at a car, is punishable by up to 15 years in prison if it leads to a conviction, raising the extraordinary possibility that Parkey could face a harsher punishment than the man who shot him. Parkey was unarmed when he was shot on the side of the road after he and Juratovac had tangled with their cars on the highway. Both men had a wife and daughter in their vehicles at the time of the confrontation.
Juratovac's wife is a St. Johns County Sheriff's deputy in good standing. She was at her husband's sentencing, where her husband showed no contrition for shooting Parkey, and said he was acting in defense of his family. Circuit Court Judge J. Michael Traynor pointedly laid the blame for the road rage incident and its outcome on both men. "We wouldn't be in this situation today if two people hadn't acted irresponsibly and recklessly on the highway," Traynor said.
The March 29, 2013, incident unfolded just north of the Flagler-St. Johns County line. Both families were driving north. Parkey was returning from a vacation in South Florida. Juratrovac had been house-hunting. The two men began dueling on the highway, break-checking and playing chicken, according to witnesses, leading up to Parkey's throwing of a water jug at Juratovac's car. Juratovac's and Parkey's car then bumped each other. The men quickly swerved and parked on the shoulder, where Juratovac rapidly took his .45-caliber gun out of the glove box, walked out, and shot Parkey twice (Parkey had also gotten out of his car).
Juratovac was charged with attempted murder and initially pleaded not guilty, then agreed to plea to the 51-month prison term, with credit for time served at the St. Johns County jail.