On October 31, 2011, Rebecca Crowley, 29 at the time, was working the morning shift at Sharps Liquor in Palm Coast. A man came in asking about a type of drink, only then seize Crowley, point a gun at her, and take $250 from the cash register and $700 from the safe. The man dragged Crowley by the hair to the stock room, zip-tied her arms and legs as she screamed for help, and threatened to harm her of she spoke of the robbery.
Thursday afternoon, Crowley cried as she watched the video of that robbery as it played during closing arguments in the four-day trial of Jaquez Roland, the 35-year-old man accused of robbing the store and committing other acts of violence on Crowley.
"I was scared, thinking about my children," Crowley said at the end of the trial. "I had one child blinking in one eye and the other child blinking in the other eye when he was waving that gun in my face, and that's all I could think about."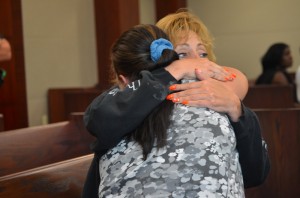 Moments later, Crowley was crying and smiling with relief, and hugging her friend and Sharps Liquor manager Carol Eure, as a jury of four women and two men read a verdict they took just 30 minutes to reach: guilty on all charges: armed robbery, grand theft, false imprisonment. When Roland is sentenced, likely on July 12, by County Court Judge Melissa Moore-Stens, he will face a minimum of 30 years in prison, because he committed the robbery within three years of being released from prison.
It took a moment for the weight of the verdict to sink in. At first Roland was standing, dry-eyed, expressionless, as each guilty verdict was read, but after Assistant Public Defender Regina Nunnally, his attorney, asked for each member of the jury to be polled, Roland's tears reddened. Two family members were in the audience, one of whom had been crying from the moment the first guilty verdict was heard.
Roland was briefly rattled, and at one point, before he was put in handcuffs, a bailiff was heard telling another bailiff to take Roland away immediately, and telling Roland, "don't challenge me." Roland had been looking back toward his family, perhaps wanting to have some interaction with the woman and the girl who were vin the audience, and being denied the opportunity to do so, as convicts usually are. He calmed down, was handcuffed, and a little while later, after Moore-Stens revoked his $429,000 bond, was taken into custody, back at the Flagler County jail.
Nunnally, as is customary between attorneys, congratulated the prosecutors—Assistant State Attorney Richard Price, who handled most of the trial, and Assistant State Attorney Ben Fox, who did closing arguments.
She had in her closing pointed at a series of inconsistencies in the state's case, and the literal disappearance of a surveillance video at a Burger King, where Roland was believed to have gone after the robbery. The video had played a key role in the initial investigation. Several witnesses for the prosecution had seen it. But the video could not be produced at trial. "Was that done on purpose? Can't say it was. But was that negligent? Yes it was," Nunnally said. She noted that the gun used in the robbery was an air gun, not a real gun (though Crowley didn't know that at the time).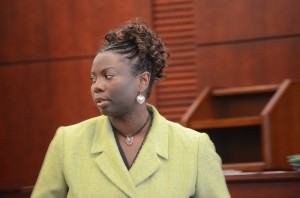 She also cast doubt on the central element in the prosecution's evidence: DNA linking clothes worn in the robbery to Roland. DNA evidence is usually insurmountable. But Nunnally pointed out that the two gloves and the jacket tested for DNA had two "contributors"—that is, the DNA collected belonged to two people. Fox in his closing had said that Roland's DNA was the primary contributor, and that it was "inconceivable" that someone else had worn the jacket and gloves in the given time frame. But Nunnally wheeled an empty chair from one side of the court room to its center, in front of the jury, pointed, called it an empty chair, and said the real suspect in the robbery had not yet filled that chair. But it wasn't Roland. "Someone else wore that jacket, somebody else wore those gloves, and we don't know about the pants because nobody tested those," Nunnally said.
Crowley conceded after the trial that Nunnally had made her nervous. "I thought for a moment she had a good argument, and I was very scared that he was going to get off," Crowley said. "I was upset, they were saying my name, and saying my name in full and where I full, I thought you've got to be kidding me. If he got off, I don't know, because they have nobody else."
Fox dismissed the public defender's tactic. "That empty chair over there is empty because it does not support any claim that there is any other suspect," he said. And if the DNA was not a match, he said, "it would be a coincidence of epic proportions," with that statistical probability in the quadrillions or quintillions, he said—calculations that have no earthly bearings and are literally "astronomical."
The jury stuck with the state's version.
"DNA is what solved the case for us," Price said after the trial. "But the way we got the DNA was very unique. Law enforcement were investigating a crime at a liquor store when a gentleman pulled up in his car, said he was just getting breakfast at Burger King, and there was a real sweaty, suspicious looking man out there, and it may be related. So they go down to Burger King and indeed, a sweaty, suspicious looking man came in there asking for a woman asking for Patty Smith. Patty Smith is an employee there. She comes in and they ask her to look at the video and she's, 'oh, that's Quez.' They determine that that person is Jaquez Roland, and the detective pulled up his driver's license photo, looked at the video, and said indeed that is Jaquez Roland. With that, they got a search warrant for Jaquez Roland to have his cheek swabbed, through some other investigation, and they were able to match that with DNA on the jacket and the gloves that were recovered right in the back of the liquor store, so it if hadn't been for that concerned—just that citizen who'd happened to be eating his breakfast at Burger King, the case may never have been solved."
Roland, until his arrest a resident of 11 Service Tree Place in Palm Coast, had served had served an eight-year prison sentence, from 2002 to 2010, on a Broward County case—for armed burglary. Because of that, his sentence will be much steeper. He faces a minimum of 30 years on the armed robbery charge, and five years each on the grand theft and false imprisonment charges, though Moore-Stens may choose to impose those concurrently (meaning that he would serve them at the same time as the 30-year sentence—as opposed to consecutively.
Roland is implicated in two other Palm Coast robberies. Two weeks before the Sharps Liquor robbery, he robbed a Microtel employee at gunpoint, and tied that victim's hands with the kind of zip-tie used in the Sharps Liquor robbery. That same day, at about 3:35 a.m., a Bunnell resident of Bacher Street reported to police that Roland–whom the victim identified by name to Bunnell police–attempted to break into her bedroom, according to a Bunnell Police Department report. But it is unlikely that he will be tried for those.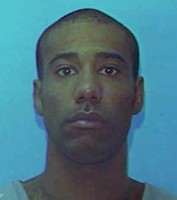 "At this point," Price said, "and like I was telling the victim, with this minimums sentence he can get, he'll be 67 years old when he is eligible to get out of prison. Based on that, the other cases may end up getting a concurrent plea. But we haven't gotten to that point yet."
Prosecutors were clearly relieved with the verdict. "Any time someone comes out of prison and commits this type of serious, violent crime immediately after, times three," Price said, "really affects people's lives, like Rebecca Crowley. It's nice to see them off the streets for 30 years. It was very important to us, especially when I sit down to meet with the victim, and start to feel how they feel and get close to them. It really becomes passionate."
Crowley rerembers how she dealt with the robbery. First, she continued working that day: "Nobody told me until the next day that they'd have paid me if I'd gone home," she said. Then? "I became a big alcoholic for a while, that's how I dealt with it, stayed at home for a long time. I'm doing a lot better now, yeah, definitely. It's been a year and seven months now."
Eure said she was "all fine now," and spoke for both of them as they walked away from the courtroom, down the squarish hall of the courthouse's fourth floor in late afternoon: "It's a happy day, it's absolutely a happy day, a long time coming. For once the good guys won."