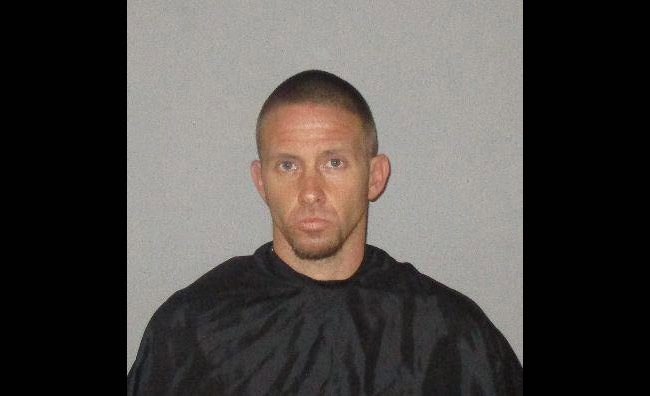 Steven Janvrin, a 32-year-old resident of Rosewood Street in Bunnell wanted on drug charges, was arrested following a chase Friday in Daytona North, as a police dog found him hiding in woods.
Shortly before 1 p.m. Flagler County's 911 dispatch center got a call from a friend of Janvrin's. She was worried that he was driving around in a white Chevy, making suicidal statements–and that he had a gun. As it turned out, he did have a gun and he'd written a suicide note.
Flagler County Sheriff's deputies spotted the Chevy on Mahogany Boulevard in the Mondex, also known as Daytona North. Deputies are familiar with Janvrin, whose first arrest–on a minor pot charge–dates back to 2008, and who's faced a felony grand theft charge (adjudication was withheld in 2013 but he then violated probation), and he was again arrested last year on drug charges, including a felony, and sentenced to probation, which he again violated. In march, he was among the individuals sought in a sheriff's operation dubbed "Spring Mix."
When deputies followed Janvrin, their emergency lights on, he allegedly ignored them and sped forth. Deputies deactivated the lights but continued the search, assisted by Flagler County Fire Flight, the emergency helicopter, and eventually found the car. It had crashed off Blueberry Street. The vehicle had crashed into a pole. The crash may have been intentional. But it was empty. The K9 called Tag located Janvrin in thick brush not far from 3995 Fruitwood Avenue–and bit him on the right shoulder.
As he was being taken to AdventHealth hospital to be checked out, a deputy stopped at a Dollar General to get him water, and there, Janvrin said he was worried that children might find his firearm. He agreed to show the deputy where he'd dropped it off. A deputy located the Ruger P89 pistol two feet into the woods on the west side of the road, across from 2345 Blueberry Street. It had a round in the chamber and seven rounds in the magazine.
After he was cleared and booked at the county jail, authorities located a suicide note he'd written. Janvrin is being charged with Aggravated Fleeing and Eluding with Disregard to Person or Property, Resisting an Officer Without Violence, Felony Driving While License Suspended, Sale of Methamphetamine, and Unlawful Use of a Two-Way Communication Device. He is being held on $16,500 bond. "As I said during 'Operation Spring Mix' you can run but you can't hide," Sheriff Rick Staly said.