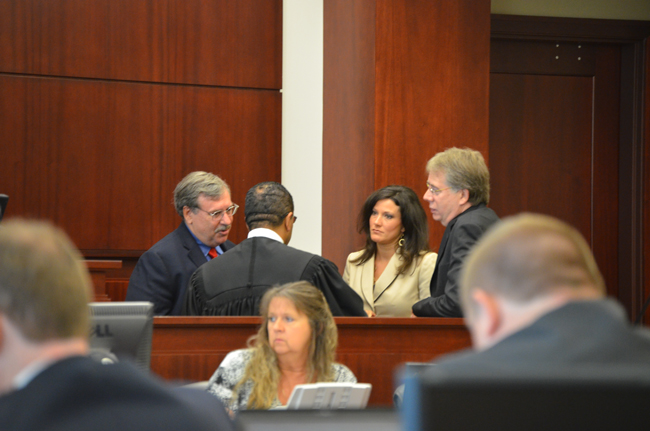 Pushed back once already, the case of Jamesine Fischer, the woman accused of killing 76-year-old Francoise Pecqueur in an alleged hit-and-run almost a year ago in Palm Coast, was pushed back to January. Fischer faces a first-degree felony charge, to which she has pleaded not guilty.
Fischer did not appear in court this morning. Her attorney, Steven Alexander, told Circuit Judge Raul Zambrano that he had completed 25 to 28 depositions in the case, but needed to conduct 20 more.
The continuance would have been of little significance had it not been for its underlying political ramifications: it is a victory for Flagler County Sheriff Don Fleming, who is entangled in the case: the night of the incident, and in subsequent days, Fleming had several phone exchanges with John Fischer, the school board member and the husband of Jamesine, discussing the wreck, and subsequently, the fatality. It was Fleming who directed Fischer to Alexander. Fleming has given different accounts of his conversations with Fischer, raising questions about his judgments and involvement in the case on behalf of a friend.
Fleming is in a reelection battle against former Sheriff Jim Manfre. Had the trial unfolded over the next few weeks, it would have brought potentially damaging publicity to his campaign. Four years ago, Fleming beat Manfre by barely more than 800 votes, a difference of 1.8 percent. Now that the trial has been shifted to January, one of the most difficult obstacles in Fleming's way has been rendered essentially moot, absent further revelations in the case before Nov. 6. There will be a pre-trial conference on Oct. 18.
Assistant State Attorney Russ Bausch of the 18th Judicial District in Brevard County, who is prosecuting the case, had no objections. The prosecution of the case was moved out of the 7th Judicial Circuit at State Attorney R.J. Larizza's request, because of Fleming's involvement in the case.
Alexander told the court that he had received the lab reports related to the case, but that he had not yet conducted expert depositions. The large number of depositions, and the nature of the depositions, suggests that Fischer's defense will rely heavily on shedding doubt on accusations that she was either impaired at the time of the crash, or that she left the scene. To be convicted, the case against her must be established beyond a reasonable doubt. But her attorney will not have to prove innocence to counter the accusations–only to show that there is doubt as to their veracity.
Zambrano will not be the sitting judge in the case come January. He is moving to Volusia County, and Judge David Walsh will be taking his seat. But Zambrano was clearly eager to get as much of the pre-trial issues out of the way by then, including all motions. He wanted to set the next pre-trial conference no later than the end of October. A clerk suggested Oct. 31. Alexander objected, because of his wedding anniversary.
"You got married on Halloween?" Zambrano asked him, to muted laughter from a half-full courtroom (more than a half dozen attorneys and clients were in court for a series of cases.)
"October 31, close enough," Alexander said. "It's my 30th wedding anniversary."
Zambrano is not quick with humor in court. Moments earlier, he'd severely admonished a young man who'd entered the courtroom with his hat on. "Take your hat off please," Zambrano shot from the bench. "If you do that again I'm going to take your hat and I'm going to keep it."
In another case this morning, Zambranio sentenced a woman–Christy Hites–who's about to give birth to almost 23 months in state prison for her fifth violation of probation. Hites will serve somewhat less than that because of credit for time already served.