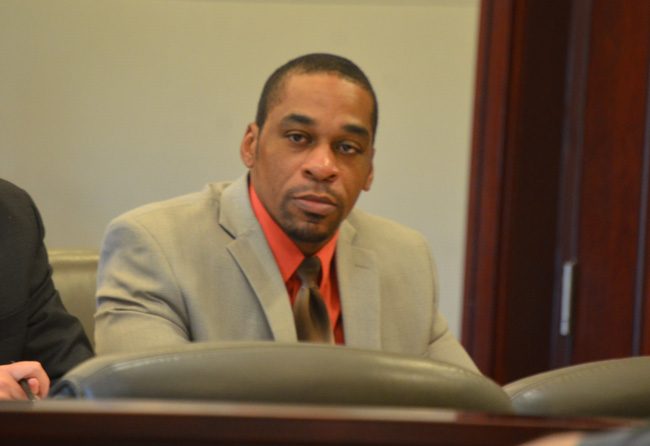 A 38-year-old man called James Taylor Jr. went on trial today before Circuit Court Judge Dennis Craig on a single charge of lewd and lascivious molestation of a child younger than 12. It's a first-degree felony. If Taylor is found guilty, he faces 30 years in prison.
In the context of the charges Taylor has faced before, the incident for which he faces the charge is relatively limited: Taylor had allegedly gone into the victim's room at night, rubbed her breast area "over the top of the sheets she was sleeping under" and touched her shoulder area where her nightgown had slipped off.
The victim and her sister revealed other incidents, but those took place in Alachua and Marion counties. Taylor faces a similar charge in Alachua. The charge he faces in Flagler is based on the victim's testimony and has enough ambiguity to give his defense the opening he is expected to exploit.
But there is no ambiguity as to Taylor's past. It is violent, often repugnantly so, with rapes, kidnappings and brutality carried out against women and children, repeatedly. There is only a question: why was a man with such a repeatedly violent past free and in the close proximity of children?
Taylor is now on trial for the charge resulting from the incident in Flagler, and he may go on trial for the more violent incident involving the same child in Alachua County. But there's another wrinkle to the trial in Flagler County: the prosecution has been barred from referring to Taylor's criminal past. It has been barred from referring to his status as a sexual offender. It has been barred from referring to his previous conviction on the rape of a child, or his previous plea deals dismissing other charges of rape and kidnapping, or his previous sentencings on other violent crimes, including conspiracy to commit murder.
It was because of those restrictions that two weeks ago a mistrial was declared in the first attempt to try Taylor. A witness mistakenly blurted out something about a previous conviction. That's all it took. The day-long selection of a jury from a pool of 40 was invalidated, the whole thing had to be restarted, as it did, with jury selection, this morning.
And again the restrictions are in place.
Such restrictions are not unusual (though the defense had to win a motion to enact them). They protect a person on trial from being pre-judged or mis-judged based on evidence or perceptions that go beyond the parameters of the specific charge he or she faces. It's one of the reasons defendants are often kept from testifying in their own defense, since, once on the stand, they themselves can open the door to questions that otherwise would be barred, simply by making an utterance to personal history.
So to the jury, Taylor must appear as merely a 38-year-old man who wandered into a child's bedroom one night and, as his defense is expected to describe it, lovingly check on the child, pat her gently as a parent might while tucking her in, and walk out.
His history, examined through numerous documents FlaglerLive obtained from Alachua County, including details of the incident involving the same children in Alachua as in Flagler, strongly suggests that what the jury will be allowed to hear is an exceedingly sanitized version of the man who has been in and out of prison four times since 2000, though his longest stint was for three and a half years.
Potentially, Albert could again walk away from the charge, just as he has repeatedly managed to minimize, plead down, combine or get other previous charges dismissed.
Here's the story the jury in Flagler will not be allowed to know at trial.
When James Albert Taylor was 18, he was arrested for conspiracy to commit armed robbery. The charge was partly the result of what today would be called stop-and-frisk, and partly the result of a confession: Taylor was outside of a Miami Subs store with two others at 8 p.m. in Gainesville one October evening in 1998.
A passing cop considered the scene "not consistent with actions of normal law abiding citizens," according to Taylor's arrest report. The cop stopped them, frisked them, found a .22-caliber revolver on Taylor, arrested him, and charged him with conspiracy to commit an armed robbery. During questioning later, according to the arrest report, Taylor "admitted that he planned an armed robbery." His victim was to be the third man in the group, and the robbery was ostensibly stopped when the patrol car appeared.
He was not sentenced to prison, but to probation.
Not yet 21, he was arrested on a burglary charge. By itself, the charge could appear as an isolated incident that grew out of control. In retrospect, though it was one of the lesser charges Taylor has faced, it looks like the tell-tale example of a violent man's character with a history of aggression toward women. He had been in an argument with an adult woman near her house. It grew physical. He struck her on the back and pushed her several times. She fled to her house and locked the door. Taylor kicked it down and tried to grab the woman. She armed herself with a baseball bat, forcing Taylor to do what bullies do when confronted: he fled. He subsequently admitted to police to breaking down the door.
He was sentenced to community control for a year on the burglary charge, and three years' probation. Again, no jail time, no prison time.
On Nov. 23, 1999 in Gainesville, Taylor was in an argument with a woman whose age is not known. She was an adult. She reported to police that the argument turned violent when Taylor punched her in the face, slammed her into a wall and threw her on the ground, pulling her hair. The woman tried to get away from him by hiding in the bathroom. Taylor kicked in the door, grabbed her by the hair and forced her to a car someone else was driving. At Taylor's apartment, he forced the victim to perform oral sex on him then, according to the arrest affidavit, forced her to drink from the toilet bowl. He then alternated between acts of physical violence against her and a series of rapes for 24 hours.
Taylor was not caught until a week and a half later.
Around 90 percent of sexual assaults of children involve an aggressor who is known to the child—a friend, a relative, a parent. Not in this case. It was December 3 that same year. The victim and her boyfriend were walking home from Eastside High School in Gainesville, on a sidewalk not far from the school. Taylor drove up to them and asked the boy how old his girlfriend was. He told him: 15. He asked her to sit in the car and talk to him. She did, but left the door open, feeling "intimidated," according to the arrest report at the time. Taylor slung over, closed the door, locked the door automatically, drove off to his apartment, took her in, ripped off her clothes and raped her.
She later identified Taylor, who was 22 at the time, through photographs, since by then he'd already been charged twice with the earlier felonies.
After the rape he was charged with lewd and lascivious battery, a second degree felony, and kidnapping. In a plea deal, the first rape and kidnapping charges resulting from his assault on the adult woman in November 1999 were dropped because, the court wrote in the dismissal order, he was "sentenced on other charges."
The charge of kidnapping involving the child was also dropped. So Taylor in the end was sentenced on the lewd and lascivious charge alone. He got five years in prison followed by 10 years' probation. He got sentenced to time for the robbery and burglary charges, but that time was to be served concurrently with the sentence for rape, essentially nullifying its effect. He'd already served almost a year at the county jail by then.
For all those crimes, he served three years and six months in state prison. He was out by April 2004. It didn't last. He was in an out of prison—18 months in 2005 and 2006, a year from 2010 to 2011, a year from 2015 to 2015, on a variety of criminal charges.
In 2012, Taylor had been the custodian of a 12-year-old child, with whose mother he was living as a family, in Alachua. The victim described an instance when she walked into a bedroom to find Taylor there. In an interview with the Child Protection Team, she alleged he pushed her down on the bed, pinned her, moved her underwear to the side, and raped her as she screamed and cried to let her go. Taylor was in prison when those allegations emerged. He denied the accusation. But it was not the only allegation.
The other took place in Flagler County, which brings the case to this jurisdiction, and the trial that began today. Taylor, meanwhile, has been at the Flagler County jail since his arrest here in October 2015.
Potential jurors are asked numerous questions to gauge their ability to stay impartial throughout a trial. They were asked specifically by Regina Nunnally, Taylor's public defender, the question that sometimes suggests an answer as to the defense's strategy ahead: Are there reasons why a defendant might not want to testify even if he were innocent? (Which usually means the defense will do what it can not to have its client testify.)
"Yeah, in some cases," a potential juror replied, "because it could do damage to them. the prosecutor could twist some of his words and that could be reflected to the jury."
Assistant state attorneys–the prosecution–and the public defender today went through the laborious, day-long process of picking the sort of jury that would best benefit their side, to the extent that the attorneys can gauge often intangible insights into potential jurors' psychology and truthfulness. So it was as Nunnally, for example, queries people in the juror pool about how young children do and do not speak the truth.
"A child can fake something," one said.
"Especially with young girls, some of them are good at drama, they're very good at drama at this age," another said.
And about where the truth falls: "Every single time there's intention, there's perception, and somewhere in the middle you come to the truth," one said.