The morning of Aug. 27, 2015, James Terry Colley Jr., 35 at the time, had to report to court regarding an injunction his wife had asked for against him. He'd been required to sign an affidavit days earlier saying he had no guns. The court date made him furious. His father told him not to do anything foolish.
At 10:38 that morning, Colley walked out of the woods behind the house at 260 South Bellagio Drive in St. Johns County, armed with a handgun. He started shooting as he reached the rear sliding backdoor. Three women and a man were in the house: Colley's estranged wife Amanda Colley and her friends Lindy Dobbins and Rachel Hendricks, along with Lamar Douberly.
Dobbins and Hendricks hid in a closet. Amanda hid in a bathroom. As James Colley approached the closet door, he yelled, asking for Douberly. Hendricks told him he wasn't there. She then watched Colley enter the closet and gun down Dobbins as Hendricks ran from the scene and called 911. Douberly had managed to run out the garage as he heard gunshots. Moments later James Colley's father reported to police that his son had just called him and told him that he'd shot to death his wife and her friend.
This morning in St. Johns Circuit Court, Judge Howard Maltz sentenced Colley to death.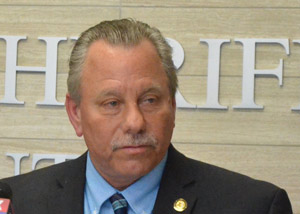 A jury in July convicted Colley on two counts of first-degree murder, two counts of attempted first-degree murder, and three other felonies in what the State Attorney's Office described today as "one of the worst crimes in recent memory in St. Augustine. Colley's shooting of his estranged wife Amanda and her friend Lindy Dobbins sent shock waves through the community. He shot both victims to death as they begged for their lives."
Pronouncing sentence, Maltz told Colley his crime was cold, calculated, heinous, and atrocious. State Attorney R.J. Larizza attended this morning's hearing, sitting with the victims' families. "For those who believe the death penalty to be barbaric," he was quoted as saying in a release issued by his office, "how would they feel if they were there to witness the cold and barbaric murders of Amanda and Lindy? It is our hope that the family will find some peace and comfort now that the defendant was held accountable for his actions."
Colley will remain in the custody of St. John's County Sheriff's Office until he is taken to death row by the Department of Corrections. Homicide Investigative Unit prosecutors Jennifer Dunton was the lead prosecutor, with Mark Johnson also trying the case. Colley was represented by Terry Shoemaker, among other defense attorneys.
Colley joins five other individuals from St. Johns on Florida's death row. The last sentencing to death from St. Johns was more than seven years ago.