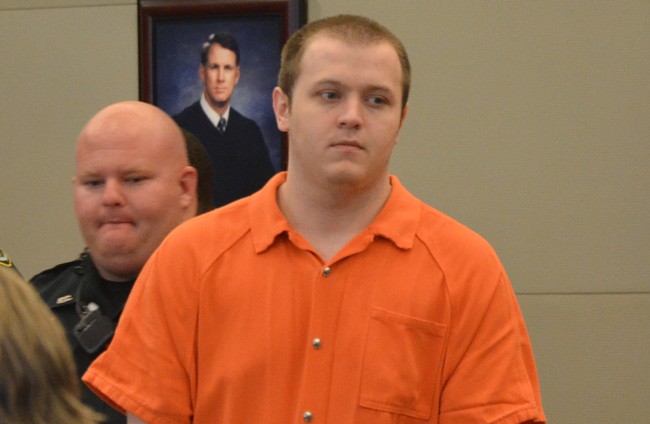 There will not be a trial in the case of James McDevitt, the 22-year-old Palm Coast resident accused of raping a woman in Flagler Beach in June 2013.
At the legal last minute–a matter of days before his trial was scheduled to start–McDevitt pleaded guilty as charged to one count of rape with violence before Circuit Judge J. David Walsh Thursday afternoon. McDevitt reversed his not-guilty plea as his family and supporters watched in the courtroom. He was immediately designated a sex offender, and will keep that designation the rest of his life.
Sentencing will follow a hearing on May 29 at 10 a.m. at which both the prosecution and the defense may present witnesses before the judge. There will be no jury. In the interim, there will be a pre-sentencing investigation that may mitigate the severity of the sentence.
McDevitt had until this week faced two counts of rape with a deadly weapon, life felonies each, and could have been sentenced to life in prison without parole. The amended charge was one count of rape with a weapon, which still exposes him to life in prison. According to the state's calculation, because he only has one prior misdemeanor for theft on his record, his minimum sentence would be 10.5 years, his maximum would still be life in prison. The judge will decide.
McDevitt, a graduate of Flagler Palm Coast High School, has not seen a day's freedom since his arrest on June 14, 2013. He's been held at the Flagler County jail on $100,000 bond. "He's ADHD, he doesn't read well and he doesn't comprehend well," Michael Lambert, McDevitt's attorney, told the judge just before the plea, though McDevitt told the judge he attended a year of college. "I do believe that he understands and appreciates what is going on here today," Lambert said.
Walsh asked McDevitt a few questions to ensure he understood the proceedings, the details of the plea and the rights he is entitled to.
"Are you guilty of the offense as set forth?" the judge asked.
"Yes, sir," McDevitt answered, speaking softly, in a voice sounding younger than his age, and standing next to his attorney.
"And you are entering that plea agreement voluntarily today?"
"Yes, sir."
The plea deal means that McDevitt and his attorney had concluded that the evidence against McDevitt was too strong to risk going to trial. That evidence includes a somewhat harrowing 911 call from a partial witness of the assault. Juries can be particularly susceptible to such immediate and audible evidence–and juries in such cases tend to be harsher than what plea agreements with the state attorney can issue.
According to the victim, whose account was summarized in police reports, McDevitt attacked her twice that early morning in June. The first time, he did so in front of one of two friends he'd spent the evening with.
The woman, an on-and-off resident of Flagler Beach, had spent the evening with friends at a barbecue in Flagler Beach, then gone to Finn's, the bar, until 1:30 or 2 the next morning. She took a walk on the beach, then walked up to A1A at South 14th Street, walking south on the way back to the house where the barbecue had been hosted. She was not well: she'd been weeping over a broken relationship.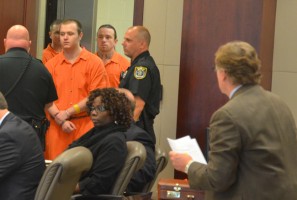 Two men were standing near a van, one of whom approached her to ask if she was OK. She said she was and walked on, but told police that the man then "grabbed her and threw her to the ground" violently, and got more violent after that, pressing her face to the ground, then allegedly forcing his penis into her mouth. This, according to the woman, was taking place in a dirt alley between A1A and Central Avenue.
The attacker, according to the police report, was McDevitt. When he tried to kiss the woman, she bit him in the face, and did so, she told authorities, because she thought she was going to be killed, and she wanted to leave a marker, an identifying form of evidence that would link the assailant to the incident.
McDevitt had been with a friend, Sebastian Gutierrez, and a third friend, that evening. The woman told police that she heard the voice of another man pleading with McDevitt to stop what he was doing, though Gutierrez would tell police that he didn't think McDevitt was assaulting the woman. McDevitt told him to go tend to their other friend, who'd apparently been ill. After that initial assault, the woman got up and walked north, knocking on doors for help, though she said when she tried to get away from McDevitt he grabbed her and dragged her into an empty lot, where the second attack took place.
That, according to the police report, is where McDevitt ripped off the woman's undergarments and raped her—an attack that a man who lives across the street from the lot started witnessing when he was walking his dog. That's the man who called 911—after he went into his house and back out with his cell phone–describing what he though was the assault to the dispatcher as it was happening, and prompting police to rush to the scene, though it took a few passes before police picked out the right spot. Only when lights were shined on the scene did McDevitt get up and run away. He was soon apprehended.
The woman was in tears when cops got to the scene, with dirt inside her mouth, around her lips and embedded in her nostrils, according to a police report, and she kept repeating that McDevitt "choked me," and that "he raped me," her language getting more bitter and her accusations against McDevitt unflagging.
In his interview with police, to which he agreed after the incident, McDevitt claimed the encounter had been consensual, and that the victim liked it rough. He told police in an initial interview at the Flagler Beach Police Department that he'd agreed to walk the woman home because she was crying and had been beaten up, and that during their walk, she bit him in the face, but he decided to keep walking with her because, he told police, he "has a soft sport for women." He said she pushed him to the ground at some point, and as they approached the empty lot she suggested they have sex there. When McDevitt saw the vehicle lights he said he ran because he thought it was the woman's friend, and that her friend was "trouble."
The courtroom Thursday was full, though not just because of McDevitt's docket sounding: more than two dozen such cases were on the docket. But more than half the people in the audience were there for McDevitt, including family and friends, siblings and his mother, Lisa McDevitt—the long-time director of the Flagler Auditorium—and Kim Carney, the Flagler Beach city commissioner. Carney led a support campaign behind the scenes for Lisa McDevitt, raising money, pleading for prayers, and in one case, writing FlaglerLive, saying, "If you find it necessary to do a story, please remember the family and friends that are going through hell. IF you want the real story we will help you." In that email, Carney named the victim and sought to discredit her, while charging, with no evidence, that "the case is being used to promote a totally useless Victim's Advocate system in Flagler County," and that "the District Attorney is asleep and only wants a conviction." (After this article posted, Carney wrote FlaglerLive: "This email is to serve as written notice that you are NEVER to call me for a comment about ANYTHING in Flagler Beach again." Carney ended the email with a sexually-laced slur.)
A few days ago another round of pleas for prayers was telegraphed through social media, suggesting that more intense negotiations for a plea were afoot.
Walsh was hearing other cases, Lambert called out Lisa McDevitt and her supporters, who then went out of the courtroom. When most of them returned about 20 minutes later, Lisa McDevitt, who'd initially sat in the front row, sat toward the back when her son spoke his guilty plea. (An earlier version of this story incorrectly said she had not returned to the room.)