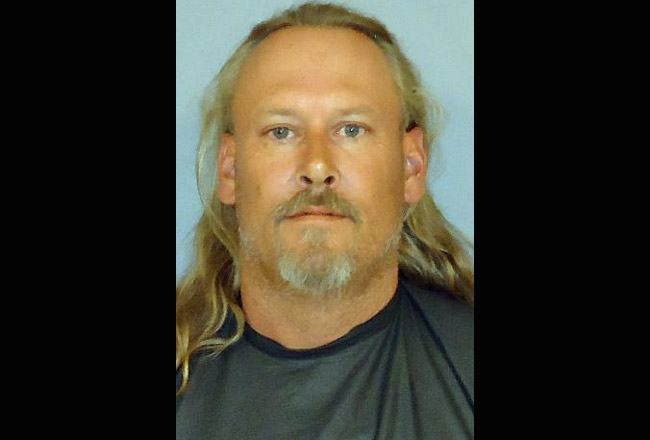 James Hartley, a resident of 25B Whetstone Lane in Palm Coast, is a 44-year-old, 240-pound man. On Wednesday, he was arrested and charged with child abuse and battery after a Flagler County Sheriff's deputy saw him striking his 14-year-old daughter, who then collapsed on the floor of her home.
Late Wednesday night, around 11:30, Stacey Hartley called 911 to report that her estranged husband was banging at the door of the house where her two daughters, 12 and 14, were by themselves. When a deputy arrived at the scene, he began performing a perimeter check around the house and, through a sliding glass door in the rear, saw James Hartley inside on a couch. When a second deputy arrived, the first deputy saw Hartley and one of his daughters standing near the front door, which was ajar. The second deputy at the front door announced himself, only to see the door closed.
Hartley was apparently not aware that the other cop was in back of the house, able to see in. As he described it in a police report, the cop saw the girl walk away from the door, then saw Hartley allegedly strike the girl on the left side of the head. The girl "collapsed to the floor and began screaming," the report states. The deputy radioed the other deputy about what he'd just seen, and saw Hartley run toward the garage, open the garage door and appear to possibly "attempting to flee the scene."
A deputy ordered him to the ground and handcuffed him.
The girl later told a deputy that her father had struck her with a "cupped" left hand, though no injuries were observed. The girls' mother arrived at the scene. She declined to go to a safe house. James Hartley denied having struck his daughter. When asked what the screaming had been about, he described it as "typical teenager stuff." After the deputy told him that he'd witnessed the entire incident, including Hartlet's striking the girl, Hartley then said that he had "pushed" her.
His wife, the report states, did not want to pursue charges "but appeared to be extremely fearful of James," who was then placed under arrest. He posted $3,000 bond and was released.
Stacey Hartley had filed for divorce in March 2011 but dismissed the petition that October.