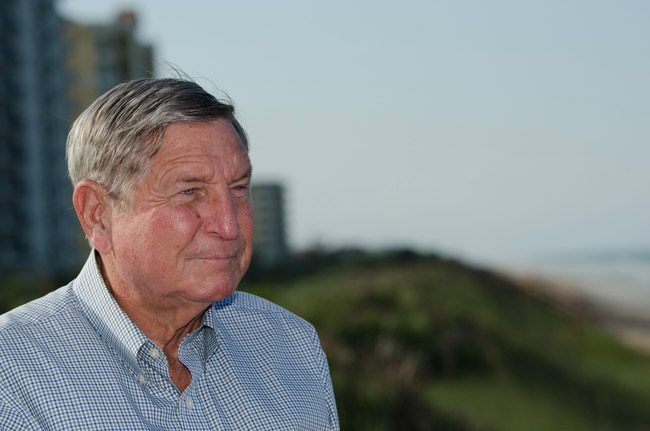 There are founders—those who shape their surroundings by leading companies, boards and civic organizations. And there are founders—those who actually build and reshape their surroundings, physically and grandly.
James E. Gardner was both.
Gardner, who died on May 5 in Palm Coast and was laid to rest this morning in a ceremony attended by family, friends and colleagues at Flagler Memorial Gardens in Flagler Beach, arrived in Palm Coast in 1978 when he was named president of operations for the ITT Corporation. He'd spent a dozen years before that as the city engineer in a couple of towns, including Ft. Myers. When he arrived in Flagler County, Palm Coast was still a small development on 92,000 acres of scrub and timber previously amassed by the Rayonier Corporation, the sort of place ITT envisioned as a city that would grow to 600,000 by what was then still referred to as "the year 2000." ITT had a sales force of 600, selling home sites like mad to buyers in the northeast, mostly sight unseen.
Gardner hadn't had a role in the original layout of the city. That had been more his predecessor Alan Smolen's role. But "Jim was the leader for 15 years," said Bob Cuff, the Palm Coast City Council member and attorney who worked with him all those years, the last six as ITT's general counsel. "He was what ITT needed here during that period to turn it from land development into a town."
"From the time he came here in 1978 he was as involved as anybody making Palm Coast look the way it looks today, certainly as it looked until the city was formed at the end of 1999," Cuff said. "Between Al Smolen being buried down in that corner and Jim being here," he continued, apologizing for the cliché, "it's an end of an era for Palm Coast, this generation of folks who were the people who made this place happen. I've been to plenty of memorial services here at Craig, the last time I did this was for Al a few years ago."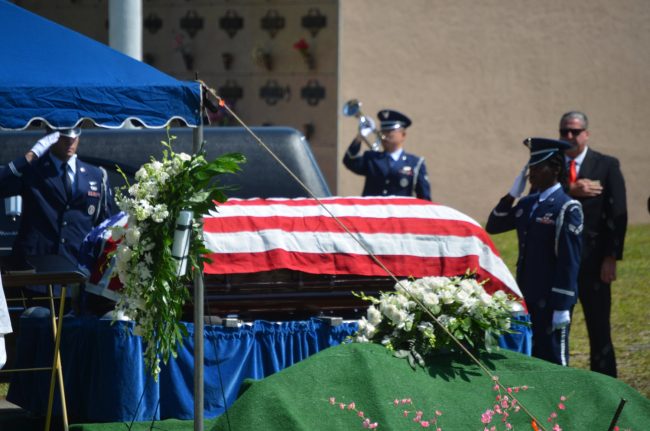 After a military academy and college at Mississippi State, where Gardner got his civil engineering degree, he Graduated flight school in 1966, the year he became an assistant city engineer, then the city engineer in Ft. Myers. In 1978, he became vice president of operations for ITT in Palm Coast. Seven years later, he was president, a post he held 15 years, until his retirement in 2000.
He was deeply involved in community and civic organizations, seldom participating in one without reaching its chairmanship: Daytona State College Board of Trustees (the college named a building on its Palm Coast campus for him), Enterprise Flagler (the private-public economic development board that was replaced by a county board six years ago), Enterprise Florida, Memorial Hospital, the United Way of Flagler-Volusia, the University of Florida's Whitney Laboratory, Pinnacle Bank, and of course the Rotary Club of Flagler County, which he founded. He was the 2002 Humanitarian of the Year. That's a partial list.
---
Video: James E. Gardner Family Tribute
This morning, it was telling that when both Cuff and Jay Gardner began speaking about James Gardner's integrity, they broke down and had to take time to collect themselves.
"He taught us about integrity," Jay said, briefly addressing the assembly after a service this morning. Moments earlier he'd spoken about the more personal side of his father. "There's a million things that we did as children. We had cattle, we would be like, doing cattle drives, we had hunting trips and fishing trips, camping, we were around here at Palm Coast Plantation, which is Lehigh, we called it, we'd go out there and catch speckled perch and have big fish fries, we'd hunt in Graham Swamp where the bicycle trails are now, fishing in Captiva Pass back in the day when we lived in Ft. Myers, there were things we did constantly us three boys with him."
Jay is the oldest. He continued: "My dad was the nicest guy in the world. He was good to everybody. Never had a harsh word to say to people. Stood up for people. It didn't matter who you were. Something he was always helping, always doing, and he was that genuine person. He was a CEO and certainly a good one, but that really wasn't who he was. He's just a good guy who was out helping people, you know. I like talking about how we always had to fix things. He didn't have someone fix something. He'd figure it out and fix things. You've probably seen where I've said things like, I learned a lot by holding the flashlight while he's fixing things, usually getting yelled at 'cause I'd drift off looking at something else, not hold it in the right place. You know, he was a genuine guy, he taught me things, like all you have as a man is your word. You've got to be an honest guy and you've got to treat people fair."
The personal appeared to cross over into the professional, at least in terms of principles, as Cuff described it.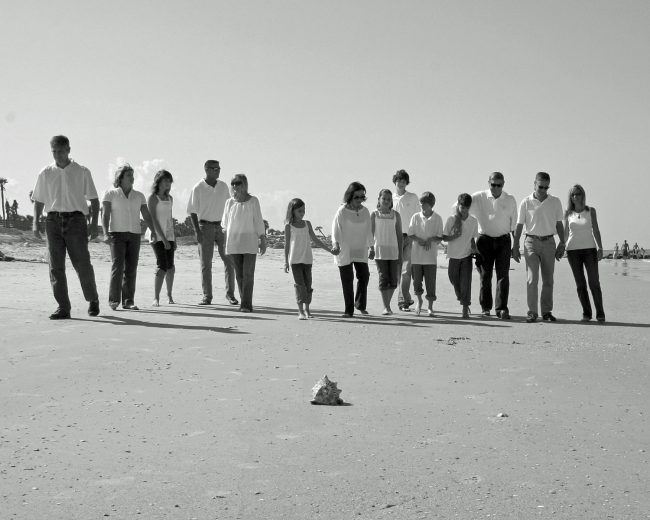 "Given what I did for him as an attorney, I did get to see him and even advise him on what he could have done," Cuff said, taking a moment at that point to compose himself. "But I don't remember ever dealing with him where he didn't take the high road and didn't do what he thought was the right thing to do, whether it was a personnel decision or a business call. You know, sometimes he could have insisted on the letter of the law versus what he knew what the real deal was, and that's really how I remember him."
The service was capped with military honors, including Taps, under a radiant sky.
Joe Rizzo, the restaurant owner and executive director of the Flagler Education Foundation, spoke after the service about his friendship with Gardner by remembering one of his latter conversations with him a few years ago. Rizzo had just attended Leadership Flagler, the Chamber of Commerce's annual series of civic seminars that explore many sides of local politics and business. That day the class had discussed economic development. Rizzo was done. When he returned to Woody's BBQ, Gardner was there, having lunch. He joined him.
Gardner chuckled when he heard Rizzo telling him about Economic Development Day. "He says, economic development was easy for me," Rizzo recalled. "And I said what do you mean? He said, ITT, we'd just call these big companies—all of where Palm Coast Data was, was industry, there were two dozen companies there—it was easy, we'd just call them and offered them houses on the Intracoastal if they moved their companies here. It was hilarious. And of course it wasn't that simple, but he made it out to be that simple. He was like, 'They overcomplicate all this with pad-ready sites and these breaks and these breaks. We just gave them stuff.' It was hilarious."