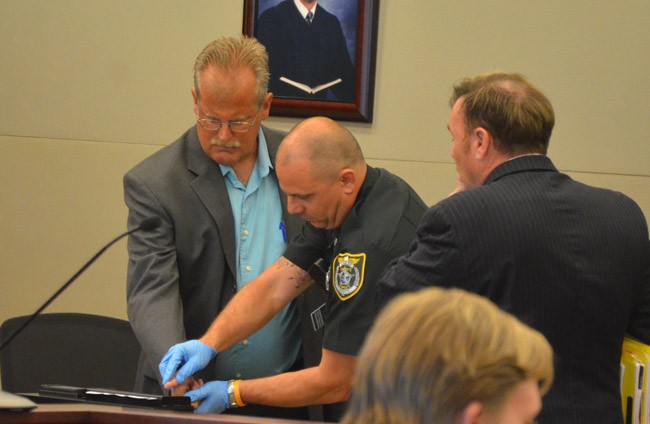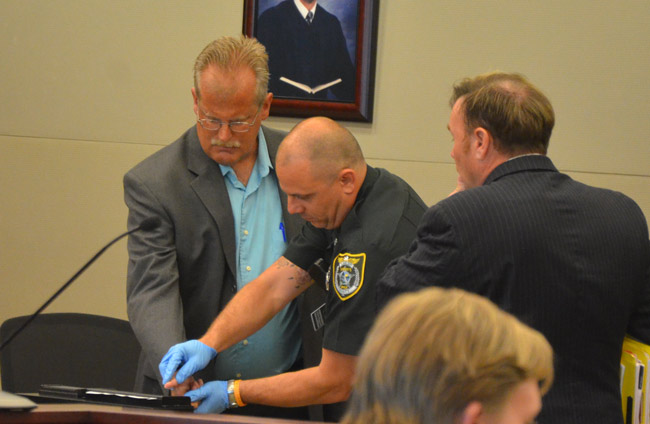 James J. Davis, who goes by Jim, is a 46-year-old resident of Palm Coast and former cop with the Flagler Beach Police Department and, from 1996 until recently, with the Ormond Beach Police Department.
On Thursday, Davis pleaded guilty to a count of battery against a child and was sentenced to a year's probation by Circuit Judge J. David Walsh. The charge was reduced in the plea agreement from two initial charges of lewd or lascivious molestation of a 14-year-old girl in two two incidents on Dec. 29 and 30 last year. The plea agreement reduced the charges from felonies to a first-degree misdemeanor and, aside from ensuring that Davis would not spend time in jail, also ensured that he would not be branded a sex offender.
"Please take your hands out of your pockets," Walsh told Davis as Davis stood before the judge during the plea. "It makes me a little nervous, OK? Thank you."
A condition of Davis's probation is that he must undergo a psycho-sexual evaluation and a substance abuse evaluation, followed by any recommended treatment, no contact with the victim or her mother, and he must agree to amend a current injunction so that the victim and her mother can leave the home they're living in by July 1 instead of by May 1, and to himself have no further contact with either until further order of the court.  He was also to pay $675 in fees.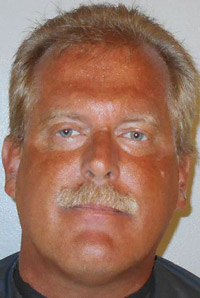 Davis, according to the incidents originally summarized in a Flagler County Sheriff's report, was in a position of custodial authority of a 14-year-old girl, the daughter of Davis's girlfriend at the time. When her mother came home from night-shift work on Dec. 30, she found her daughter locked in her bedroom. Her daughter told her mother that Davis–whom the mother had believed was a recovering alcoholic–had been drunk, and had touched her inappropriately. In the victim's interview with the Child Protection Team, she described Davis as being in an unsettled state the night after her mother left for work. He'd cry uncontrollably, then be fine, then would hug the victim and stroke her hair, complimenting her. That's when the victim suspected he'd been drinking.
When the victim looked for Davis a while later to see what he was doing, she said he pulled her to his lap and attempted to kiss her on the mouth. The victim was able to get away and go to another section of the house. But she later fell asleep in front of the TV in the living room. She was woken up, she told the protection team, by feeling Davis lying behind her, putting his arm around her, and cupping her breasts. She continually told Davis to stop, but she says he kissed her on the back, put his hand into the back of her pants to touch her bare buttocks, and repeatedly said, "I just want to make you feel good, baby." The victim wiggled away from him, freed herself, locked herself in the bathroom and showered.
She then heard the door unlock and, as she screamed, saw Davis standing there, holding a door lock hey and saying, "We just wanted to say hi." She kept screaming, causing Davis to leave the bathroom. She got out of the shower and locked the door again. She eventually locked herself in her bedroom until she heard her mother's knock.
For Davis, it was the latest in a series of issues that have upended his life.
Sixteen months ago, toward the end of his employment with the Ormond Beach Police Department, he faced an internal affairs investigation centering on  several allegations. Those included cases of unreported domestic violence–he was married to a corporal with the Flagler County Sheriff's Office who still works there–the misuse of his police ID while drinking alcohol, threatening his son with arrest (a conflict of interest, under department policy), lying to his superiors about an extra-marital affair (with, as it turns out, the mother of the victim in the child battery case), and several other allegations. Some of the issues of domestic violence dated back to 2010.
More than  two dozen witnesses were interviewed for the investigation, including colleagues of the Flagler sheriff's deputy, who described knowing of the abrasive relationship–in one case, a domestic violence report was filed, but no charges followed–but also described Davis's wife's reluctance to pursue criminal charges. Sustaining numerous allegations, the investigation found Davis to have violated several department policies, failed to follow orders, was guilty of conduct unbecoming an officer, and untruthfulness.
The Ormond Beach Police Department fired Davis effective Jan. 13, 2014.