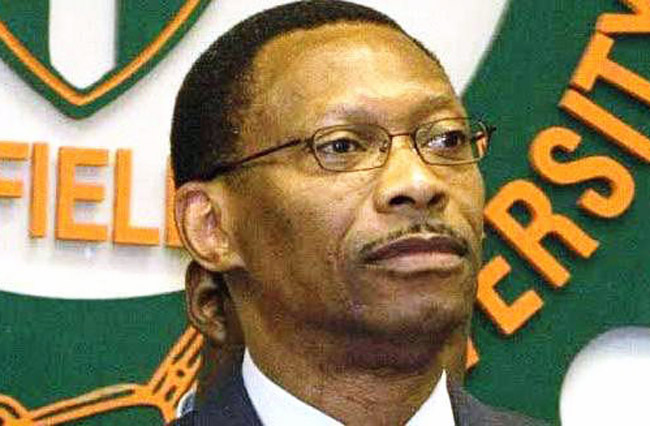 Florida A&M University President James Ammons said he had no intention of resigning after losing a vote of no-confidence Thursday brought forward by the school's board of trustees.
Still, the move raised doubts about Ammons' ability to weather a series of scandals that have shaken the school, including a hazing incident that has threatened one of FAMU's most cherished institutions.
Trustees voted 8-4 to approve the motion of no-confidence, a ratcheting-up of the pressure on Ammons after the board voted to reprimand the president in December.
"It's strike two. … Three strikes, you're out," board Chairman Solomon Badger, who voted against the motion, said after the meeting.
Trustees said they were trying to protect FAMU and its reputation in the wake of a deadly hazing linked to the school's famous Marching 100 band, allegedly fraudulent audit summaries submitted to the board and allegations of sexual assault against minors at the university's Developmental Research School.
"As I begin to think about that, I begin to see that we have a leadership that is caught in a wilderness of errors," said Trustee Narayan Persaud, the faculty representative on the board.
But Ammons, who had considered resigning during a recess in the meeting ahead of the vote, said he would stay on and try to right the ship. Earlier this week, Ammons unveiled a plan to address hazing and other problems at the university, but especially in its iconic band.
"This is my university, and I'm committed to Florida A&M," said Ammons, an alumnus of the school. "I came to Florida A&M University to do a job. No one said it was going to be easy. There is a lot of work that needs to be done here, and I think I can get it done."
The hazing scandal erupted after the November death of drum major Robert Champion, 26, who was allegedly beaten to death in a ritual hazing on board a charter bus during a band trip to Orlando. Thirteen people have been charged in connection with the hazing, with 11 of them facing felony charges.
Earlier this week, the chairman of the Florida Board of Governors — which oversees all public universities — wrote a letter to the chairman of the FAMU board outlining a series of concerns governors want addressed in Ammons' next evaluation. The chairman, Dean Colson, also suggested that the Board of Governors might act if the FAMU panel did not.
"At the same time, the Board of Governors has retained the responsibility, through the evaluation process, to ensure that a university's chief executive officer is providing appropriate leadership and oversight for all aspects of university operations, including compliance with systemwide regulations," Colson wrote.
But supporters say Ammons is being unfairly singled out for a problem that extends beyond FAMU.
"Why is a president being asked to step down for being unable to control a ritual that no other person in this country has been able to eliminate?" Tommy Mitchell, president of the FAMU National Alumni Association, asked, referring to hazing, at a press conference following the trustees meeting.
Others emphasized the progress Ammons has made in other areas during his nearly five-year tenure as president.
"I do believe that if we look over a longer composite of time, we may have a slightly different impression or interpretation of the leadership of the university," said Trustee Kelvin Lawson.
Several speakers, including state Rep. Alan Williams, D-Tallahassee, showed up at the meeting to voice support for Ammons. But even then, more problems about the university began spilling out.
Kyle Washington, a program assistant at the university's student activities department, said a high-ranking university official had ridiculed Washington over his sexual orientation, flouted his ties to Ammons and a vice president at the school and asked Washington to arrange for sexual favors from female members of two student organizations.
Badger said the university would look into Washington's allegations.
Regardless, supporters said they still think Ammons can survive.
"I think if we take politics out of the process and we allow a professional in Dr. Ammons to do his job, then he can do it," Williams said.
–Brandon Larrabee, News Service of Florida