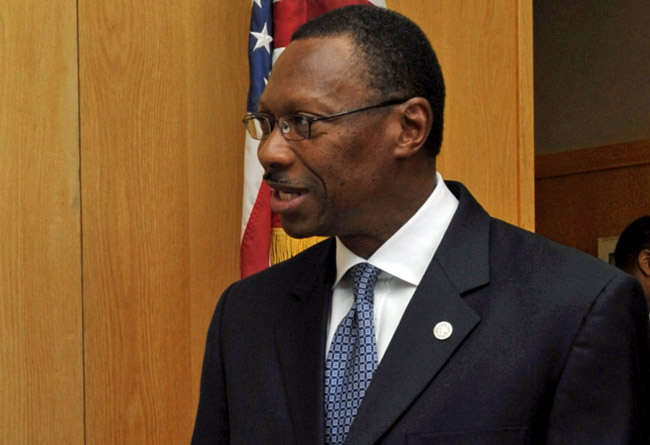 Florida A&M University President James Ammons resigned Wednesday amid continuing fallout from the hazing death of "Marching 100" drum major Robert Champion and other problems at the historically black school.
A month after he received a vote of no-confidence from the FAMU Board of Trustees and nearly eight months after Champion's death, Ammons sent trustees a resignation letter on Wednesday. Ammons had been president at the Tallahassee school for five years.
In a letter to A&M Trustees Chairman Solomon Badger Ammons said he wrestled with the decision to step down as the university continued to face a number of challenges related to Champion's death and other issues that have shed a negative light on school.
"Now there are new challenges that must be met head on," Ammons wrote. "I am determined to move all of the major challenges toward resolution and move our university toward success."
The announcement came the same day Champion's family filed a lawsuit in Orlando against FAMU and the company that operated the charter bus in which the hazing allegedly occurred.
Ammons, who as president earns at least $325,000 a year, said he would stay on until Oct. 11 and remain on campus after that time as tenured professor.
In response, Badger, one of four trustees who did not cast a vote of no-confidence last month, accepted the resignation with regret.
"I am saddened by President Ammons' decision to resign, but it is his choice to do so," Badger said in a statement. "Given all that has transpired, it seems to be in the best interest of the University and I applaud him for putting FAMU ahead of his personal goals."
Champion died on a band charter bus in November after the university's renowned marching band performed at the annual Florida Classic football game in Orlando.
Thirteen band members have been charged in Champion's death. Of those, 11 face felony hazing charges and could face up to six years in prison. Two others were charged with misdemeanors.
"Our hearts and prayers still go out to the Champion family; we are unable to comment further due to the pending litigation surrounding this matter," the university's chief communications officer, Sharon Saunders, said in a statement in response to the suit.
While the hazing case has drawn national attention, some university system officials have been at least as troubled by other issues. A scathing letter sent to Badger by the state university system Board of Governors chairman, Dean Colson, alluded to several serious issues that have worried state officials. Among those were lower graduation rates, allegations of fraud having to do with summaries of an audit that hadn't actually been done, and a sexual assault of a minor at the university's research school. Then, as the hazing allegations came under the national spotlight, school officials learned that several members of the famous band weren't even students at the university.
The breadth of the problems require a major change, said university trustee Rufus Montgomery during a meeting of the board Wednesday, a meeting scheduled to talk about budget items before Ammons announced his resignation.
"This is not about hazing, this is about leadership or lack of leadership at FAMU," said Montgomery. "There have been over 30 serious issues over the past year that have come before this board ….This all came under the watch of the current president. For the last seven months we've danced around it week after week, problem after problem….
"We've got the FAMU students on trial this fall in the Champion case, we have no band this fall, we've got a drop in enrollment coming, I read the other day the Florida Senate's (considering) investigating the school," Montgomery continued. "I mean, come on, you all, we need to deal with this."
In June, the school's Board of Trustees gave Ammons a vote of no-confidence, with eight of 12 trustees saying they had lost faith in Ammons ability to lead.
"I realize that this must have been a very difficult decision for President Ammons and his family," said Colson. "As the president candidly and correctly noted in his letter, there are challenges remaining at FAMU that 'must be met head on."
Ammons, who came to Florida A&M from North Carolina Central University, had some successes. He was credited with increased prestige for the university's pharmacy education program, which secured accreditation during his tenure. The university notes that under Ammons' leadership the school received its first "unqualified" audit in three years from the state, and that the school is about to start a new doctoral program in physical therapy.
Ammons is a Florida A&M graduate, with a B.S. in political science and an M.S. in public administration and a Ph.D. in government from Florida State. He also taught political science at FAMU.
–Michael Peltier, News Service of Florida