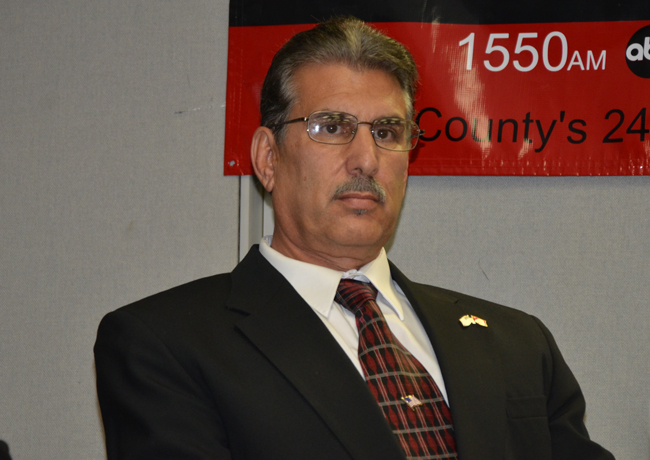 Police take protective injunctions seriously.
Jamal "Jamie" Nejame, who three times ran for public office in Flagler Beach and had been a frequent and vocal presence at city commission meetings, was arrested and jailed Wednesday evening on charges of aggravated stalking and violation of an injunction. Nejame was released Thursday on $3,000 bond.
It's not the first time Nejame has been charged with stalking. He faced a similar charge in May 2009. The charge was dropped.
A 57-year-old woman Nejame had dated for 10 months had placed an injunction on Nejame on Feb. 13. Under Florida law, violating an injunction against dating violence, as the offense is formally listed, is a first degree misdemeanor. Aggravated stalking after an injunction is a third-degree felony punishable, on conviction, but up to five years in prison.
The relationship, according to the woman's statements to Flagler Beach police, had ended in January. The evening of January 31, Nejame, 64, had sat in front of the alleged victim's home all night, ringing the doorbell the next day at 6:15 in the morning. The evening of Jan. 31, the victim had been out on a date. According to his arrest report, Nejame had sent text messages to the victim "in regards to what she was doing inside her house," and "describing in detail" goings on in the house, whose windows are unprotected by curtains.
In early evening Wednesday, as the alleged victim worked as a cashier in a store in Flagler Beach, she told police that she noticed him drive by the front of the store in a white van, that he looked inside the store, and made eye contact with her before he immediately looked away and drove eastbound, according to the report. The incident made the alleged victim nervous, she told police, because of the recent injunction. She said she felt "harassed and threatened" by Nejame, and was "afraid of what he might do next."
Later that evening a Flagler Beach Police officer went to Nejame's house on Avalon Avenue and read him his Miranda rights. When first asked about the reported incident outside the store earlier, Nejame denied it, saying he'd been at his house all day except for a trip to Palm Coast earlier. After he was taken into custody, Nejame changed his story and told the cop that he'd ridden by the victim's workplace twice on Wednesday.
The injunction, in effect from Feb. 13 to June 1, bars Nejame from being within 500 feet of the victim's workplace or 100 feet of her vehicle.
Nejame, a past donor to FlaglerLive (he contributed $20 in 2012, when he wasn't running for elections), ran twice for mayor and once for a city commission seat, and on a fourth occasion began a race for city commission but withdrew before the election. He has polled distantly from the winners each time, the last time, in a race for mayor against Linda Provencher, winning 42 percent to Provencher's 58 percent.
Nejame could not be reached Thursday evening.