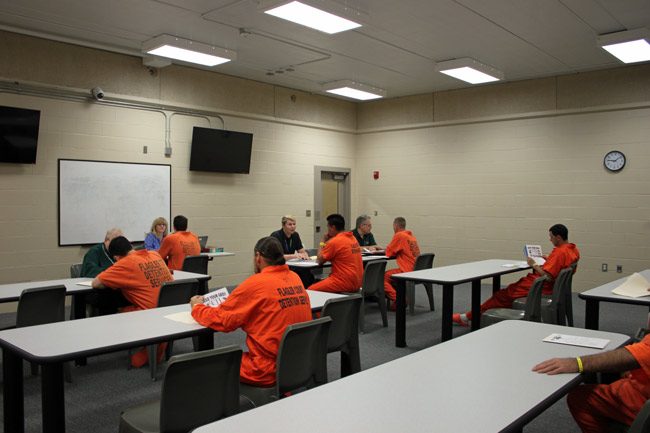 There are two sides to every Staly.
There's the Rick Staly who calls himself a "law-and-order" sheriff, who'll host a weekly "fugitive bingo" video feature on his agency's Facebook page, who'll call suspects "dirtbags" and who won't miss a chance to talk to cameras to promise drug pushers and other criminals that he's coming after them. Then there's the man who'll be the first, and often the only one, to speak on behalf of the same criminals at his jail to get them help, to push county and other officials to pony up more than words when they complain of lack of services for drug addicts.
There's the Staly who has no patience for domestic abusers and wants arrests increased and punishments for them toughened. Then there's the man who launches the most broad-based domestic-violence initiative the county has known to bring awareness of the issue and challenge agencies to come up with ready solutions, featuring along the way some of the very men who were offenders in the county.
And there is the Staly who'll go so far as to transform his "green-roof-inn" moniker for the county jail into an actual sign at the jail's entrance, complete with a flashing-red vacancy light, stand by the sign for pictures and draw too much applause for the shtick (and some pointed and necessary criticism). Then there's the man who'll actually live up to the iconographic meaning of the color green of that roof, a color traditionally associated with hope, renewal and life, and launch the sort of initiative at the jail that gives many of those same "dirtbags" more hope, more chances at renewal, more help with their addictions than they'd likely had before getting booked in.
Just look at the weekly schedule of programs at the county jail. It's not the sort of grid filled in by a sheriff looking to lock up men and women and debase them more behind bars.
Alcoholics Anonymous meetings about twice a month on Monday evenings for men and women. Narcotics Anonymous meetings, same thing, on Fridays. Anger management, every Friday afternoon. Parenting class for women every other Tuesday (by approval, with a limit of 20 per class), and Wednesdays for men (also by approval, with a limit of 15). Domestic violence class, second and fourth Wednesday of the month, depending on cell block. GED classes Mondays, Wednesdays and Thursdays. Then there's faith-based meetings with Open Door Recovery, the Bunnell recovery house that also counsels inmates to get them ready for the transition, and numerous denominational and non-denominational religious ministries four days a week.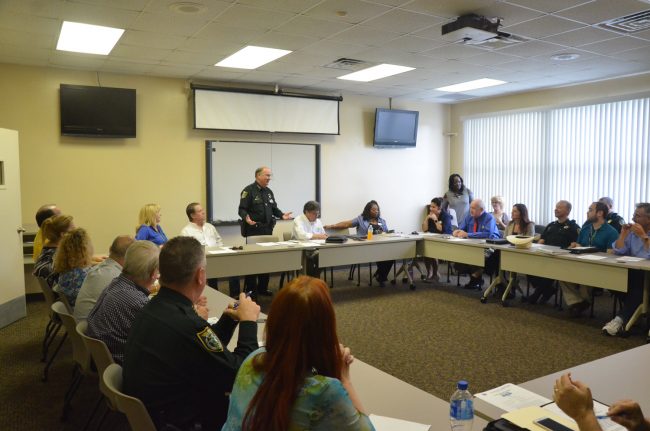 You'd think you were in a jail run by Danish or Scandinavian social democratic authorities (Staly's late mother, an actual social democrat, is smiling somewhere), not one run by a man who has occasionally sounded like he wanted inmates to feel like they were in Arpaio country, back when Joe Arpaio—the infamous ex-Maricopa County, Arizona sheriff for a quarter century—was not being sued, charged and voted out of office.
But then, for all his new-sheriff-in-town rhetoric last year, it was also part of Staly's promise that he believes in second chances, and one of his first decisions to shift Becky Quintieri, the jail director since 2008, to a new job, exclusively developing and overseeing rehabilitative services at the jail. "It's my passion, doing this," Quintieri said as she described it today at the end of a meeting where her year's work was presented, round-table fashion, with more social service and other agencies working with the jail that you'd thought possible, arrayed around the table.
They were the faces of the Stride Program that Quintieri put together at the sheriff's request, with Stride an acronym spelling out the program's self-explanatory purpose: Skills, Transitional Support, Respect, Integrity, Direction and Employment. All of that is taking place at the jail through various agencies volunteering their work and presence, and without costing taxpayers money. The aim is to save taxpayers money by eventually reducing recidivism.
"It's just amazing, the community, to come in and do this," Quintieri said, "that they're committed to doing that." She was referring both to the work the agencies were doing at the jail and the time they put in today at a 90-minute meeting designed essentially to bring the Stride program into the open, in the presence of four county commissioners.
And yes, there's also a bi-weekly Stride meeting at the jail, rotating each week between men and women inmates, of whom nearly 400 have gone through Stride orientation—which means the program's purposes and available outlets have been explained to them, at which point they choose to carry out certain goals. It can be as simple as getting a social security card and a birth certificate in order to have those basic means to secure a job, with local agencies like the Sheltering Tree (the homeless shelter in Bunnell) willing to pay the cost of a birth certificate to enrolling in GED or parenting classes or starting to attend AA and NA meetings. None of that would have been possible at the jail a year ago.
We've been trying this for about six months," Staly said, referring to the 390 inmates going through so far, "to put them on the road to success. We could not do this without the community stepping in and our service providers, so I want to personally say thank you, and I'm sure that years down the road we're going to be able to look at this and say we've made an impact./ That's the goal here, to give them the tools they need so they can strive to success."
Have a listen to Jason Gardner, one of those inmates who essentially graduated from Stride: "I was a resident of this facility, had never been to Flagler County before, was arrested after 45 minutes in town," he said.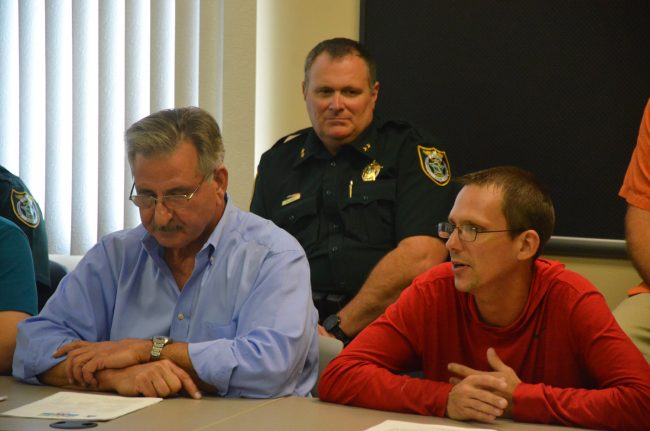 "Good job," joked Pastor Charles Silano, sitting next to Gardner this afternoon. Silano runs Open Door Recovery, and whose "client" Gardner became. Gardner was arrested on a grand theft charge last April. "My crime was based on sub stance abuse. I was boosting at Lowe's," he continued, using the street word for shoplifting. He was incarcerated. "I'm a veteran with a clean record. I think my crime in total was maybe $500, they tried to slap with three years' probation. I would have been part of the revolving door had I accepted that. Three years' probation for anybody, they're going to get hemmed up, they're going to trip up. Sorry. I denied that, and I got 120 days and released to Open Door. I went through the program successfully." Then he was offered a job to be the resident manager. "It has definitely changed my life," he said of Stride. "Not everybody is a success story, but the percentage is pretty good right now." (There are only six beds at Open Door.)
"The biggest point," Silano said, referring to the sheriff's approach, "is that there is an approach now to embrace the inmates and give them a hope which communicates to them that we believe in them. That's been the biggest factor, that somebody is there to believe in me. Most of these men and women, they've never had that."
So it went around the table as the various agencies' representatives spoke: The Family Life Center (the shelter for abused women), the Veterans Administration, CareerSource, which has found a job for a few inmates, Stewart Marchman-Act behavioral, the Sheltering Tree, Flagler Technical Institute, the vocational school, various members of the clergy, including members of Santa Maria del Mar church's social justice ministry, Mike Desroches, the sheriff's chaplain, and others.
"They no longer view themselves as an inmate," Desroches said of participants, "but they view themselves as a person with value."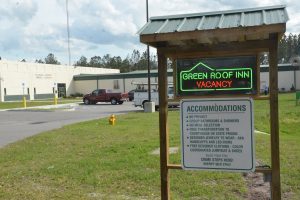 Jonel Groundwater of the Volusia Literacy Council spoke at length of how the program has enabled existing inmates to tutor others toward making strides in literacy and getting their GED, considering that many inmates have dropped out of school as early as elementary school in some cases. That particular program is in its infancy, having developed over just the past month. The representatives of AA and NA spoke either as former inmates or as recovering men themselves (or as both). "We don't tell them they're alcoholics and drug addicts," one of them said. "We tell them we are."
There are no measures at the moment that could indicate success—or failure—of the program. It's something the sheriff hopes to see developed down the line, though he expects an impact on lower recidivism.
As for the seeming contradiction between such things as the "Green Roof Inn" sign and the Stride program, Staly said he saw no contradiction.
"I'm a law and order sheriff," he said after the meeting. "That sign is crime prevention, when you look at crime stops here, my exit sign says enjoy your freedom, stay crime free, stuff like that. To me, it's just a continuation, a reminder or reinforcement of what an inmate was. But hopefully when they leave, they've been involved in one of these programs with one of our partners. I don't see there's a dichotomy to it."