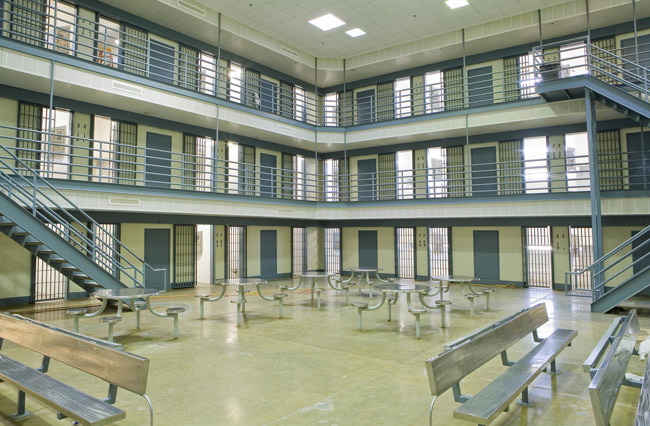 Flagler County Administrator Craig Coffey is not sugarcoating it. "It's a setback," he said Monday of the latest construction cost estimates for the proposed new county jail and the new sheriff's operation center.
The county was hoping to see jail construction costs at $14 to $15 million. When the architectural firm hired for the job presented its preliminary plans to the County Commission in May, much was made of savings that could add up to $2 million, although total project costs were still less than precise, as is normally the case at that stage.
On June 27, Allstate Construction Inc., the contractor for the jail, completed its cost estimate for the new jail. The bottom line: $22.22 million.
Jacksonville's TTV Architects Inc. also submitted estimates of probable construction costs for the Sheriff's Operations Center, intended to go where the old Memorial Hospital building stands in Bunnell. The administration's cost estimates to the commission last year were placed at $5.3 million, not including the $1.23 million purchase price of the building. The administration has since brought its budget down to $5 million. But total demolition and construction cost estimates by TTV Architects came in at $6.2 million.
Coffey says the operations center costs can and will be brought to within budget. "We're tweaking that, and it will come into line," he said. He was more concerned about the jail costs.
"Any project, there's bumps in the road," Coffey said. "This appears to be a much larger bump than anticipated. At the end of the day, if we have to we'll scrap and retool the project." Projects of that size will produce disparities between architectural projections and construction estimates. "Normally it's not this far out of whack," Coffey said. "This is a pretty big difference."
Flagler County Sheriff Jim Manfre was unsettled by the new numbers and spoke to some of the county commissioners about them, as he and they attended an Independence Day ceremony hosted by Palm Coast at heroes Park Friday morning. "He might have been a little concerned about it, that's for sure," Commissioner Frank Meeker said, "but all of us are concerned when we nsee numbers that are over and above what we thought."
Manfre declined to speak with a reporter about the numbers Monday. "Those are both county facilities, so any comment on that would have to come from them," Bob Weber, the sheriff's chief spokesman, said. "That whole process of construction and estimates is theirs."
The construction estimates for the jail are outlined in a detailed 31-page report, with line-by-line costs for everything f rom asphalt ($151,000) to fencing ($124,000) to concrete ($3.2 million), masonry ($1.1 million), paint ($222,000) and so on.
The outline estimates that costs could be brought down to $16.5 million, but only by eliminating planned four-bed and two-bed cells for three 68-bed dorms instead, and by building a booking area and a kitchen, but dispensing with the support building and a video visitation area, which commissioners had favored. The dorm approach would save $583,000. The booking and kitchen addition would cost $2 million, but save $5.2 million if other amenities are set aside. The support building and video visitation area alone would cost $7.2 million. Coffey was especially surprised by the costs associated with the video visitation rea, noting that in some cases he knew of, the facility cost is not borne by the local government but by the company that runs the system—which then, in turn bills inmates and generates revenue that way. (Such costs, as with phone calls  and money transfers, are notoriously high for inmates and their families).
None of those disparities featured in a presentation to commissioners by Tallahassee-based CRA Architects in May, when all talk about the panopticon-like, 272-bed jail in the shape of an octagon revolved around projected savings, especially by using the existing jail as retooled administrative space.
The county is financing the new jail and the sheriff's operations center with revenue from a sales surtax. But that money is by no means limitless: it generates about $2 million a year. The county faces a slew of new projects over the next several years, including a new fire station on the west side, possibly a new library branch, a new skateboarding park at Wadsworth park, and a massive upgrade of its emergency communications system, which alone is projected to cost anywhere from $9 million to $18 million. For now, the jail and the operations center will be accounting for the majority of the sales tax revenue. But any additional costs that those two projects incur means less money for other county needs—a prospect the administration does not want to contend with financially, and commissioners don't want to contend with politically.
Still, both sides are stressing that the latest cost estimates still represent early stages of the projects, with much negotiating ahead. Meeker spoke of eliminating some features at the new jail to bring it within budget. "It's going to be done with the budget that's available, and there's only so much that's available in the budget," Meeker said, "without sacrificing what they're designing for, and I think it can be done."
The commission met twice on Monday and was scheduled to meet twice again on Tuesday—in early morning for a ribbon-cutting at the new restaurant at Bull Creek Campground, and later in the morning in another budget session. The jail and sheriff's operations' costs never came up for discussion on Monday—the matter was not on the agenda—and are not on Tuesday's agendas. But the commission's discussions on both days have and will focus on financial matters that would be affected by cost overruns at the two large projects.
Coffey spoke of the jail as an absolute necessity, but of also of the costs meeting the county's budget as an equally absolute necessity. "We'll have to bring it within budget. We'll have to do what we have to do," he said, going as far as projecting restarting the project if necessary. "If we're not on track, we may have to retool," he said. "We've got to get there."