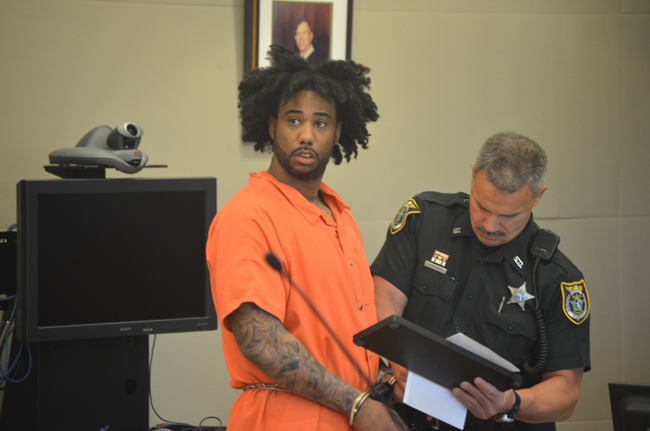 Flagler County Judge Melissa Moore-Stens sentenced Jacquez Roland of Palm Coast to 40 years in prison without parole Friday, the harshest possible sentence he faced after being found guilty of armed robbery, grand theft and false imprisonment at the end of a four-day trial on May 23.
Roland, standing at the podium in an orange prison suit, a deputy behind him, another in front of him, and his attorney next to him, shook his head as he heard the consecutive judgment.
The sentence stemmed from a robbery at Sharps Liquor in the Winn Dixie shopping center on State Road 100 on Oct. 31, 2011.
That October morning Rebecca Crowley, 29 at the time, was the Sharps Liquor clerk when Roland, after asking about a type of drink, seized her, pointed a gun at her and took $250 from the cash register before dragging Crowley to the stock room by the hair and zip-tying her arms and legs. She screamed for help, but could not be heard.
Crowley, who no longer works at Sharps, followed the entirety of the trial in May. She was in the courtroom Friday afternoon. Assistant State Attorney Richard Price called her to the podium. The two exchanged a few words. It looked as if Crowley would address the court. But she then declined, and returned to her seat in the audience.
In May, she said she'd had serious psychological struggles after the attack, but that she'd recovered since.
Roland has been in state prison previously, serving an eight-year prison sentence, from 2002 to 2010, on a Broward County case, for armed burglary. Because of that, his sentence was much steeper.
Price called two witnesses this afternoon: Sgt. John Bray, supervisor of court services, stationed at the courthouse, and Crystal Bustamante, a fingerprint technician at the Volusia County Sheriff's Office. Price established through the two witnesses that Roland is the same man who had served a prison term and been released within the past three years. Price did that to establish that as a re-offender, Roland had to be sentenced to the maximum term possible, without parole.
The prosecution also asked for Roland to be sentenced to five years in prison on each of the additional charges he was found guilty for: grand theft and false imprisonment, and for the sentence to run consecutively, for a total of 40 years in prison, without parole. Price described again for the judge the way Crowley was assaulted and hogtied. The nature of the crime is "one of the most egregious, personal attacks one can have, to be actually tied, with zip-ties," Price said.
Assistant Public Defender Regina Nunnally asked that a "fair sentence" would amount to 30 years without parole, but that the additional two five-year terms for the grand theft and false imprisonment should be served concurrently, not consecutively, with credit for time served. That would still have had Roland leave prison at age 74 or 75.
In a surprise, Roland addressed the judge just before the sentence in a plaintive, nearly angry tone, saying he never had a fair trial, and that his race affected the verdict.
"I don't feel the state proved their case at all," Roland said, addressing Moore-Stens apparently against the advice of his attorney. "The state did not prove that I am the one, Jacquez Shakim Roland, that I am the one who attacked her." He said he'd been described as dark-skinned, but that he'd never been dark-skinned in his life.
Roland rapidly replayed the trail before the judge, going over various issues, from a missing tape to witnesses testimonies to issues with evidence and DNA, that sounded like his own closing statements. He did not ingratiate himself with the judge as he lambasted law enforcement and the prosecution for mishandling his case, especially as a video tape that some witnesses had based their testimony on had gone missing. "It wasn't there, so I don;t feel the state proved, I feel like I was railroaded," Roland said. "Flagler County is very good at doing that. I don't know what it is, this is 2013, it's not the 60s anymore."
"I'm not making anything up, everything I just told you it's in paper, it's in black and white," he said. "If I was white, it wouldn't have went down like that. And I'm not playing the race card, but it is what it is."
Roland will not be eligible for parole on either the 30-year sentence or one of the five-year sentences. On the second five-year sentence, he is eligible for earlier release on good behavior, but only after serving 80 percent of his sentence. In other words, the most break he can get is a little less than a year on his 40-year sentence.