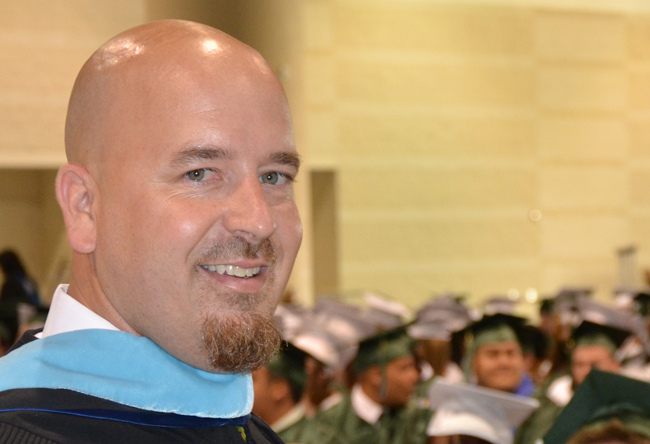 Absent an unexpected cosmic realignment, Jacob Oliva will succeed Janet Valentine as Flagler County School Superintendent next July 1.
The school board made that clear Tuesday evening as it decided to forego a state or national search but still go through the formality of posting the position locally, and urging Oliva to reach out to community, civic and business groups over the next few months to pave the groundwork for his appointment. The board may also hold a public forum or two took seek community input on the choice and give Oliva a chance to more directly introduce himself, though as a former principal at Wadsworth and Flagler Palm Coast High School and the assistant superintendent for the past year, he's familiar to many.
"I've always tried to put myself in a position where I can grow and learn," Oliva, 39, said Wednesday. He's been seeing the larger picture of the district as assistant superintendent. "Moving into the superintendent's seat would be a natural progression for me."
The Flagler County Chapter of the NAACP did not welcome the board's latest move.
"I think it's cronyism at its most obvious and I think they're doing a tremendous disservice to the county's children by not initiating a national search," Linda Haywood, the chapter president, said.  "The problems that need to be fixed are not going to be fixed if they haven't been fixed already with the same people in place: Low test scores, the school-to-juvenile justice pipeline, lack of resources for students who are at risk either academically or otherwise. We don't have enough guidance counselors, we don't have enough psychologists."
Haywood said she is not opposed to Oliva's appointment per se. "I'm not saying that he may not be a proper fit, but I think we should at least have some alternatives, we should measure his ability against that of other candidates before we just slide somebody in," She said.
By advertising the position locally, the board may yet technically claim that it will have done just that even as it abides by its succession plan—a plan Haywood dsaid did not work when former Superintendent Bill Delbrugge handed off the reins to Janet Valentine.
"Absolutely not," Haywood said. "Look at the failures that have gone on. Look at the reason we filed the complaint with the Southern Poverty Law Center." Last year the center filed a lawsuit citing Flagler among four school districts in Florida where black students are disproportionately punished and where layoffs disproportionately affect black employees in a district where blacks are already woefully under-represented in teaching and administrative ranks, and where some 68 percent of black students are failing.
Oliva said he grew up in an environment that compelled diversity, and knows its importance. He is himself half-Hispanic as the son of a Cuban-born father, and grew up in Miami in a bi-cultural household. "Diversity is what we want to embrace," he said. "I would love an opportunity to work with local civic organizations to find out their input on what we can do better." One of his goals: to start early learning centers, or VPKs, in each of the district's elementary schools as one strategy for early intervention that pay off in the long run, lowering the incidence of at-risk youths. "Those notions are being reinforced by the community. We need to embrace that," he said.
He wants a more diverse base of employees, too. "Ideally you want to see your staff mirror the demographics. Students need  role models," Oliva said. "The more diverse our staff is the more diverse our programs are the more opportunity for our kids to make connections. It's going to pay off with more kids graduating from high schools, which is our goal."
At his age, with at least a quarter century of professional life ahead of him and achieving before middle age what to most would be a career's capstone, his natural progression begs a natural question: how long would he be willing to remain superintendent? And in fact, Oliva's ultimate goal is to teach administrative leadership at the college or university level.
But that's not for many  years yet: his daughter just started fourth grade at Bunnell Elementary, his son is starting kindergarten next year. "My hope is to see them through a great school district," Oliva said. "I'm grounded in Flagler County.  This is where I want to be and I think we're doing great things here."
The school board did away with a state or national search for two reasons: lack of money, and Oliva's place in a succession plan designed to help the board avoid searching far afield for a superintendent.
During budget-cutting rounds the board ended its membership to the state school board association to save several thousand dollars. Getting the association to help in recruiting a new superintendent would have required rejoining ($9,000), and paying additional fee for the recruiting service (another $9,000) and advertising costs, for a total of $20,000 to $22,000. The association would have had a workshop with the board on Oct. 1 before seeking community input through one or two public hearings. The new superintendent would have been announced by March 31.
"I just don't want us to spend the money and go through the process if—I mean the cream always rises to the top anyway, it doesn't matter," board member Colleen Conklin said, referring to Oliva.
Board member Sue Dickinson said the costs would rise even more once interviewing's travel costs arec added in, plus moving costs. "So keeping that in mind it's not going to be a simple $25,000," Dickinson said. "We did not budget to spend this money, and I'm not saying we need to go inside just because of the money or the dollar value behind it, but if we choose to go that road against our own plan, then this money has to come out of somebody's budget, because we don't have it. That would be a big concern of mine because we're going to hit the classroom again. We're not talking just pennies. In addition to that if you're going to move somebody here you've got to pay their moving expenses, you've got to go that whole road that we've been down before. Our last two superintendents were appointed from within. I personally don't see why we can't do that again."
Board Chairman Andy Dance seemed to agree, but he just as clearly didn't want to make a politically tone-deaf decision, either.
"Personally I think we've got the correct candidate in line, but there is a bigger picture, and that is, getting the local community input on the decision as well, hearing from the community," Dance said. "A lot of people—and I think if the decision is just to do our own advertisement, I would be OK in opening up the advertisement and having some public hearings so that we gain input from the community. But it would take an outside rock star to change my opinion. Sometimes you never know who's going to apply, but if Mr. Oliva wasn't in our district and was somewhere else, and you looked at the qualifications, you looked at the advances the district has made and were able to interview him, you would say this is the guy we've been waiting for. We need to bring him on. Sometimes you don't catch that when he's right underneath your thumb, and sometimes the community doesn't know what they have, so I think the process kind of opens that up as well."
It was then that Board Attorney Kristy Gavin recommended a community forum.
"It's beneficial to have a community dialogue and community input on what characteristics the community would like to see in a superintendent, and then maybe this conversation moves forward," Conklin said. "We know many of the characteristics that the assistant superintendent has. We know the abilities and capabilities and things that he's done. We've had those experiences, many other folks have not. But there may be characteristics in the community, qualities that folks are looking for, and I'm not going to pretend to know what they may be, but I think it's beneficial to get that input. We're not in a rush right now."
"If I'm going to do an open public forum," Dickinson said, "I just want to hear what the qualities are that the people are looking for. I don't want somebody coming up here and say we don't want this person, we don't want that person. I have no problem listening for qualities, but as long as we keep names out of it, and we don't allow anything to that effect. Guys, remember: this is the only person that we hire. And we've been elected to hire this person as part of our job. The public has put their trust in us to do our jobs, and it's our job, yes. Listen to what the qualities are they looking for, but the end decision is our decision."
Over the next two months, Oliva will take the lead in talking about the state of education in the county, and the board will take up the issue again in November. But it's not looking to formally start contract negotiations with Oliva until spring. Valentine's last day is June 30. Until then, Oliva, whose office is connected to Valentine's at the district office, will gradually assume more responsibilities, mirroring the previous superintendent transition.