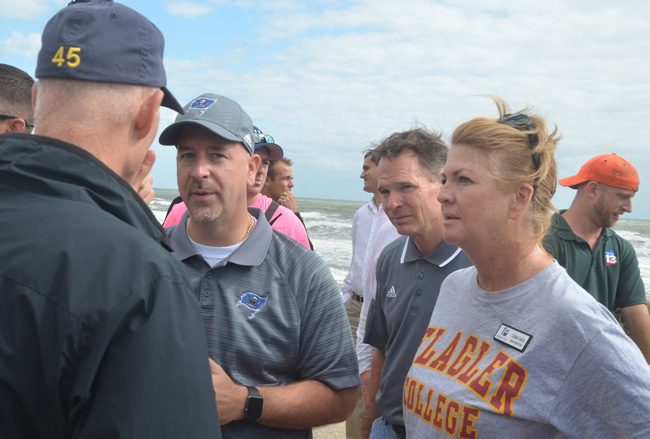 Flagler County Superintendent Jacob Oliva is leaving the school district to take a position at the state Department of Education as Executive Vice Chancellor for K-12 Public Schools, a position last held by Mary Jane Tappen. Oliva, who's been superintendent for just two years, will take the state position at the end of June, ensuring his presence locally through the expected transition.
"It's a big deal," Oliva said in a brief interview this afternoon. "I'm excited, a little nervous, but I have a passion for education. I'm a lifelong learner, I have an opportunity to work at the state level and impact the state." His presence at the state Department of Education should be an advantage for Flagler, he said, at least to the extent that local leaders will have a direct line of communication into the chancellor's office.
Oliva announced his appointment to the school board at the end of a workshop on Tuesday by way of a letter, asking them to keep the announcement under wraps until he had a chance to tell school employees. He did not ant to make the announcement on Thursday so as not to overshadow the Teacher and Employee of the Year ceremony. He released a YouTube video announcement of his coming resignation and reassignment on Friday.
"I know this might be a little bit of a shock to most folks but I want to remind everybody to stay focused on our students and make sure that learning is happening every single day and that the transition at the superintendent level is going to be smooth," Oliva said in the four-minute video, "and I will be here throughout the rest of the school year to make sure that that happens, and we want to keep our focus on making wonderful things happen."
May 26 would be Oliva's last day, giving the school board the chance to hire someone ahead of time and have both superintendents' terms overlap: that had been the case during the transition between Bill Delbrugge and Janet Valentine, the superintendent who preceded Oliva.
---
"When I reflect on the progress we've made it's just astonishing."
---
Oliva's tenure has been largely controversy-free, with the district improving previously difficult relations with minorities and increasing minority appointments among administrative ranks, for example. Relations with the local teachers and service employees' unions continued on a relatively smooth course, as had been the case before Oliva's appointment, but the district never broke away from its run of B ratings year after year on Oliva's watch. Still, it was perceived as an innovative force in the state in the use of technology in the classroom, an initiative started before Oliva arrived, and accelerated during his tenure. Oliva was also directly responsible for instituting the so-called Flagship Program, establishing a direct link between classrooms and careers with hands-on career programs, beginning as early as elementary school.
Oliva is completing the third year of his three-year contract. The school board appointed him superintendent in February 2014 at the end of a process in which he had been the favorite all along. The process had drawn just 19 applicants.
The school board meets Tuesday and is expected to discuss the transition process.
Former Superintendent Janet Valentine had groomed Oliva as her successor. No such distinct succession plan is in place currently ("I wouldn't say there's a formal succession plan," Oliva said), even though Vernon Orndorff has been the most visible of Oliva's deputies.
"My favored approach is that the five of us need to make this decision–whatever we do, we need to make the decision, pretty methodically," said School Board Chairman Trevor Tucker this afternoon. Tucker's reaction, when he first learned of Oliva's move? "How in the world are we going to replace someone as good as Jacob? I think he's been great for our district." He added: "I think it's a great opportunity for Jacob. He's helped our district tremendously, and now he's going to go to the state and hopefully help the state transform the state of education in the whole state of florida."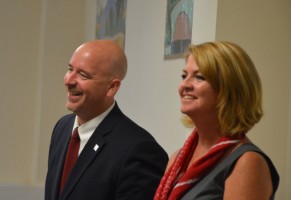 School Board member Colleen Conklin's reaction was a tad more muted: she had been the lone vote against hiring Oliva almost three years ago–or, rather, the vote in favor of a different candidate, though when it came time to actually appoint Oliva, she joined her colleagues to ensure that the hiring vote would be unanimous. If there's been contention on the board over the past three years, it's generally been between Oliva and Conklin, who will now be part of the process to hire the sixth superintendent on her watch (she was elected in 2000).
"The guy's been offered an amazing opportunity," Conklin said. She had not been at the workshop on Tuesday (the workshop was between the school board and the Flagler Auditorium board). "I heard it on Wednesday, he called, he did not want to share it publicly because he did not want to overshadow the teacher of the year," Conklin said. "I was surprised, you know, surprised but excited when I heard he was basically offered to go to DOE because it's a tremendous opportunity for him."
As for the next step, Conklin said: "We will most likely go out for a search. During the last process we heard loud and clear from the community that that's what they wanted and so I would support a statewide or national search. But I feel very confident that we will be able to continue the momentum of many of the projects and the initiatives that we have started. Many of these were started before Superintendent Oliva, he added a tremendous amount of energy, and we will continue to move forward with who may come on board as the new superintendent." Conklin foresees a superintendent search committee doing the preliminary work, as was the case for Oliva's hiring.
She said she had not heard from anyone in Oliva's direct executive circle of an interest to succeed him, though that doesn't mean the interest isn't there.
Tucker was not aware of such interest, either. "I don't know what Vernon's plans are, I don't know what anyone's plans are," he said.
In the four-minute video, Oliva–who in the interview was insistent that the video was an internal communication not necessarily meant for dissemination beyond the "family"–he congratulated the new teacher and employee of the year then, with a humorous dig at the judges ahead ("we know that if you're not recognized as the state of the year or teacher of the year, all the other districts cheated.").
But the method of announcement was identical to that of Bill Delbrugge, when the latter, who was largely perceived as a very popular superintendent, broke the news of his departure for a posting at the head of a school in Egypt through a video as well, in 2010. The difference was that Delbrugge took seven minutes to begin telling of his departure (Oliva did so within the second minute).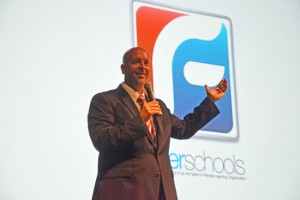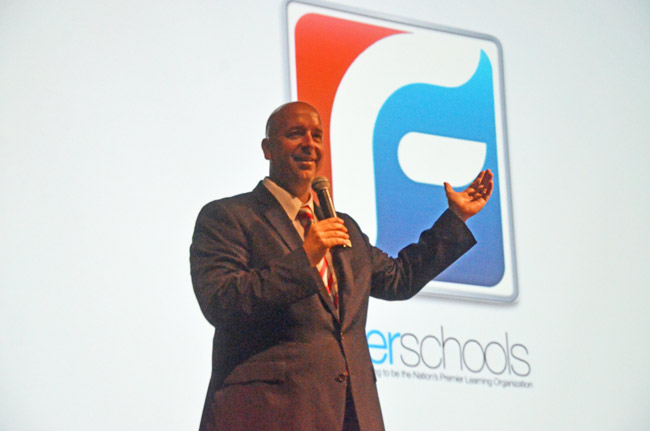 "I've spent the last 17 years in Flagler schools and I can't thank everybody that's influenced me throughout the years and helped me grow and develop as a leader and made me the person of who I am today," Oliva said in the video, before the announcement. As he spoke, the video featured a series of images showing Oliva at key moments of his career as superintendent, at graduations, before the Legislative delegation, with the School Board: clearly, it was prelude to something significant.
"As we're moving forward with all the changes that are happening throughout the state, I've been asked and given an opportunity to join the team at the Florida Department of Education and be a part of that transition process. So I've formally–I'm letting everybody know that it's with a sad and heavy heart that 2017 will be my last school year with Flagler schools," and he said he had accepted the position "as the executive chancellor of K-12 education."
In the interview today he said he would move to Tallahassee with his family–he has two young children in Flagler schools–but that he would still consider Flagler, where he's lived since 1998, his home.
Oliva said the district is designed to protect its institutional knowledge no matter who is hired. He concluded: "When I reflect on the progress we've made it's just astonishing."