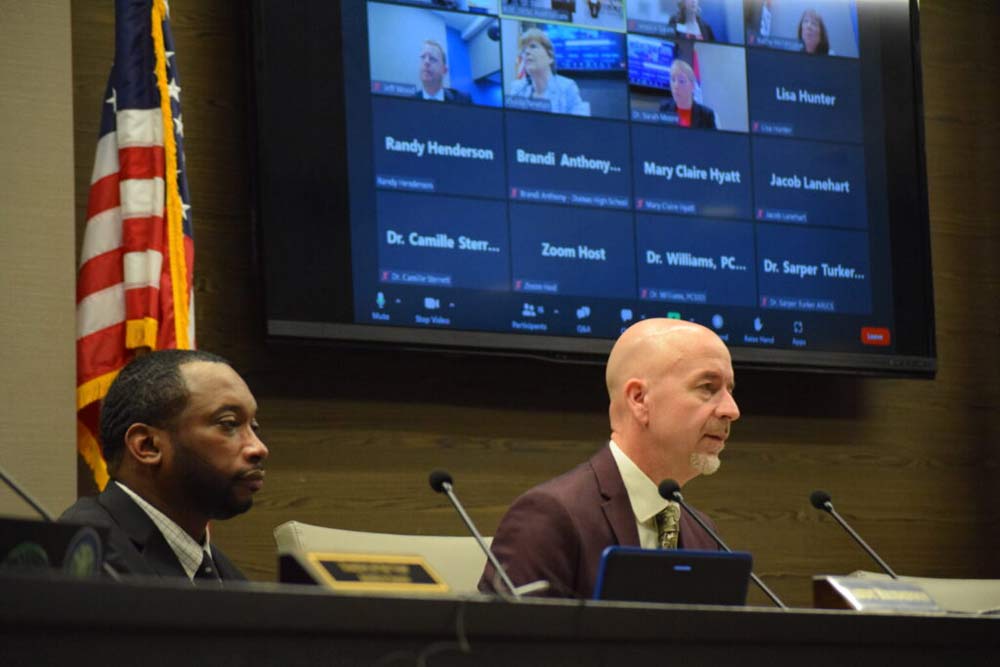 Arkansas' top education official on Monday sought to defend the removal of an AP African American Studies class from the state's approved course list late last week, but anger persisted from education advocates, state lawmakers, students and the NAACP.
Education Secretary Jacob Oliva [a former Flagler County superintendent and Florida chancellor of education] told the Advocate that the class was deleted from the state's Course Code Management System because it "was listed in error last year."




The system also was updated to reflect new secondary math standards approved by the State Board of Education last week, Oliva said. It's common practice to review and edit the state's course catalog, and officials typically consider factors like usage rate or redundancies, he said.
Meanwhile, the chairman of the Arkansas Legislative Black Caucus, state Rep. Jay Richardson, D-Fort Smith, said the message was clear.
"The decision of the Arkansas Department of Education is deeply concerning and sends a message to students in Arkansas that their African American peers are not as important and not as valued," Richardson said.
The Advanced Placement (AP) Program allows high school students to pursue college-level studies in nearly 40 subjects. The classes culminate in an exam through which students can earn college credit. The AP Program is an initiative of the College Board, a not-for-profit organization founded in 1900 to expand access to higher education.




AP African American Studies was piloted in 60 schools last year, including two in Arkansas — Little Rock Central High School and the Academies at Jonesboro High School. The pilot expands to hundreds of additional high schools this year, with students taking the first AP exams in the spring of 2024. Six Arkansas schools were expected to offer the course this year.
All schools can begin offering the course in the 2024-25 academic year.
The Education Department's decision means the state will not pay the nearly $100 fee for students to take the end-of-year AP exam, as it does for other AP exams. Students are not prohibited from taking the exam at the end of the year if they choose, Oliva said.
Little Rock School District Superintendent Jermall Wright has been communicating directly with ADE officials "to explore options that will allow our students to fully benefit from this course despite ADE's decision," according to a statement from LRSD.
"Our top priority is always the well-being and academic success of our students. At this time, we are weighing the options provided to us with the staff at Central High School and will decide the next steps within 24-48 hours," the statement said. "Rest assured, we are actively working to ensure that our students continue to receive a well-rounded education that includes diverse perspectives and meaningful learning opportunities."
Officials at the Academies at Jonesboro High School couldn't be reached for comment Monday.




AP African American Studies is not a history course, Oliva said, and there are questions about "where would it articulate on a student's high school transcript," once the course is finalized at the end of the pilot program.
Oliva said ADE can't yet approve it as a course because of state board rules that govern the requirements to earn weighted credit for AP courses and to earn college credit if a student scores high enough on the AP exam.
For example, Oliva said teachers must complete a course audit requirement to teach that course. That means they have a form signed by their school administrator that confirms "awareness and understanding of their curriculum and their resources that are offered." They also must submit a syllabus that details how course requirements are met and is reviewed by college faculty.
"We can't offer a course or we can't assign a course code to a teacher to teach an AP course to give a student AP credit that would transfer on their transcript unless the teacher does the course audit requirement," Oliva said. "Because it's still a pilot and not a course, that's not available until the 24-25 school year."
ADE is working to make sure districts know the state does offer an African American History course that would meet the social studies graduation requirement, Oliva said. Districts have asked about an honors version of the course so students can earn weighted GPA, and Oliva said the state is "going to work with districts to build that out."






All AP Exams, except AP Seminar and AP Research, will cost $98 in 2024, according to College Board, the group that administers AP courses. Depending on the availability of funds, state rules allow schools to be awarded up to $50 for each score of three or better on any AP test. Exams are ranked on a scale of 1 to 5, with 5 being the highest possible score. Schools must use the funds for the schools' AP program.
More than 200 colleges and universities across the country have signed on to provide college credit, including the University of Arkansas, Fayetteville, according to College Board.
Oliva said state education officials can review the AP African American studies course once it is finalized and decide whether it should be considered for approval in Arkansas.
Arkansas law contains provisions regarding prohibited topics, so until ADE gets clarity about the course, "we cannot approve a pilot that may unintentionally put a teacher at risk of violating Arkansas law," ADE spokeswoman Kimberly Mundell said in a statement.
"The department encourages the teaching of all American history and supports rigorous courses not based on opinions or indoctrination," Mundell said.
In a statement, College Board officials said they've had "an excellent working relationship" with ADE, which has resulted in expanding AP access across the state.
The organization shared in the "surprise, confusion, and disappointment" that AP African American Studies won't count toward graduation credits or be weighted the same as other AP courses offered in the state.
"College Board is committed to providing an unflinching encounter with the facts of African American history and culture, and rejects the notion that the AP African American Studies course is indoctrination in any form," according to the statement.




On her first day in office, Gov. Sarah Huckabee Sanders signed an executive order prohibiting the "indoctrination" of public school students with ideologies, like critical race theory. The LEARNS Act, a sweeping education bill backed by Sanders, permits Oliva to review ADE rules policies, materials and communications, and amend or annul those that promote "indoctrination" or critical race theory.
During a committee hearing on the new education law in February, Sen. Linda Chesterfield, a former educator and Democrat from Little Rock, told Oliva she wanted to make sure teachers weren't fired for discussing sensitive topics like Jim Crow laws because it's important for children to know "the history of this country has been marred with racism, sexism" and the discrimination of Indigenous people.
"Not only should we teach those topics that are factual in history, it should be required," Oliva responded then. "And if those topics aren't reflected in our standards, then that's an opportunity for us as a state agency to ensure that every child is taught those topics when it's in the appropriate course."
Chesterfield is a member of the Arkansas Legislative Black Caucus, which "expressed its outrage" about ADE's treatment of the AP African American Studies Course on Monday. Richardson, the chair of the Legislative Black Caucus, said the decision "further perpetuates the marginalization of African Americans and denies all students the opportunity to learn about the unique history and experiences of our community….
"This type of decision has far-reaching implications on the educational and professional success of all Arkansas youth, and we must not allow this type of inequality to persist."
Vivian Day, a Central High Young Democrat, said she was "deeply saddened, but not surprised," by ADE's decision in a statement released through the Young Democrats of Arkansas.
"We, the students at Central, feel cheated by the lack of transparency from the Department of Education and hurt by the clear effect this decision will have on schools such as ours," Day said. "As someone who took the class last year, I know firsthand how political attacks manage to undermine the ability of students to learn valuable information about the history and culture of African Americans. The explanation provided by the Secretary of Education to the Little Rock School District cannot justify the sudden reversal of policy which occurred late last week."
–Antoinette Grajeda, Arkansas Advocate