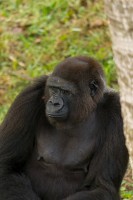 It is with great sadness that Jacksonville Zoo and Gardens announces the passing of a gorilla infant born Thursday night (March 27). The infant was born to first-time mother, Madini, and first-time father, Lash.
"The loss of an infant can be a traumatic experience for gorilla mothers," said Tracy Fenn, supervisor of mammals at Jacksonville Zoo and Gardens. "Madini's gorilla companions and human keepers will support her through the mourning process."
Fetal heartbeat was strong on the Zoo's sonogram two days ago and the birth did occur during the normal gestation range of 237 – 285 days for gorillas. The cause of death is currently unknown but possibilities include stillbirth and death during labor. Zoo veterinarians will complete a thorough necropsy to try to identify the cause. Infant mortality is not uncommon with gorillas, and first-time mothers have a 50 percent higher rate than second-time mothers. Keepers noted Madini did everything she was supposed to do after the birth which is a hopeful sign as Madini will be allowed to continue breeding when she is ready.
The news was in bitter contrast with the announcement in November 2013 that Madini was pregnant,
"This is an especially exciting time for Jacksonville Zoo, not only because it is Madini's first pregnancy, but because Lash was historically labeled a 'behavioral non-breeder' at two other zoos," the zoo had reported at the time. " Lash is one of the most genetically important gorillas, and his offspring will help maintain good genetic health within the zoo population."
"Staff is in mourning," Dan Maloney, Deputy Director of Conservation and Education, said Friday. "We are thankful that Madini is doing well, but the zoo was so excited about the prospect of a gorilla baby, that we are profoundly disappointed, and can only look to the future with hope."