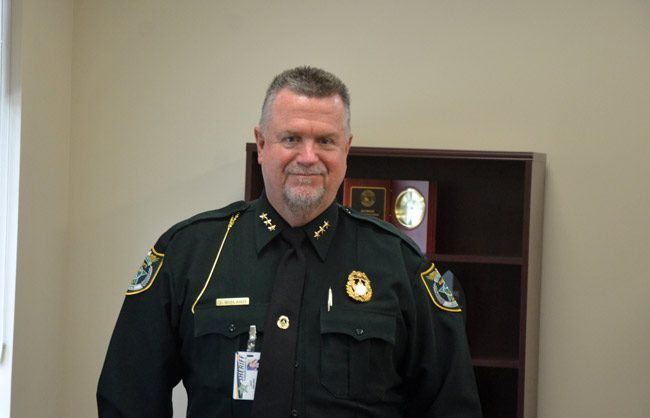 Jack Bisland, the steady, no-drama second-in-command at the Flagler County Sheriff and a consummate cop's cop will hang up his badge and retire as Sheriff Rick Staly's undersheriff come February, just over two years into his tenure.
Bisland surprised colleagues at the agency, including the sheriff, when he made his announcement internally last week. The agency announced it Tuesday.
"I've had 41 years of a wonderful, blessed career," Bisland said, "recently had a grand-baby, recently moved into a new house and started to reevaluate where I was. I have my health–buried too many friends way too soon–I have my health, we're blessed financially, and we said you know what, it's time. 41 years is my entire adult life."
The undersheriff's position will go unfilled, Staly said. The plan is to disperse Bisland's responsibilities among the sheriff's chiefs (who are his department heads). "I've got some time to think about that," Staly said, referring to Bisland's actual retirement date next Feb. 8.
Bisland, 60, started his law enforcement career at the Winter Springs Police Department, worked at the Longwood Police Department, became an agent with the Florida Department of Law Enforcement and an investigator at the State Attorney's Office in the 7th Judicial Circuit–covering Flagler, St. Johns, Volusia and Putnam counties–before briefly working as chief of investigations in former Sheriff Jim Manfre's administration, then as Staly's undersheriff.
Staly today called him "a loyal and trusted friend" and praised his professionalism which, with his experience and temperament, helped steer the agency to the solid, largely uncontroversial grounds it has enjoyed for the past two years.
"In the time I've been doing this job," Bisland said, "the people I've worked for early on in my career and throughout my career that I always wanted to emulate, uniquely all of them had two things in common: One, they were humble people. I just think that goes so far with people. I never wanted to work for people who were arrogant and full of themselves. Humility is a good thing. I enjoy encouraging people. The other thing these people had in common was they always put the agency first, not themselves."
Bisland referred to his sheriff's office colleagues as family, and said the bittersweet part of his retirement is that he won't get to interact with them anymore, though he said he's ready to transition to "chasing my grand-kids around" and spending time with his wife at his property in Hunter's Ridge.
One of Bisland's more high-profile responsibilities in the past two years was leading the sheriff's task force on domestic violence (which met today). That responsibility will go to Chief Steve Brandt.
And yes, because of the parallels between Bisland stepping down as undersheriff two years into his tenure and Staly stepping down as Manfre's undersheriff two years into his tenure, the question will inevitably be asked–as it was by a reporter to both Staly and Bisland: does Bisland have political ambitions? "Absolutely not, no, none whatsoever," Bisland said. "I'm retiring and hanging up my badge and seeing what God has in store for the next chapter of my life." Meanwhile, he said, he has no other goals but to support the sheriff's office.
Staly chuckled at the question: clearly, he's not concerned over any such parallels (and is unlikely to draw serious opposition in 2020).
Bisland will remain a reserve deputy and will continue serving on the board of the Family Life Center, along with his involvement at Salty Church.
"Jack has a great reputation in the Florida law enforcement community and will be greatly missed," Staly said. "I thank him for his service and we all wish him and his wife Cindy the best in retirement."