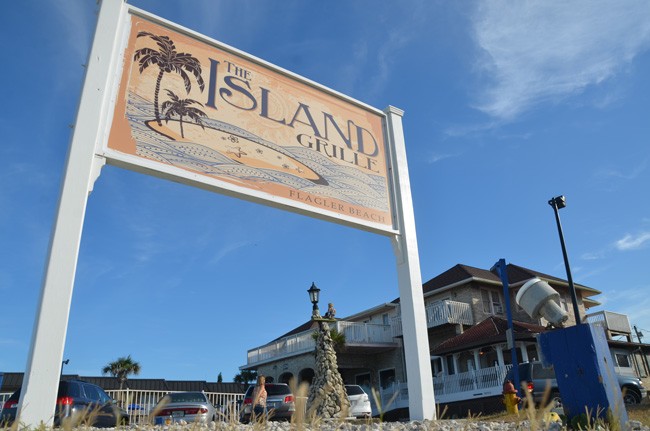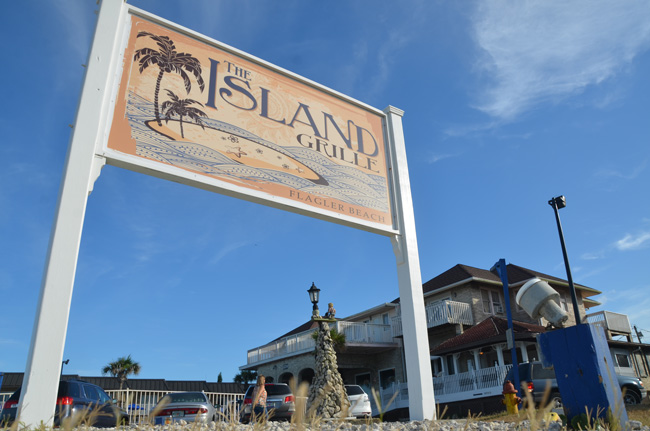 Thirty-two minutes after the sun peeked over the Atlantic this morning, and 276 days after its Blue ancestor closed its doors to the consternation of mourning paunches, The Island Grille, Flagler Beach's most anticipated new restaurant, quietly opened for breakfast Wednesday, and then lunch, and then dinner. And it will do so again for the foreseeable days and decades ahead, if its unusually cohesive team of five co-owners has its way.
The egg-shell opening happened 48 hours after the restaurant owners and their staff of 30 spent the previous two evenings treating family and friends, then supporters—including the contractors, painters, food distributors and other people who scrambled to open the restaurant by Memorial Day weekend–and local media, to the sort of bill-free feasting unheard of at such openings. "Everybody who is here is here because they helped in one way or another," co-owner Joe Rizzo said. "So it was just a way to give back and say thank you. It's a debt of gratitude. Without everybody in this room, it doesn't happen."
The prodigal chef is none other than Gary Maresca, whose gastronomy had seasoned Blue with its endless shades of creativity. The gastronomy has returned in a trifold of a menu, amplified by its breakfast offerings for the first time in the building and a full bar. This time, Maresca is surrounded by that team of co-owners whose names have become so synonymous with the restaurant business, with Flagler Beach or with the county, that the quintet forms an implicit marketing unit all its own.
Rizzo is the co-owner of Woody's Barbecue and Bull Creek Restaurant, and a past president of the Flagler County Education Foundation, where he developed a connection with the man whose face and name seem associated with innumerable projects and foundations around the county: Realtor David Alfin, who became the financial pillar behind the venture. Flagler Beach's Carla Cline, who's put in nearly a decade waiting and managing at Snack Jack's, describes herself as the business' "front of the house." She's likely the first person patrons will see. And Chris Zwirn, also a co-owner of Woody's and Bull Creek, brings his strong restaurant-business acumen to the operation.
---
A new restaurant with the feel of an institution even on its first day.
---
Speak to each one in turn, and independently they'll say the same thing in one variation or another: the restaurant is the creation of that team of five. Its success, they say, is virtually assured not so much by their optimism—though it's there in spades—but by the variety of experience and  community commitments, which they feel is a busy two-way thoroughfare. "You've got a new spark in town," Cline says, describing the restaurant's possibilities as infinite.
Rizzo is as affable a restaurant owner as they come. But he had his trepidations even as his interview was interrupted by handshakes and compliments. "You only get one chance to make a good first impression. That's the part I'm most nervous about," he says.
Maybe that's why he worked so hard to give the new restaurant in its old digs one of its most distinctive features: its doors. Gone are the blue, 70s-like Plexiglas doors at the front of the main room, replaced by a pair of enormous, sliding and beautifully untreated cypress wood doors from a Bubba's Cypress mill in Williston, Fla. The doors were Rizzo's idea. He picked out the wood at the mill and had them prepared his way. They now open onto an ample floor plan with those big bay windows that give onto the nearby pool and the ocean (you can have restaurant service at poolside), mellowed by walls of silver mist, a paint either light blue or green with a touch of silver, depending on your  mood. The paint was the work of Cline's fiancée, Barry McDonald.  The restaurant extends two-fold into other rooms, including the Flagler Room and the Lindy Room with its floor-to-ceiling mirror and glass-encased trucks, coaches and train sets. Little by little over the evening Tuesday each room had its fill.
"I'm hoping this is the beginning of a forever kind of moment," Alfin said early on, putting more assurance behind the expectation of success: "No matter what it takes, the financing is there to do it." (Alfin had his 10 years in the restaurant business, as a Boar's Head distributor in new York's Catskills.)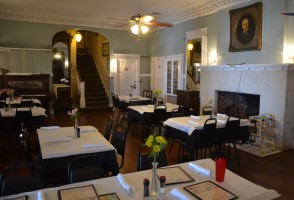 Toby Tobin, the Realtor and publisher of GoToby.com, was just finishing the buffalo chips in blue cheese appetizer with his wife Shirley ("Nice sauce," she says, "it's got a little bite, and it's enough for two people. It's excellent"). He had the wasabi oysters and pork shanks, wanting something not likely to be made at home. "There aren't many places in Florida where you can sit this close to the beach with food like this," he says, just as the pork was served. A little while later Tobin ambled up to a reporter's table and dropped the sort of pun that could get him arrested in certain places: "Shanks for the memories," he said. "It's supposed to be a memorable experience, and that's what it was." To Jane Mealy, the Flagler Beach city commissioner, the reopening, beside its economic benefit to the city, again lends her the sort of place she used to like to bring friends from out of town to. Not that (diplomatically speaking) she doesn't have other favorite spots in town. "But I really missed it when it wasn't here," she says.
Rebecca DeLorenzo, the Flagler County Chamber of Commerce president—she was at Island Grille with her daughter and her mother, but not her husband, the Palm Coast council member Jason DeLorenzo, who somehow thought it permissible to opt for the Lightning-Rangers hockey game in Tampa instead—spoke of the backing of the new restaurant as "beyond a trifecta. You've got all the right components to make a successful establishment." Not to mention her daughter's review. When  her mother asked to rate her ice cream on a scale of 1 to 5, Laureli gave it a 10.
For all that, Bob McDermott, the territory manager of a large food distributing company—he was at the opening with his wife Kathy—cautioned trigger-happy reviewers and bloggers from making too-quick judgments about the new restaurant. Any new restaurant. McDermott says he's been selling to restaurants for 24 years and has seen the pattern again and again as people rush to judgment, picking on defects or disappointments in the first days of a restaurant's opening. "Don't judge an opening in the first 60 days and come back again without the judgment, because they're trying to figure it all out," he says. "If you have a bad experience in the beginning, then go back and give them a chance."
Not that Tuesday evening would have given Island Grille's owners reason for worry.

The Island Grille is at 1224 South Ocean Shore Boulevard in Flagler Beach. It's open 7 a.m. to 9 p.m.