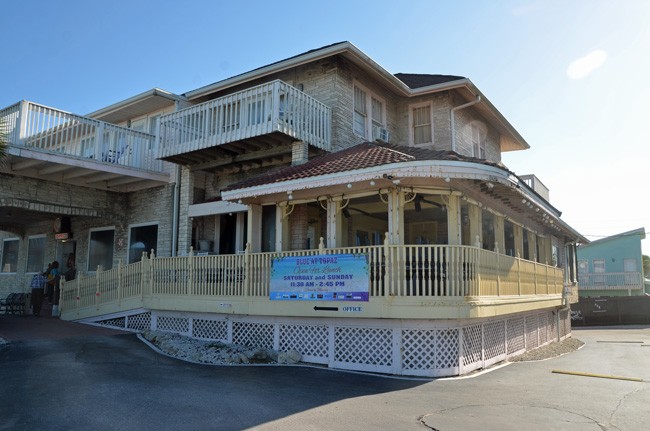 Last Updated: 4:35 p.m., with Joe Rizzo interview.
They didn't fly flags at half-mast when Blue closed last August. They might as well have. In its 12 years the restaurant had become an essential part of Flagler Beach's and the county's culinary landscape, combining for most of those years the gastronomy of Chef Gary Maresca with an atmosphere that reflected the restaurant's name: inside Blue, you got a sense of beachside serenity and upscale tastes that made visits memorable for a lot more than the food.
Blue itself isn't coming back. But a new restaurant with more than shades of Blue's DNA is, including, in the kitchen, Gary Maresca himself. It'll be called Island Grille, it'll open before Memorial Day, and possibly by May 1, and it's bringing together five very well known individuals with deep connections to the local restaurant business, to Flagler Beach, to the business landscape, and of course to what used to be Blue.
It all began, of all places, at a Flagler County Education Foundation meeting, where Joe Rizzo, co-owner of Woody's and Bull Creek Fish Camp, was chatting with David Alfin, the Realtor. Both serve on the foundation. Alfin wondered why Rizzo wouldn't look into re-opening Blue as a new restaurant.
"Somehow," Chris Zwirn, also a co-owner of Woody's and Bull Creek (which are also co-owned by Matt Crews), "Joe and Gary kind of reached out to each other and that turned into me getting involved, having the restaurant experience I have, then Carla Cline getting involved, because she's just a huge asset to Flagler Beach. That's how it all started."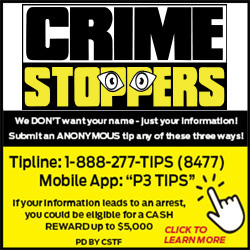 Announcing the venture in a press release Tuesday afternoon, Cindi Dalecki, the owner of Marketing2Go, called the quintet the Fab Five.
---
Blue's chef returns among a quintet of partners whose names are synonymous with Flagler County.
---
"I'm looking forward to being back on the beach where I feel at home," Maresca said in that release. "My food will consist of some of the favorites that people still often request, but I am eager to add some new menu items that I have been working on perfecting."
So Island Grill will be all sorts of blending. Maresca will bring back some of his favored oldies, but Zwirn says, "he's had a couple of years to get creative and bring some new stuff to the table, culinary wise." And Island Grille will make it a point to provide top-shelf food, as Blue used to, but also the sort of offerings that would invite seekers of burgers and sandwiches. As Zwirn describes it, "It's going to be a little toned down as far as the feel of the place. We'd like to be able to serve people coming in in suits and ties and shined up shoes as well as people in flip-flops coming off the beach."
Unlike Blue, the 151-seat Island Grille—like both of the other restaurants the Rizzo-Zwirn duo owns—will be open for breakfast, lunch and dinner. Dinner items will include Hawaiian Ribeye, Wasabi Honey Horseradish Crusted Salmon, Thai Curry Rice Bowl and quite a bit more (with room service and poolside service for the Topaz Hotel's guests: the restaurant is part of the Topaz's architecture). The flavor of the menu could be considered American Fusion with Asian and Caribbean influence. Or as Alfin puts it, the menu will reflect Maresca's affinity for food from all sorts of islands, wherever those islands may be.
The group signed a three-year lease with the Topaz owners, with two three-year options, for a total of nine years. Those negotiations lasted eight to 10 weeks, with attorney Jay Livingston representing the restaurateurs. Rizzo said the interiors will reflect "a few cosmetic changes, nothing really major," with a slightly bigger footprint. Diners will be served in the Flagler Room and the Lindy Room, named after Charles Lindbergh, who had once landed in Flagler and eaten in that building. His business partners aside, Rizzo, who always speaks of his businesses as "investments in people," credited fledgling Flagler Beach architect Sean Palmer, Brian Lester of Certified Construction Consultants and Barry McDonald of Rhino Properties (McDonald happens to be Cline's fiance) for pulling off the make-over.
"Because of the group, because of the location and because of the passion we have for the county I just can't see how this won't be a success," said Rizzo, who's not finished opening restaurants: he's teaming up with Trevor Tucker, the school board member who's to Woody's what Norm was to Cheers (minus the weight), to open a pizza parlor on County Road 305, near the Country Store. "I don't think I'm any more or less stretched than I ever was," Rizzo said. "They key to the success of this restaurants as well as Bull Creek and anything else we have is having the right people involved."
That, and a particular vision for each place.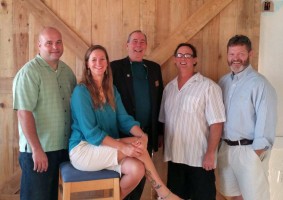 "The key signature," Alfin said of the new restaurant, "is one, the location and the building itself. Number two, it's totally a local project, invested by local people to provide the best service and the best food quality locally. That's our signature." As for the location, he considers it "the premier location for a bach-front restaurant anywhere in Flagler Beach." Alfin has worked around restaurants in an earlier career. His role in the partnership, he says, is not operations, but marketing.
But his involvement is also an endorsement of economic expectations ahead. "I'm invested in the enterprise because I truly believe that we're on the beginning of an upswing in the real estate business and economic development in general throughout Flagler County," Alfin said this afternoon, "and there's no better time to open the doors for a restaurant, which actually has a very good history, than right now. I think Palm Coast and Flagler Beach and the other towns within Flagler County are finally being discovered, and looked at by people from the Northeast, the Midwest, and also south Florida as well, including some international people. We've hit that 100,000 number, and we'd like to have the best dining and food quality available for people when they come looking for real estate value here in Flagler County."
Island Grille will employ about 25 to 30 people, Zwirn said.
Zwirn's endorsement of future economic prospects was already evident in his involvement at Bull Creek Fish Camp, which opened a matter of weeks before Blue closed, in early summer last year. By the time Island Grille will open, Zwirn and Rizzo's three restaurants will be employing close to 100 people, about half of them full time.
"We love this county," Zwirn said. "We want to see this county grow. There are some folks that want to see the county stay what it is and we understand that, but the evolution of life is there's only one constant and that's change. We want to be part of it in a positive way."