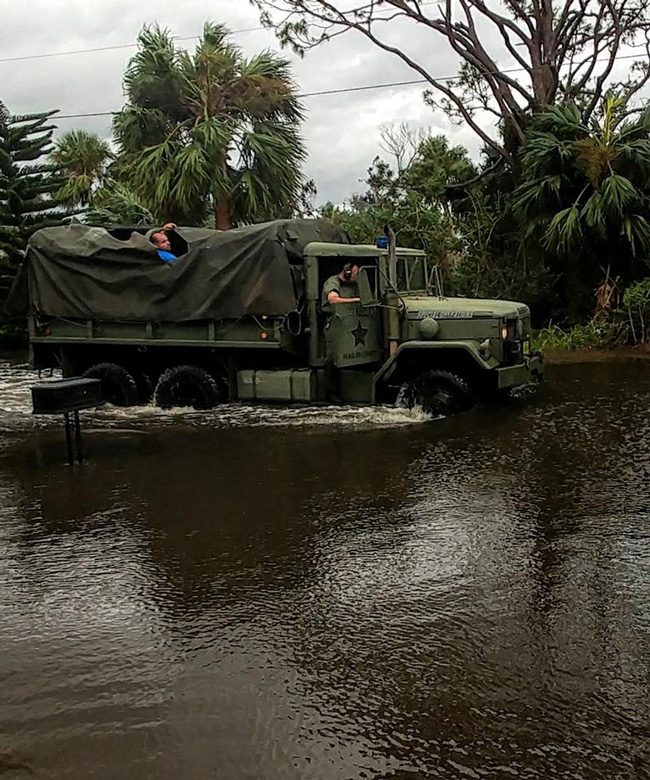 This is a story of caring by means colossal and tiny, and where the end result is the same: a beach-side city slammed by historic flooding sees its resilient residents finding ways to help neighbors by any means necessary, while the Sheriff's Office before daybreak was sending in its version of a cavalry in the shape of two massive all-terrain vehicles with cops who went door to door, checking on residents and handing out basic needs.
You read earlier about Colleen Conklin, the Flagler County School Board member whose large south Flagler Beach neighborhood found itself living through a miniature version of Houston's Harvey days, with house after house under one, two, three feet of water, with vehicles half submerged, streets turned into rivers, and Conklin and her children finding themselves shuttling neighbors and their goods by canoe. Hers is one of likely innumerable stories that have started emerging of neighbors aiding neighbors, of hardship humbled by tenacity or resourcefulness.
It is what Flagler Beach Police Chief Matt Doughney loves to refer to as "Flaglerstrong," hashtagging the word every chance he gets.
Scott Spradley is a Flagler Beach attorney. He lives off of South 23rd Street on the Intracoastal Waterway, one of the most heavily-flooded areas in the county. His was the only house in the neighborhood that did not flood, because it sits just two feet higher than other houses—not by his own design, but by coincidence: he happened to buy a house that was built higher than others.
"I was lucky. When I woke up this morning at 5 after 2 hours of sleep, I looked out back where the Intracoastal Waterway is, there was already two feet of standing water above my dock, which is already two feet above the water level." He could see the water rise with the naked eye. "It was moving at that kind of a pace, so I didn't know what to expect." And it kept moving, from the back and from the front of the house. Spradley had no idea when it would stop. He checked the tide schedule. And high tide for the Intracoastal was slated for 11:45 a.m.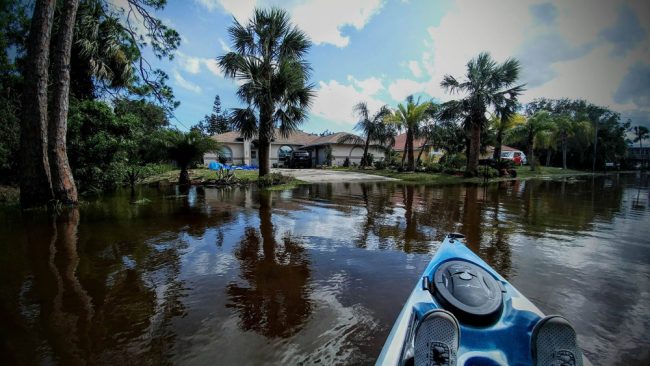 Sure enough, at noon, the water started receding.
The high water was startling enough for one day. He had another surprise. While he was on his computer—he has a generator—he heard tapping on his back sliding door.
There were several law enforcement officers from the Sheriff's Office and the Bunnell Police Department, and two colossal vehicles, what in sheriff's parlance are called "Deuce and a half," because they're two and a half ton vehicles that can go almost anywhere other vehicles can't.
The cops, Spradley said, "were just checking on me, if I needed anything, if I needed water. I was shocked. That was awesome. It was kind of the high point of the day. I had no expectation that someone would come to my house and check on me. It really made me feel good. You think about our tax dollars and our services, I'm one of those who complains about where our money goes. It was nice to see a return like that. Especially the Bunnell cop, that was really cool."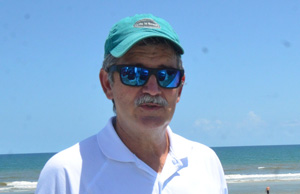 "They sit way up high off the ground and go through anything basically," Sheriff Rick Staly said this afternoon, glad to hear of residents' experiences with what are called "welfare checks," to ensure people's welfare and safety. "We sent them out early this morning, about 5:30 this morning, they were out, checking, as daylight came out. We were seeing all the flooded roads, we knew we had people stranded in these areas so we wanted to make sure they had water and food, we had MREs on our trucks." MREs are military-style meals ready to eat.
No rescues proved necessary.
In fact, none have proved necessary for the past 24 hours: there's been no serious injuries, and not a single death, related to Hurricane Irma in Flagler County as of this evening, Staly said. No first responders injured, either (another reason why responders hunker down during the worst of storms). That repeats the good fortune of Hurricane Matthew, when no one was reported seriously injured or killed by storm-related issues. There was a heart-patient emergency at the tail end of the storm this morning in Flagler, but the winds were dying just enough that responders were able to go out to the patient's house.
For Spradley, the day's experiences weren't over: at 3 p.m., he decided to conduct his own welfare checks on neighbors. He couldn't walk, couldn't use the car. So he packed some water in his kayak and headed out.
"My objective was to make my way in the direction of A1A, because most of the neighborhoods between here and A1A are flooded because of the canals that are around here. I took about a half dozen bottles of water and I was going to seek out of there was anyone having trouble, stuck, no power, no water, anything like that. What I saw was that either houses were evacuated or I could see in a number of houses people were inside and the water was high up either on their front door or their garage and they were not opening their doors," for fear of more water entering. "There was a high percentage of flooded houses."
The silence and the sight of people stuck in their homes startled him. "It was a horrible sight, I never expected to see anything like that when I left here. I envisioned there'd be people."
The water rations stayed in the kayak.