Last Updated: Sunday, 11:00 p.m.
Note: this was the final update to this story. For the recovery story, go here.
Latest developments:
Warning: First responders, paramedics, cops and firefighters will stop responding to calls at midnight and for the duration of the storm.
A countywide curfew starts Sunday at 7 p.m. through Monday at noon.
Information on sex offenders, sex predators and public shelters, click here.
As of 5 a.m. Sunday, Irma was attacking the Keys at 130 mph, heading for Southwest Florida, then up the west coast of the state.
Closures, postponements and other related notices, go here.
Flagler County's call-in center number is 586-5111.
You can keep up with storm updates on WNZF's live reporting on the storm here.

Help us report conditions in your area: text your images of damages or storm-condition reports to 386/503-3808 or email [email protected].

Sunday, 11 p.m.–Hurricane Irma, never decisive about its direction, has taken yet another turn, this time nudging a bit more east even as it continues its general north-northwest path. At 11 p.m., it had veered inland from Naples and was churning toward a collision with Orlando at about 2 a.m., at 100 mph, making it a Category 2 hurricane.
That's taking the storm uncomfortably closer to Flagler County and raising wind expectations from 50 to 60 mph at the peak of the storm to 70 mph or more.
Some 22,440 customers have lost power in Flagler County alone, with the storm's peak still a distance away, and just under 4 million customers were out of power across the state, out of 8.8 million.
Even with the storm four hours away from starting to peak in Flagler, a tree went through a resident's roof and jutted into her living room on Wellshire Lane in Palm Coast at about 10 p.m.

In a last interview from Flagler County's Emergency Operations Center before locking down for the night, County Administrator Craig Coffey said he was "definitely" concerned about the worsening conditions. "We know high tide is going to be around midnight and we know we're experiencing just the start of it right now."
He said there was flooding at Princess Place where the creek has jumped its banks, flooding in Summer Haven, dune breaches on Malacompra Road, flooding inside the county's community center at Hidden Trails–which did not happen during Hurricane Matthew. There is also water atop the boat ramp at Bull Creek Fish Camp, on Dead Lake.
Shelters have taken in 1,350 people, about the number of people sheltered during Hurricane Matthew.
Still, the general sense is that there's not likely to be flooding in houses along the canal zone.
"The critical period for us is really the next 9 hours," Coffey said.
When he spoke, he was expecting the highest winds around 2 a.m. onward at 58 mph in Flagler, gusting to 80 mph. "That's bad but it could be worse." Coffey was just then downplaying Irma's shift east, preferring to wait until the 11 o'clock report from the National Hurricane Center.
But by then the radar was telling the story that the hurricane center was only going to fill in: Irma had very clearly taken a shift eastward, moving north at about 14 to 15 mph at 105 mph winds, well away from its previously predicted track toward Tampa Bay. Instead, it was heading for a knock against Polk and Orange counties.
At daybreak, Coffey said the winds are not going to be much lower than 50 mph.
Policing-wise, it's been quiet, with people respecting the curfew. "I have not heard of any problems," he said.
That's not quite the case on Central Florida roads: shortly before 11 p.m., the Central Florida division of the Florida Highway Patrol issued the following grim advisory: "FHP currently has 10 crashes, in the Central Florida area, that are pending our response, as we wait for weather conditions to improve. Troopers were asked to shelter at 7:00 pm tonight, after the weather deteriorated. Since 2:00 pm there has been 30 crashes (including 1 fatality) (this also includes the 10 that are pending). Drivers are reminded it is unsafe for them to be driving in these weather conditions."
At the Flagler Emergency Operations Center, "people are in real good spirits," the administrator said, describing EOC as "a lot calmer environment this year," compared with the days of Hurricane Matthew, when organization was not as well oiled. "A lot of lessons learned from Matthew," Coffey said.

Sunday, 8:50 p.m.—At last report, nearly 8,000 customers are without power in Flagler County, including most of the P, R, and E Sections, parts of the W Section, including the area behind U.S. 1, the B Section, Daytona North and Flagler Beach. (This is not a comprehensive list, but based on live reports from residents). FPL had estimated that 10 percent of customers would lose power during the storm. The actual number is just under 14 percent as of now, and climbing.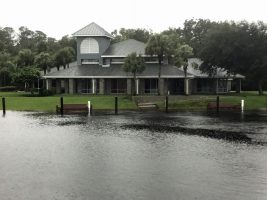 The countywide curfew is now in effect until at least noon Monday, and first responders will stop responding to 911 calls at midnight, as it will be too dangerous for them to navigate county roads in the wind, and with waters rising in many places. The two bridges over the Intracoastal will also be closed at midnight. That doesn't mean you'll see a manned roadblock at bridges' ends, as police and first responders will all be hunkered down, but it does mean that if you brave the bridge and you run into misfortune, you will not get help (just as you won't get help anywhere on Flagler's roads or at home, for that matter.) In other words, if you are attempting to flee the barrier island, no one will stop you.
Here's what readers around the county are reporting at this hour:
The C Section and its canal zone are getting hit rather hard, a worrisome trend this early in the storm, with the bulk of the rain and the tides still ahead.
The canal on Cimmaron Drive in Palm Coast has breached its boundaries and is flooding yards and decks, with similar, sobering effects elsewhere in canal properties in the C Section. Water is creeping up yards and breaching walls along the Long Creek Preserve, near the old Yacht Club (see above to the right). On Cedar View, sea walls are ankle-deep under water and water is rising on backyards. "It's starting to build up in the LL section, but plenty of people have it worse than we do," Greig Wright reports. In Flagler Beach, some yards are flooded by up to a foot of water, and on Lambert Avenue on Flagler Beach, water is overtaking decks. Water is pooling in yards in the B Section, off Belle Terre. In the Z Section there's a report of pooling in swales, but that's nothing unusual in heavy rains.

Sunday, 8:09 p.m.—Curfew has descended on Flagler County, including all its cities. There's no curfew on humor. Thank you Mark Woods:
Here's a video update from Palm Coast FLA. #Irma pic.twitter.com/B3QqsILPvC

— That TikiTender Guy (@TikiTender) September 10, 2017
Sunday, 6:41 p.m.–Reports of street flooding, swales overflowing, transformers blowing, and the Intracoastal surging visibly in such places as Bings Landing in the Hammock were coming in late this afternoon, with Hurricane Irma striking Naples at 110 mph at 5 p.m., and its tropical-force winds and much heavier rains yet to arrive in Flagler County in a few hours.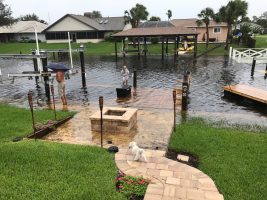 In Bunnell, stormwater has overcome and compromised the sewer system, so the city is asking customers not to do laundry and limit water use, including flushing, showers and baths. Power is reported out in parts of the P and W Section, as well as in parts of Daytona North, which has been reverberating with the sound of exploding transformers, and other parts of West Flagler.
Tree limbs covered a backyard at Point Pleasant and Port Royal in Palm Coast. And water was rising in many different sections of town and the county, including breaching walls at Bings Landing in the Hammock, on the Intracoastal and over the boat ramp at Dead Lake, suggesting a surge under way, on Biltmore Place in the B Section, on Wynnfield Drive, on Point Pleasant Drive, and in the canal zone in the C Section, where the walls are breached. There are also flooded streets in the LL Section and in Flagler Beach.
---
On Palm Coast's Emerson Drive a Little While Ago
"Yeah, it is a concern, we do know we still have quite a bit of storm ahead of us," Cindi Lane, Palm Coast's chief spokesperson, said this evening after 6 p.m. She had driven around town with Palm Coast Fire Chief Mike Beadle, Mayor Milissa Holland and City Manager Jim Landon earlier to survey the scene, though that was before streets began to flood. The filled up swales and even water over the streets is part of the design of Palm Coast's drainage system, Lane said, with hopes that there are breaks between rain periods so the water can drain.
A few things may complicate matters in the next few hours: in heavy wind and rain events, tree limbs get mashed up against drains and slow or stop proper drainage. Normally, crews would immediately be out, clearing the drains. But Palm Coast has pulled its crews off the roads for the remainder of the storm, because the winds have gotten too strong to work safely. They could be off the roads for 12 to 18 hours. So drains will remain stuck if they are stuck.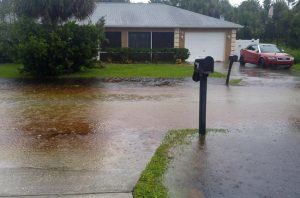 And there is the matter of high tide, which will add another significant complication when timed, as it is forecast to be, with the arrival of the storm's peak, around midnight–and the remnants of a near-full moon, which creates supertides. Canals will see the effects of high tide about three hours behind the tide at the shore, putting that timing around 3 a.m.–the dead of night during that storm-lockdown period when no crews or first responders will come out. None of that is good news for properties in the canal zone or along the Intracoastal and in flood-prone areas.
"We've been of course preparing all week, studying the best experts all week, listening to everybody, we knew it was going to be a lot of rain, I don't know if it's a surprising amount of rain for us at this point," Lane said. Nevertheless, the city felt confident it could handle the storm. Homes in the city have flooded only once, in 2014, and only a few have, by a matter of inches, not feet.
"We can see the canals are above the sea walls in some areas," Lane said, noting that the city lowered its freshwater canals to their lowest level ever, in preparation, though that now appears to have already been negated by the effects of the storm. "Historically our drainage system has performed very well but there's no drainage system in the world that can overcome everything mother nature has to throw at it."
What happens in case homes flood?
"Obviously if you have a second floor you should go to the second floor. I personally would get on top of a table, get out of the flood waters as much as possible," Lane said. It's about safety, she added–to make sure not to expose wounds to floodwaters, for example, or be otherwise unnecessarily exposed to water. "You can still go to a shelter right now if somebody is in a situation where they're looking at the drainage around their home and they're seeing it's getting close. Of course they can't drive through deep water but if they can still safely go, they can get to a shelter."
Sunday, 5:09 p.m.–Swillerbees Craft Donuts, Flagler Beach's–and Flagler County's–best doughnut shop, is reporting that someone stole the sandbags store owners put down in front of the store's ply-wooded entrances. The owner justifiably refers to the thieves as "scum bags," among other craft designations. "We have been selfless and so giving to our town and to have someone do this is heart breaking," the owner wrote on the store's Facebook page, particularly for a store whose doughnuts will be essential fuel during the recovery.
Sunday, 4:04 p.m.–Flagler County emergency officials Sunday afternoon expanded the expected countywide curfew, which goes in effect this evening at 7 p.m., through noon Monday. It had been scheduled to end at 7 a.m. Monday. Alcohol sales have already been suspended since this morning at 7, and will stay suspended until further notice.
The expansion of the curfew was due to Hurricane Irma's slower-than-expected forward motion, which means the 300 mile-wide storm, which is already flooding southwest Florida and parts of Miami, will linger longer over this region, increasing the damage it is expected to cause, especially if rain falls to the extent predicted: up to 15 inches on already-saturated grounds.
More damage means more immediate repairs expected in order to clear roads and render them safe from downed power lines and other potentially lethal debris. Most deaths occur in the immediate aftermath of big storms, not during them, as residents venture out too soon where they shouldn't, unaware that they are walking into waterlogged or electrified traps.
"Residents need to stay indoors and off the roadways until the hurricane has passed us and it is safe," County Administrator Craig Coffey said. First responders, FPL crews and Public Works teams will be performing rescues, handling downed electric lines, and removing trees and other debris from roadways. The roadways need to be clear of non-emergency traffic for these important activities.
"As the storm approaches and the weather becomes more severe, please seek shelter indoors," Sheriff Rick Staly said. "We have the potential for downed power lines, debris and traffic lights going out. The safest thing you can do is remain indoors until Law Enforcement is able to notify the public that it is safe."
Meanwhile the storm's forward bands were already causing gusts of high winds and heavy rains in Flagler, with 3.78 inches reported at Bunnell's Emergency Operations Center and 3.56 inches reported in northwest Palm Coast since Saturday, according to Bob Pickering, Emergency Management's weather maven. Nearly 2 inches was reported in northeast Palm Coast, and 2.1 inches reported in Flagler Beach.
Even though the peak of the storm is still several hours away, water has been reported over a sea wall in Palm Coast's canal zone, including on top of sea walls in the Clubouse Drive area of Palm Coast, and a dune was breached by ocean water at the end of Malacompra Road, just 30 feet from where county crews had dumped loads of sand earlier this week to prevent just such a breach, at the entrance to the beachside park. Roof shingles and siding were reported blown off houses at North 20th Street and State Road A1A in Flagler Beach.
Flagler Beach has also been experiencing power outages, prompting Flagler Beach Police Chief to remind motorists to behave as if they are at four-way stop-sign intersections wherever traffic signals have failed. That means drivers must stop as if there were a stop sign there before proceeding. Police will not be manning those intersections for the duration of the storm.
As of 4 p.m., 540 customers in Flagler County were out of power, and a total of 1,020 have seen their power cut, but Florida Power & Light was able to restore power to half those customers. For details about FPL's plan, click here.
A tornado touchdown in Flagler? There have been unconfirmed reports of one in the Palm Coast Plantation area "but I cannot confirm it just yet," Pickering said.
For all that, Flagler County's Irma conditions were very, very mild compared to the storm's fury in south Florida.

Irma's Winds Begin to Crack Limbs and Power Lines As They Move Into Flagler For 12 to 18-Hour Unwelcome Stay
Sunday, 1:40 p.m.–A tornado warning was issued for northern Flagler and southern St. Johns, where emergency officials said a rotating cloud was showing on radar but there'd been no confirmation of a touchdown anywhere. The tornado warning was in effect until 2 p.m. A tornado touched down in Palm Bay, in Brevard County, earlier today, according to the Brevard County Emergency Operations Center.
More Tornadic damage in Palm Bay on Worth Ct. Lt. Mike Bandish pic.twitter.com/HVaYUn0wQM

— Palm Bay PD (@PalmBayPD) September 10, 2017
Here's the Flagler Beach pier as reported by Channel 13's Brittany Jones:
Take a look at the pier @MyNews13 #hurricaneirma pic.twitter.com/UIqESVmdfM

— Brittany (@BrittanyJ_News) September 10, 2017
Flooding is starting to take place on the I-4. There is NO reason for you guys to be out here. pic.twitter.com/8IBiP5eJKA

— FHP Orlando (@FHPOrlando) September 10, 2017
Here's a shot of the Flagler Beach pier late this morning: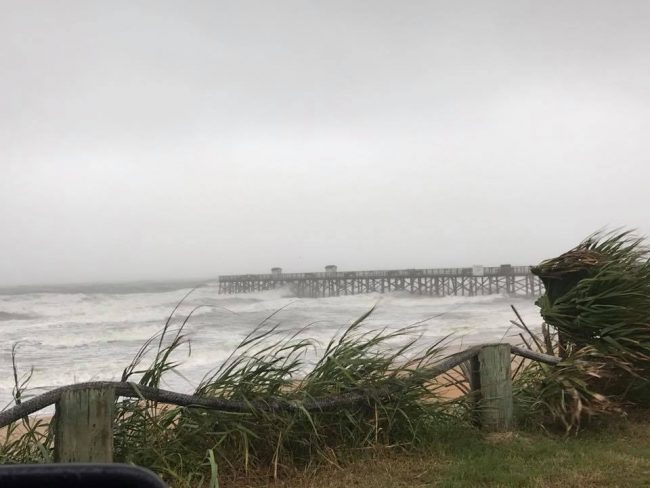 Three people have been killed in Florida in Irma-related incidents, including Hardee County Deputy Julie Ann Bridges and Sgt. Joseph Ossman, a Florida Department of Corrections employee, whose two vehicles collided in a head-on crash. Ossman was going to work. Bridges was going home after her work shift.
Sunday, Sept. 10, 11 a.m.–Fitful but very localized power cuts are beginning to be reported in Palm Coast, where some 30 customers were without power as of 11 a.m., with some reports from the P-Section indicating flickering cuts. There is a confirmed report of a tree down on Colbert Lane, near the Woodlands.
Overnight the Flagler County Sheriff's Office and Flagler Beach police conducted 64 traffic stops on the barrier island, all of whom were found to have legitimate reasons to be on the roads, and netted three arrests of individuals attempting larcenies or burglaries in Flagler Beach. (Details soon.)
Tornado warnings have been issued in Brevard County, on the east coast, a reminder that the northeast side of Hurricane Irma is very dangerous, spawning tornadoes. The Brevard warnings may be an indication of similar warnings for Flagler County in a few hours. Tornado warnings must be heeded with more vigilance than hurricane warnings, in the sense that during a tornado warning you must seek immediate shelter in the most protected room in your house, on the first floor.
County emergency authorities at midday were urging residents to be in their place of shelter, with diminishing time to do so as the day progresses toward evening.
At 11 a.m. Hurricane Irma was just 80 miles south of Naples with sustained winds of 130 mph, moving at just 9 mph. Even though the storm is expected to shear through the west coast of Florida, it is a 300-mile wide storm that will have significant impacts across the entire Florida peninsula, with its tropical-force winds beginning in Flagler in mid-afternoon.
The American model has the storm moving up the west coast of the peninsula and into the Panhandle. The European model has the storm edging a bit further west, which would be good news, but moving up more slowly, which could negate the benefits of the nudge west. The European model has tended to be more accurate over time.
Whatever the path, the National Hurricane Center warns: "Irma is expected to produce very heavy rain and inland flooding across much of Florida and many other parts of the southeast United States. Rainfall occurring very quickly, at 2 to 4 inches per hour, will lead to flash flooding and rapid rises on creeks, streams, and rivers. Significant river flooding is likely over the next five days in the Florida peninsula and southeast Georgia, where average rainfall of 8 to 15 inches and isolated 20 inch amounts are expected."

Sunday, Sept. 10, 6:35 a.m.–Flagler County is in better shape this morning than it feared to be as Hurricane Irma has either maintained its western drift or narrowed its path up through, or just off, the west coast of the state. Flagler will still get severe winds and substantial rain, with the potential for local flooding, but the breadth of the storm, and the degree of severity, are substantially reduced from what it faced when Irma was projected to strike closer.
Still, tropical storm conditions are still ahead. Winds are picking up locally this morning, with east winds expected at 20 to 25 mph, increasing to 30 to 35 mph in the afternoon, with gusts of up to 50 mph. As late afternoon and evening approach, so will the height of the storm, with thunderstorms, heavy rainfall, winds turning south and blowing at 45 to 50 mph, with gusts of up to 70 mph. A curfew is still scheduled to start at 7 p.m. An alcohol-sale ban is in place as of 7 this morning, though few businesses are expected to be operating.
Tropical storm conditions may linger into Monday, though not severely so, as winds and bursts of heavy morning storms are expected to yield to winds in the 35 to 40 mph range in the afternoon. People who chose to leave the county and many parts south are expected to start returning in large numbers Monday. Some were already returning today after seeing the storm shift west.
For Florida's west-coast residents, the scenario is far more grim, though they may be experiencing almost exactly what Flagler and other east-coast residents faced last October on the approach of Hurricane Matthew: that storm was expected to make landfall along the east coast, including in Flagler Beach. But hours before its arrival, it wobbled east and spared the entire Florida coast the brunt of its violence. It was still destructive, but not annihilating.
The National Hurricane Center is leaving just enough uncertainty for that same scenario to repeat itself with Irma, on the west coast, but it's not necessarily reassuring given the storm surge and rainfalls expected. "Irma is expected to bring life-threatening wind and storm surge to the Florida Keys and southwestern Florida as an extremely dangerous major hurricane today, and these conditions will spread into central and northwestern Florida tonight and Monday," the center reported at 5 this morning. "The threat of catastrophic storm surge flooding is highest along the southwest coast of Florida, where 10 to 15 feet of inundation above ground level is expected. This is a life-threatening situation."
Previous days' stories and Irma's track maps are below.


Sobering Irma: Alcohol-Sale Ban Starts 7 AM Sunday, Barrier Island Curfew Tonight, Countywide Curfew at 7 PM Sunday
Saturday, Sept. 9, 6:29 p.m.—Three Flagler County shelters were already at 25 percent capacity as of mid-afternoon Saturday.
A curfew was going in effect for the barrier island, from Marineland to south Flagler Beach, at 7 p.m. and a county-wide curfew will go in effect, regardless of the storm's track, on Sunday at 7 p.m. and until further notice.
In addition, a ban on alcohol sales will go in effect at 7 a.m. Sunday (that's a.m., not p.m.) until further notice. The ban is on sales, not consumption at home of course, but it applies to liquor and grocery stores, restaurants and bars. "We don't need hurricane parties going on," Sheriff Rick Staly said during a 3 p.m. press conference at the Emergency Operations Center in Bunnell.
The alcohol ban will not go down easily among residents, though it is, in fact, more of a non-issue than an ban: most businesses are closing ahead of the storm to give employees and their families time to prepare. And judging from the look of store shelves, beer and wine were not in as much demand as water was in the run-up to Irma, suggesting that homes were well-stocked, booze-wise.
The question will be how long officials intend to keep the ban in place after the storm passes.
Staly was flanked by the police chiefs of Bunnell and Flagler Beach (Tom Foster and Matt Doughney) and Emergency Manager Steve Garten and County Administrator Craig Coffey, but in an indication of the approaching storm, none of the television stations' reporters from Orlando and Jacksonville who'd shown up the day before were present, so officials spoke mostly into the smartphones of a small contingent of social-media grunts working to get the county's message out through their platforms.
As he has on several occasions in the last 48 hours, Staly sought to project a zero-tolerance approach to potential "criminal elements" who might want to take advantage of the storm to break into homes or businesses. Doughney went as far as asking residents who have fled the area not to advertise the fact on their social media accounts.
"Don't test us you won't like the result," Staly said to potential miscreants. (Two people were arrested on drunk driving charges last night.)
After the news conference he showed the flip side of his toughness as he spoke of being "humbled" by the number of people who have gone to the special-needs shelter, and of seeing the extent of the community's physical hardships, of sickness and ailments now concentrated at Rymfire Elementary, where 192 special-needs patients had reported by mid-afternoon today. The shelter is run by the Flagler Department of Health with assistance from the school district. Staly was visibly moved as he spoke of the experience.
Bunnell Elementary's general-population shelter, which also accepts pets, had registered 301 people by mid-afternoon, and Wadsworth Elementary had registered 244. The numbers were high enough that county emergency officials were preparing to open the Buddy Taylor shelter as well as the Matanzas High School shelter, the latter not just for people from out of town, as had been originally anticipated, but for Flagler residents as well. That shelter will open as soon as National Guard personnel is available to staff it, Emergency Manager Steve Garten said.
As of 5 p.m., Hurricane Irma was a Category 3, chomping on Havana before veering northwest toward the Florida keys and the west coast of the peninsula. The storm was expected to pick up a little velocity as it crossed the warmer waters of the strait on its way to the west coast and, as of now, Tampa Bay, which it was to reach as a major hurricane at 2 a.m. Monday. The storm had veered west enough that its hurricane-force impact was no longer expected in Flagler County.
But this much is expected: 10 to 15 inches of rain locally, which would create a different kind of emergency in a county already saturated, and on a canal system that, despite drainage this week, was still high, especially in the Seminole Woods area. The county still expects a 3 to 6-foot storm surge on the shore, which will erode an already weakened shoreline and may do further damage to the debilitated Flagler Beach pier.
Winds locally are expected to reach tropical storm force, but not hurricane force, from 2 a.m. Monday through noon, diminishing significantly after 4 p.m. The path of the storm is not sparing Flagler potential tornado outbreaks, which favor a hurricane's northeast passage.
All of that is assuming that Hurricane Irma does not decide to veer further east, which is still possible. If Irma does so and sends its hurricane-force winds over the county, all projections are out the window (most likely a smashed window) and damage assessments rise significantly.
Whatever Irma decides to do, Flagler schools have decided to close on Tuesday as well, extending the closure to three days. We inaccurately reported earlier that the closures would require three make-up days: that's not the case, because the district built in sufficient extra time in the daily schedule to accommodate up to three such make-up days without having to actually add them to the schedule (students essentially have an extra 15 minutes of instructional time in addition to the state-mandated minimum each day, which gives the local district maneuvering room with scheduling.)
Local officials were saying that the Flagler Beach bridge and the Hammock Dunes bridge would be closed to traffic–or at least left to drivers attempting to cross west only at their own risk–once winds reach 45 mph. The Florida Highway Patrol was sending a different message this afternoon: "As Hurricane Irma approaches, sustained winds exceeding 40 miles per hour will prompt the closure of high profile bridges. The state Emergency Operations Center is receiving regular wind status updates from the Florida Department of Transportation (FDOT), monitoring the wind speeds across bridges. The Florida Highway Patrol will close bridges once wind speeds become high enough to create dangerous driving conditions. As wind speeds continue to rise, law enforcement and FDOT personnel will be required to seek shelter and use of the road will be at a motorist's own risk. More than 1,700 FHP Troopers are working 12 hour shifts to ensure roads are safe and clear."
More details appear below about what the curfews mean, and whether or not the bridges will be closed (they will not, but it's not that simple.)

Saturday, Sept. 9, 1:53 p.m.–Palm Coast and the rest of Flagler County are under hurricane warning as of just after 11 Saturday morning. That means hurricane wind conditions are expected somewhere in the area within the next 36 hours, as Hurricane Irma makes its way up the Florida Peninsula. The region is also on storm surge watch. Sustained winds are expected Sunday night well into Monday at 45 to 55 mph with gusts of up to 75 mph, assuming Irma doesn't again change course and swerve east.
Two Flagler County shelters began filling up this morning as Hurricane Irma evacuation orders kicked in the the barrier island from Marineland to Flagler Beach, with two additional shelters–at Buddy Taylor and Wadsworth schools–on standby, if the need arises for local residents.
At Sheriff Rick Staly's request, county emergency officials are placing the entire barrier island under curfew starting tonight at 7 p.m., until 7 a.m. Sunday, and in subsequent nights until further notice. A countywide curfew is planned for Sunday night starting at 7 p.m., if the severity of the storm warrants it.
That does not mean the Flagler Beach bridge and the Hammock Dunes bridge will be closed to traffic at those times: If, for example, residents are in their car, leaving the island for safety's sake, even during curfew, they won't be stopped.
"If you're trying to leave the barrier island we're going to let you evacuate," Staly said this morning, even if it's during the curfew. "If you're trying to get on the barrier island or you're on the barrier island and you're moving around and you're up to no good, we're going to investigate that. So we're going to deny access to the barrier island. You can't go eastbound, unless you have a legitimate reason to be there."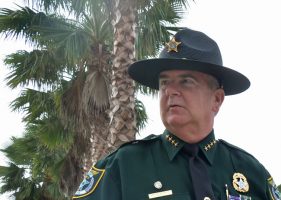 Staly said he asked for the curfew to give deputies the authority to more effectively police the island. Since many of its residents have left, he wants deputies to have a free hand investigating any suspicious activity at a time when criminals may be attracted to empty houses or businesses.
"We're not going to tolerate any criminal activity," Staly said. "If you're not there for legitimate reason, the curfew is in effect, and if you violate it, it's a second-degree misdemeanor and we will arrest you and take you to jail. With that said, I've asked my deputies to use common sense always and discretion, and find out why somebody is trying to get over there." For example, if it's a neighbor helping another trying to evacuate or getting a house storm-ready, it won't be an issue.
But in essence, cops may pull you over or ask you questions without the usual probable causes: "We have probable cause because they're violating an emergency order," Staly said.
During curfew, there will be roadblocks at the Hammock Dunes bridge and the Flagler Beach bridge, going eastbound, and there will be roadblocks on A1A's north and southbound access points. "We know this is an inconvenience to our residents but it's for their safety and protection and I ask that they understand the uniqueness of the situation," Staly said.
Beyond that, the sheriff said "everything is running smoothly, the plan is implemented, all hands are on deck in this agency," with all personnel on 12-hour shifts and all leaves cancelled. Staly says he sees an effective response across agencies. "Everything that I've needed or requested has been handled and I see that across the board, so it seems to me it's going fine."
Policing-wise, the beat has been relatively quiet except for an unusual spike in domestic-related issues the night of Thursday to Friday, though that has not been repeated last night. "I think people are heeding the warnings and they're ready for it to be over," Staly said.
But there will be additional police presence at Walmart at 4 p.m. today: that's when Walmart said it will close its only Palm Coast store, not to reopen it until Tuesday morning. Staly is concerned that tempers may flare there, among customers.
"There is a mandatory evacuation in effect as of 7 a.m., and we certainly hope everyone is taking this seriously," Flagler County Emergency Manager Steve Garten said. "Law enforcement will be working diligently to ensure that everyone's property is safe from the criminal element during the evacuation."
Mandatory evacuation also includes:
· Residents of Zone F – western Flagler County near Dead Lake, specifically St. Johns Park and the Haw Creek Basin
· Low-lying areas subject to flooding.
· Those who live in mobile homes, recreational vehicles, and trailers.
· Individuals with special medical needs, due to the potential loss of power.
· Elder care facilities, community residential group homes, and non-elder care facilities and community residential group homes located within zones A, B, C and F (those are the areas generally east of I-95 and the Woodlands.)
Emergency officials were preparing to open a fifth shelter, at Matanzas High School, as a "host shelter," as opposed to a "risk shelter," for Floridians fleeing up I-95. That shelter may open with National Guard help by noon or 2 p.m., if plans are worked out, according to some authorities, though others say it would be Sunday.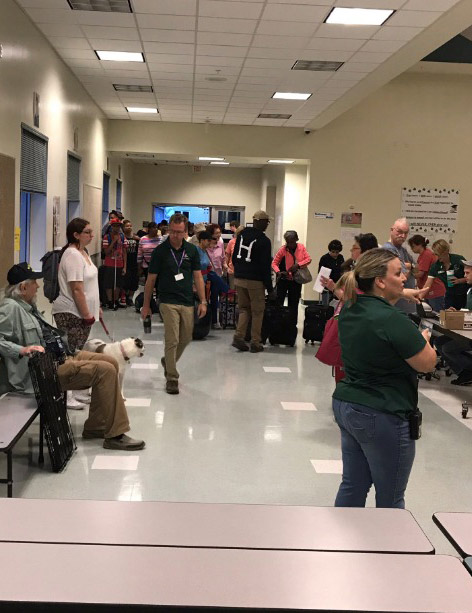 Several counties in Florida expected to be less impacted by Hurricane Irma have opened or are opening so-called host shelters–shelters that don't necessarily have to be up to the most stringent hurricane wind codes, but that can accommodate large numbers of people at least for a while. The state has been pushing Flagler to open one such shelter since yesterday.
"The state asked us to be prepared to receive people who are coming up the highway and can go no further," County Commission Chairman Nate McLaughlin said. "My understanding is at this point that's a shelter for folks like that, straight off the highway, for convenience and things like that."
But there's been some difficulty lining up the sort of manpower and equipment necessary to make it immediately possible.
"I asked DOE to try to help us find a generator so that request is in and the county has made the same request," Superintendent James Tager said this morning, referring to the Department of Education. "The National Guard we're hearing they're en route, I went by FPC this morning, I don't see them anywhere yet, but they're willing to help us." Craig Coffey, the county administrator, asked for 20 people to help staff the Matanzas shelter (or Belle Terre), and the school district will provide a principal and an assistant principal for the facility, Tager said. But Tager sees the host shelter opening Sunday.
It'll be a different set-up than at the other shelters.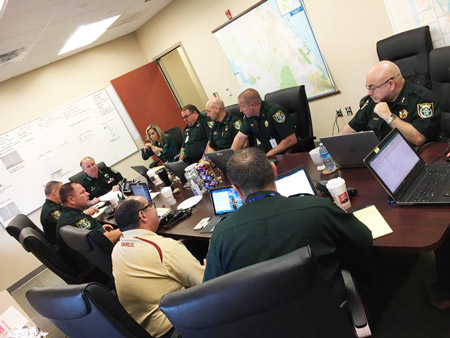 "We just simply do not have the bodies" to staff the additional facility the way other shelters are being staffed, Jason Wheeler, the school district's chief spokesman, said, but either Matanzas High School or even Belle Terre Elementary–both of which are modern schools with structures up to hurricane codes–can be opened if and when requested. "If county emergency managers want Matanzas we're by all means ready to act on that if we need to."
Services there will be limited to MREs (meals ready to eat) and limited power, should the power grid fail, Wheeler said, though there's also the possibility of a generator being secured for Matanzas.
Overall, Tager said, referring to the storm, "it looks a little more manageable for us than it was two days ago."
Meanwhile, the 8 a.m. National Hurricane Center forecast for Hurricane Irma shows the storm weakening to 130 mph and edging further west, with a direct impact up the southwest coast of Florida as a major hurricane. The storm is now forecast to continue up the west coast toward Tampa-St. Petersburg in a west-northwest direction, which would put its eye a significant distance from the Flagler County line, reducing fears of hurricane-force winds locally. But the county would still see fierce tropical force winds, rain, the risk of tornadoes, and the unexpected: even a small variation east could mean dire consequences for the county.
Tropical storm force winds are expected in Flagler–from 60 to 80 mph, sustained–from 2 a.m. Monday to 8 a.m. Monday. But keep in mind: as of now, all of Flagler is within the cone of uncertainty.
Sandbags For Saturday: : Inmates will be available to fill sand at two locations today (Saturday) at 10:30 am.
1. Flagler County Fire Rescue Station 71: 89 West County Road 2006, Bunnell.
2. Flagler County Fire Rescue Station 41: 5593 N Ocean Shore Blvd, Palm Coast.
Bags are available at both locations.
"Obviously they're extremely low risk inmates," Staly said of the inmates helping with sandbags. They volunteered for the task. "These aren't your typical–what I'll call dirtbag inmates, out there doing that." Rather, Staly said, as in one case, they're inmates at the tail end of their sentence, they're seeking to give back. "It's kind of their way of helping out in a disaster."
Previous stories are below.

Barrier Island From Marineland to Flagler Beach Ordered Evacuated; Irma Wobbles West, Easing Fears of Direct Hit
Friday, Sept. 8, 8:30 p.m.–Hurricane Irma's yo-yo act continues, this time taking Irma west of Flagler and downgrading it to a Category 1 hurricane as it passes over the region Monday, according to the latest forecast from the National Hurricane Center.
The new projected track is easing fears of a direct hit on Flagler, Palm Coast or Flagler Beach. But Irma's probability cone remains broad enough that the storm could swerve east again, just as it could swerve further west. Until it makes its expected sharp turn northwest from its current path, sometime between Sunday evening and early Sunday morning, forecasters will not know with more certainty what its subsequent path through the Florida Peninsula will be.
What is certain is that, as the respected probability website FiveThirtyEight reported, "Even 48 hours before a storm is supposed to hit a given area, the average National Hurricane Center forecast has been off by an average of more than 80 miles this decade. That may not seem like a lot, but that's greater than the distance between Everglades City on the west coast of Florida and Miami on the east coast."
Put another way: 80 miles is more than twice the distance between Palm Coast and Palatka.
The storm is still passing too close to Flagler, and there remains enough uncertainty about its actual path, that Flagler County emergency officials are not taking chances: the barrier island, including all residents from Marineland to the Hammock to Beverly Beach and Flagler Beach and points in between were ordered to evacuate as of 7 a.m. Saturday. The mandatory evacuation extends to so-called Zone F in western Flagler County as well, a zone that includes areas around Dead Lake: St. Johns Park and the Haw Creek basin. The reason: Irma's storm surge will swell the waters of the St. Johns River, which feeds Dead Lake. (For details about county officials' thinking and action plan over the next 48 hours, see "What To Expect in Flagler In Next 48 Hours.")
Other than nursing homes and assisted living facilities east of I-95 and along the Intracoastal Waterway, other areas of Palm Coast are not under mandatory evacuation orders. Authorities are requesting that residents shelter in place and not travel to find shelter–unless they have no choice but to seek refuge at one of the county's four emergency shelters. The shelters open at 7 a.m. Saturday.
Authorities use the word "mandatory," but it is not the most accurate term: while sheriff's deputies and police will be asking residents to leave, they cannot make anyone leave who chooses to stay–and indeed thousands of residents do choose to stay (or did, during Hurricane Matthew, against evacuation orders). But no one will be getting emergency services should they need them during the height of the storm, when first responders are hunkered down, though that caveat also applies to people who are not in evacuation zones.
[This is a developing story. More details about the storm soon.]
Previous stories are below.

In "Monumental Change," Irma Swings Back And Threatens Hit on Flagler and Central Florida
Friday, Sept. 8, 8:30 a.m.–Just before 4 p.m. Thursday the county's top political, law enforcement and fire departments' leadership was presenting a united, self-assured front to a half dozen television cameras in one of those staged news conferences where leaders sum up the latest on the approach of a weather emergency. At the time, they were all working from the 2 p.m. forecast about Hurricane Irma, which had the Category 5 hurricane swinging back out to sea, to the east, and shearing the coast. Had it stayed on that course, the worry would have been all about storm surges and flooding, but a bit less so of catastrophic winds. The leadership portrayed a county well in hand.
It had all changed just an hour later. The 5 p.m. forecast showed Irma as if vengefully swinging back to take on Florida from its southern tip and cutting through the peninsula like a 50-mile-wide scalpel, sharp and lethal at every point, all the way up to and through Flagler: the eye, as of that 5 p.m. forecast, would be going over Palm Coast, likely at a Category 2 or 3 strength, still devastating to older homes and seriously damaging to newer ones.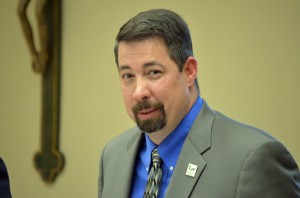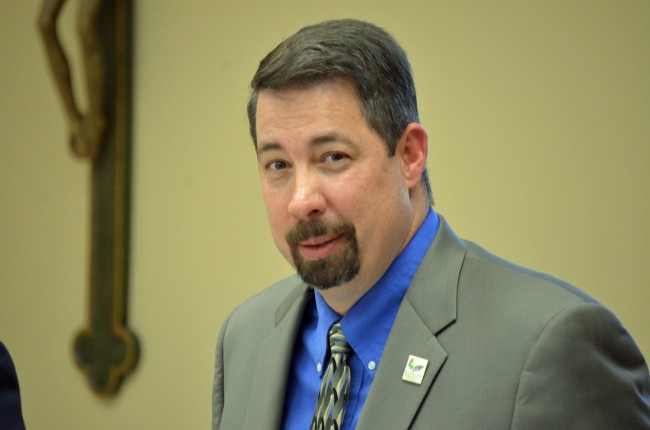 County Administrator Craig Coffey did not sugarcoat it. "It's going to mean a tremendous increase in the number of people that are threatened because the more it becomes a wind event, especially at that wind level," he said, describing how the county would be subjected to the harshest side of the storm, "it means severely damaged structures, it means hundreds of thousands showing up at your shelters."
"The wobble today is a monumental change," Coffey said. He also used the words "game-changer."
Friday morning, emergency officials were wrestling with the storm's shiftiness.
"Yesterday we were advising people to head west, but we no longer feel that is a good recommendation," said Flagler County Public Safety Emergency Manager Steve Garten. "The track keeps shifting, which makes it difficult all the way around."
The county ordered mandatory evacuations today for nursing homes and assisted living facilities, mostly east of I-95, and voluntary evacuations for others on that side of the county. But Coffey said a full evacuation of the whole county is not likely.
"I don't see that even with the scenario coming up the state," Coffey said of Irma's path, "because the scenario right now is you have 95 turning into a parking lot because people are literally running out of gas." There is reluctance about sending people to another part of the state that may be vulnerable. "People have to make judgments on their own," Coffey said: if they live in an older home, for example, it's a good idea to make plans to find friends or relatives who live in a newer home, built to withstand stronger winds.
Still, Coffey stressed, evacuation orders are the sort of decisions made by the entire policy group, the collection of local elected and administrative officials who meet daily at the Emergency Operations Center. The next such meeting is scheduled for 9 a.m. Friday.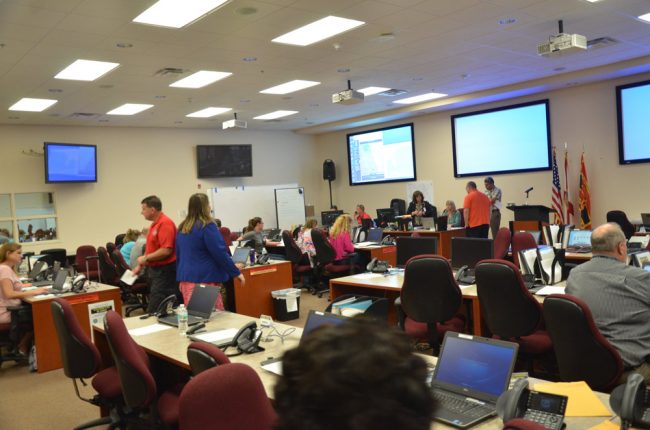 More likely is this: the county would simultaneously activate its two emergency shelters, at Rymfire Elementary for special needs (at 1425 Rymfire Drive in Palm Coast) and at Bunnell Elementary for all residents, including those with pets (305 N Palmetto St.). The original projection was for a Saturday, 7 a.m. opening. If it becomes necessary, a third shelter would be opened, with a capacity of 3,000 people, at Buddy Taylor Middle-Wadsworth Elementary, on Belle Terre Parkway. (The county and school officials had been on the hunt for an $8,000-a-week generator that would have been provided at the additional shelter. That fell through, Coffey said, but added that he'd rather have people sheltered and safe, which takes priority over being comfortable.
Earlier in the day the forecast had Irma over the Atlantic, creating more of a threat for coastal areas, whose residents could escape westward–as they were told to do today during the news conference (not northward, where Irma is headed).
On the current track, Coffey said, "Everybody is in danger, it's a threat to everybody and there's no place to evacuate." That changes all responders' calculus.
And it leaves local officials hoping for one more change ahead: hurricanes are temperamental, rarely making up their mind for good or sticking with a path projected four or five days ahead. Coffey says he's hoping there's yet more changes in Irma's phases, and that it will wobble away from the county yet again–as Hurricane Matthew did last year, hours before what had been projected as a direct hit on Flagler Beach. The county is now left hoping that its luck holds out yet again.
Beyond the immediate effects of the storm, if it hits directly, is the matter of recovery, which will be much more painful–especially if key infrastructure such as water plants and other utilities are damaged. "It's going to change dynamics as far as recovery and damages and outages, it's a multiplier effect," Coffey said. "You can let your imagination run wild."
In the end, if the eye churns across Flagler, "that will be the game-changer for us," Coffey said.
Sandbag update: Bunnell was announcing Friday morning at 9:30 that sandbags are available at the Bunnell Volunteer Fire Station at 1601 Old Moody Blvd. Bags are limited to 8 per vehicle.
Here's the Friday morning briefing from the National Weather Service:
Click to access friday-nws-briefing-1.pdf
See earlier stories below.

Irma Would Hit Flagler Monday Morning, Shearing Coast And Raising Flooding Alarms; Voluntary Evacuations Begin
Sept. 7, 9 a.m.–Hurricane Irma Thursday morning had weakened almost imperceptibly to 180 mph and was expected to strengthen again as it threads its way between the Greater Antilles and Cuba before smashing into South Florida in the area of MIami early Sunday morning, according to the National Hurricane Center's latest projections.
The projections place Irma on course to shave the Flagler County coast the early hours of Monday, when it is expected to still be a Category 4 hurricane, but weakening to Category 3 as it moves up the coast. That, in essence, is a repeat of Hurricane Matthew, with current projections placing Irma just a few miles offshore as it moves north. The probability cone is broad enough at that point that the hurricane could go east or west, proportionately diminishing or amplifying its destructive effects depending on which way it goes.
The remaining saving grace for Flagler is this: the storm's projection track for this area is still outside the high-certainty track of the next three days, so it could change significantly. On the other hand, the projected track has not budged for almost 24 hours and a series of updates from NOAA. The National Weather Service's advice: " Do not concentrate on any one model run or forecast at this point."
For Flagler's weakened shoreline, even if the storm passes off-shore, which will be good news for inland areas such as Palm Coast, it will still be bad news for the coast. "Even IF Irma passes much further offshore than currently forecast," the National Weather Service states in this morning's briefing, "large wave action and above normal astronomical tides may result in damage to weakened coastal infrastructure and dangerous rip currents."
County Administrator Craig Coffey said he was very concerned about the flooding implications for the barrier island, even if the storm remains offshore, because previous dune protections are gone since last October. That will heighten the need for evacuations. Flagler County Sheriff Rick Staly said last night he is preparing his agency to enact what will likely be mandatory evacuation orders for the usual flood zones east of I-95.
And in fact before 9 this morning, the county issued its first voluntary evacuation advisory.
The request for voluntary evacuations applies to residents who live in the Woodlands, coastal areas and Intracoastal, and the low lying areas of western Flagler County near Dead Lake.
The affected zones are tagged by letters of the alphabet that do not correlate with Palm Coast's neighborhood sections. Evacuation Zone A includes everything east of the Intracoastal including Marineland, Hammock, Flagler Beach along A1A. Evacuation Zone B includes the neighborhoods along Colbert Lane to the south, all of the C section and the F section east of Florida Park Drive and the F section east of Palm Harbor Parkway. This zone also includes the area east of Old Kings Road, south of State Road 100 including Bulow and its adjacent neighborhood, Grand Haven and western Flagler Beach. Evacuation Zone C is the Woodlands area of Palm Coast. Evacuation Zone F is in western Flagler County and includes areas near Dead Lake – St. Johns Park and the Haw Creek basin – as the St. Johns River, which feeds Dead Lake is tidal.
"We are asking for residents to voluntarily evacuate, and now is the time to do it," said Flagler County Public Safety Emergency Manager Steve Garten. "If you have the resources to travel, please head to the western side of the state or to the northwest out of the state."
Residents should not travel north into coastal Georgia or the Carolinas as Irma is anticipated to impact those areas as well.
Flagler County has not yet opened emergency shelters, which are intended to serve as a last resort for those who are unable to otherwise evacuate the area.
Flagler Schools announced late Wednesday that classes and activities are cancelled Friday in advance of the storm.
Though not opened at this time, shelters will be prepared at Rymfire Elementary – for special needs – and at Bunnell Elementary for residents with crated, domesticated pets and the general population. Bunnell Elementary, for the general public and pets, is at 305 N. Palmetto Street, Bunnell. Rymfire Elementary, for special needs, is at 1425 Rymfire Drive, Palm Coast.
To prepare for flooding, county government is securing loads of sand to reinforce one area, at Jungle Hut Road and the area of Malacompra in the Hammock, where Hurricane Matthew had breached the dunes and led to widespread flooding in that zone. But the county would have liked to have emergency sand loads in more places. That's not going to be possible.
Local residents will begin to see the effects of the storm later today long period ocean swells from Irma are now within the local Atlantic waters, according to the National Weather Center in Jacksonville. Increasing onshore winds will combine with the swells and produce a moderate risk of rip currents for today, with that risk increasing Friday.
Late Wednesday, the Flagler County school district elected to close schools beginning Friday and Monday.
The National Weather Service's latest briefing is below, and previous days' stories and maps are below that.
Weather Briefing, Thursday, 8 a.m.
Click to access briefing-thursday-sept-7.pdf

Hurricane Irma Projected Track Shifting East, Setting Up Potential Matthew Re-Run
Sept. 5-The latest National Hurricane Center forecast has Hurricane Irma striking Florida from the south end of the state and making its way up Florida's east shore Sunday afternoon into Monday, and doing so as a Category 4 hurricane. If that is the case, Florida would be facing its most catastrophic hurricane in the modern era, eclipsing the devastation of Hurricane Andrew in 1992.
On the other hand, there is still a lot of uncertainty about the hurricane path, whose track beyond early Saturday morning is more on the side of an of a well-educated guess than a fact. Hurricane Irma is still likely to wobble east or west. The possibility of a salvaging wobble that takes the storm out of the Florida Peninsula was narrowing somewhat with earlier forecasts. It now appears to be an even chance, and some forecasting models do have it swinging east and back out into the Atlantic. European models for the most part still do not. See below.
The 11 a.m. and 2 p.m. forecasts had shifted Irma's track significantly east, and with such momentum that, another such shift and it would be well into the Atlantic ocean. But by 5 p.m., the shifting had stalled. For now the hurricane track mirrors that of Hurricane Matthew last October. That's not good news for Flagler County: the county's beaches are eroded, its protections from flooding on the barrier island are bare. The county and the beaches cannot afford another Matthew scenario, particularly with the storm surge projected for Irma.
"We're concerned that as the storm continues to move east it's less of a windstorm event where it's more of a Matthew like event," Flagler County Emergency Manager Steve Garten said this afternoon. That means Flagler's shore will be more susceptible to a storm surge. "That would make it very sensitive to flooding, more so than before," and would be "absolutely detrimental" to the shoreline, Garten said, now that the shore's dunes defenses are down.
Flagler County government activated its call-in center at 1 p.m. this afternoon, with volunteers answering the phone at 386/586-5111.
This morning, the storm was still churning at 185 mph and moving west northwest at 16 mph, with the Virgin Islands and Puerto Rico in its nearest sights.
On Tuesday, Gov. Rick Scott activated 700 members of the National Guard to help with preparations before the storm, with all 7,000 National Guard members required to report Friday morning. He also lifted all tolls on all Florida roads and bridges for the remainder of the week. By Wednesday morning, he had activated 900 members of the Guard. Scott said an evacuation order is in effect for the Keys, with all residents required to evacuate tonight. "If you're told to evacuate, don't wait, get out quickly," Scott said at an afternoon briefing. "I cannot stress this enough. Do not ignore evacuation orders."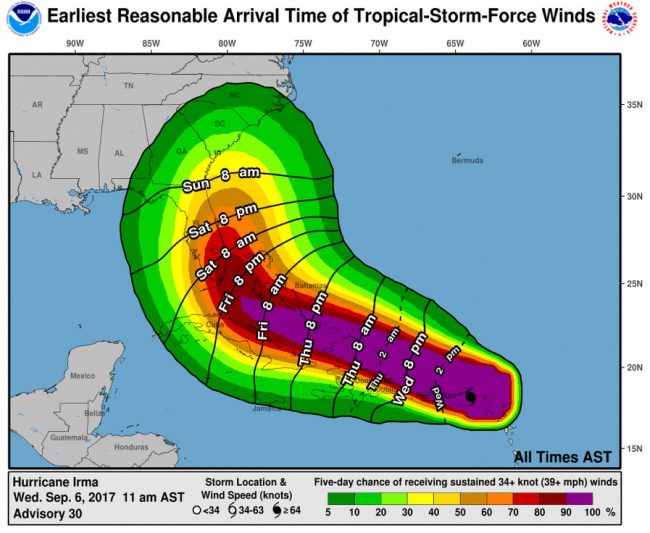 Preparations in Flagler and Palm Coast began methodically on Tuesday and picked up urgency as the day progressed, in government and among residents: Palm Coast set up a few sandbag stations around town, but by evening had already run out of 10,000 sandbags–but not sand just yet. There is a chance the city may get more sandbags later this week, but only a chance: sandbags themselves may be in short supply all around.
You may not have to wait until Irma's arrival for unsettling storm activity: Weather-wise today, the National Weather Service in Jacksonville was forecasting a chance of strong to severe storms today ahead of an approaching cold front. Storm hazards include strong wind gusts of 40-60 mph, hail and excessive lightning. Thunderstorms could hinder outdoor Hurricane Irma preparedness activities at times. Long period ocean swells from Irma are now within the local Atlantic waters. More frequent rip currents are expected, and a moderate risk of rip currents is highlighted for today.
There are two prevalent models of forecasting storms: the model American forecasting and the National Weather Service rely on, known as Global Forecast System, or GFS, and the European model, known as ECMWF, which stands for European Centre for Medium-Range Weather Forecasts. The European model has been more accurate, on average, for many years.
The two forecast models diverge when it comes to Irma: GFS models for the most part have Irma swerving east and mostly sparing Florida: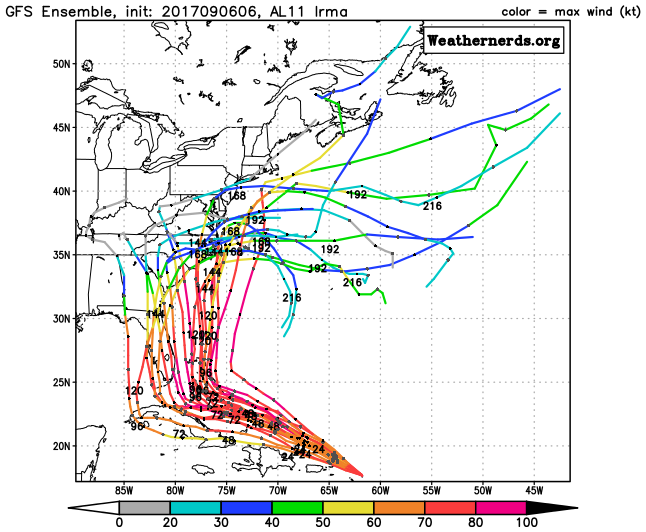 European models for the most part are not as reassuring, placing Irma mostly through or at the edges of Florida on its way north:
"Whether you're in the eye of the storm or 50 or 75 miles away from it, it is going to be nasty, and you have to be prepared for that," Sen. Marco Rubio said.
See the latest Hurricane Irma Briefing from the National Weather Center in Jacksonville:
Click to access briefing-weather.pdf
Tuesday's stories and maps are below.

Flagler Declares State of Emergency in Preparation for Hurricane Irma, Heightening Caution
Sept.5–With Floridians' memories still soggy with images of Harvey's devastation in Houston, Flagler County is declaring a state of emergency effective at noon today in preparation for Hurricane Irma, a Category 5 storm expected to be affecting Florida Sunday and Monday. Gov. Rick Scott declared a statewide state of emergency Monday.
The path of the storm is too uncertain for now to determine whether it will directly affect Flagler County or Central Florida. But county, school and emergency operations authorities are expecting the storm to affect the region one way or another, even if indirectly—enough to upend routines at least, and to create havoc at worst.
"We're doing it now," County Administrator Craig Coffey said late this morning, of the emergency declaration, "because we know we're going to get affected no matter what happens, based on any of the tracks. We're going to get affected. The effects could be anywhere from minor to severe. And the reason you're doing it now is, we're incurring costs now in preparing for the storm and we're altering lives and we're telling the public things. So I think the declaration is a signal to the public that this is a serious situation, and they should take it as such, and it's also a signal to all of our partners of what they should be preparing for. We're already ordering supplies for our emergency shelters, we're ordering sandbags, stocking up on fuel, extra supplies, all the kinds of things that we would need to prepare for the storm in advance and also respond immediately after the storm."
Still, officials—including School Superintendent James Tager and Emergency Operations Manager Steve Garten, who were also interviewed this morning—are seeking to balance preparations for the worst with a methodical approach that is not overly alarmist, either: they stress again and again two points: be prepared, but don't panic.
"It's a hard thing to do, you want to be prepared, at the same time not go out of control," Garten said.
"I'm hoping we have nothing to do with Irma," Tager said, noting the uncertainties of the storm's tracks, "but if nothing else it's a good drill to be prepared if something happens this fall." He added: "Sometimes people tend to panic, it's interesting, it's our job to try to stay calm and maintain some rational thought."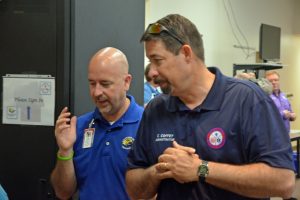 Garten briefed top county officials at 7:30 this morning on the latest storm models, followed by an 8:30 meeting with all the directors. Tager, Coffey and Garten are meeting this afternoon.
"It's so hard to predict right now," Garten said of the storm's track. If the storm stays to the west, "it'll put the storm more of into Central Florida or western Florida, but all it takes is a wobble, you saw a wobble could change from good to bad or bad to good, so that's certainly what we have to keep an eye on as it gets closer to us." The bad-to-good wobble Garten was referring to happened last October when Hurricane Matthew appeared to be heading straight for Flagler Beach, but finally wobbled just enough to stay offshore, shearing the town instead of leveling it. But since Florida is so flat, the storm won't diminish in strength very quickly even after it makes landfall, "so we're anticipating some severe rain, some severe wind events in the 100-mile-an-hour plus," Garten said, referring to squalls locally.
The Emergency Operations Center will go on activation level 2 on Wednesday, Garten said (it is on activation level 3 in normal, quiet times), when it reflects a somewhat heightened alert state, and will be fully activated and staffed by county officials starting Friday. Leaves for county employees are being cancelled.
Schools are not changing their routines today, Wednesday and Thursday, and for now there's little chance that they will change their routines on Friday, either, even as officials are beginning preparations to use some of the schools as shelters—Bunnell and Rymfire elementaries, but possibly more schools as well, if Flagler becomes a destination for Floridians fleeing other areas of the state that are more severely hit. There is a likelihood that schools will be closed Monday. Ex-Superintendent Jacob Oliva, now working at the state Department of Education, informed officials this morning that he was on his way to Flagler to help Tager through the emergency, as Tager has been on the job only for three months.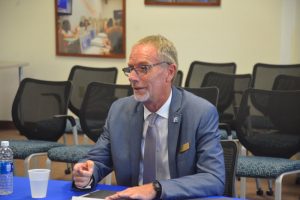 Several issues are of concern locally: the ground is already saturated, so heavy rain is likely to increase the possibility and breadth of flood zones. More worrisomely for officials is the state of the barrier island, which lost its protective dunes during Hurricane Matthew.
"We're very concerned. Very, very concerned," Coffey said about flooding on the island. "It's a strong possibility for some of the areas where dunes are already compromised." That may change the tim ing of when evacuations may be considered. "We will have the discussion sooner, and the discussion is going to change with this storm versus Matthew because there's not a good place to evacuate out of the area. That may mean a lot more school shelters in place." He said the county is expecting more sheltering for people locally, but also for residents fleeing other areas of the state.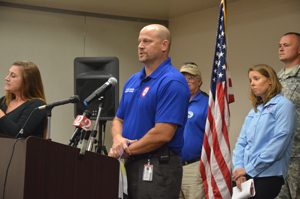 "Because this is going to be so widespread, the cavalry may not be there, no matter how bad we're hit, there may be other areas that are a lot worse," Coffey said.
Normally, Bunnell Elementary is a shelter that accommodates pets, Rymfire Elementary a shelter that accommodates special needs. "We're anticipating more than just our normal two," Coffey said. "We anticipate electrical outages to be out much longer." The reason: what crews are available for repairs could be spread much further across the region and into southeastern states. Flagler Palm Coast High School may also become a post-storm shelter for first responders.
Special needs: Officials are encouraging residents to sign up for weather warning notifications and for those requiring additional assistance to fill out a form available here. Individuals who should register for special needs evacuation sheltering are people who require assistance with daily living or who have medical conditions that prevent or hinder their ability to care for themselves.
The direct link for the CodeRED weather notifications is here.
The direct link for special needs is here.
"Residents wishing to register for the special needs shelter may register in-person at the shelter unless transportation assistance to the shelter is necessary," said Flagler County Public Safety Emergency Manager Steve Garten. "If transportation assistance is needed in order to get to the special needs shelter, residents should call 386-586-5111 to pre-register with a call taker and make arrangements."
"We as a county are taking this very seriously, because the current models from the National Weather Service are indicating we will have some effects from this storm – wind and rain at the very least." said County Administrator Craig Coffey. "Signing up for these services now will help us to help you."
---
Bob Pickering's Weather Update For Flagler
Palm Coast officials are getting "quite a few emails and phone calls about sandbags,"city spokesperson Cindi Lane said. They are available now already in daylight hours at public works yard, 1 Wellfield Grade, off of U.S. 1, north of Palm Coast Parkway. People can also get empty sandbags at city hall or at the Utility Department from 8 to 5, during regular business hours. The sand piles are at Indian Trails Sports Complex near the baseball fields, off of Belle Terre Parkway, and at Seminole Woods Neighborhood Park, 350 Sesame Boulevard, Palm Coast.
By 7:30 p.m. Tuesday, Palm Coast's sandbag stations were already out of sandbags, though they still had sand.
The city is right now lowering the levels of its canals in its stormwater system because grounds are saturated from recent heavy rains. Lowering the water levels will help control floods, up to a point, depending on how much rain falls when the storm passes.
You do not need to trim your trees, palm fronds especially, which are made for storms: keep in mind, if you remove too many branches, you can weaken and potentially kill your trees. Deadwood is a different story: you can remove that. "Beyond that, this is not the time to be out there to be doing a massive amount of tree-trimming," Lane said.
The city had several special events scheduled for this weekend and next Monday, including the annual Senior Games and the Intracoastal Waterway cleanup, both scheduled for Saturday, and the 9/11 ceremony at Heroes Park on Monday. The city will decide Wednesday whether to postpone those events.
Court system closures across the state have started to be announced. See the complete list here.
Sandbags:
Here's a more detailed list of sandbag locations:
A self-service sand station is available during daylight hours, with sand only, at:
Palm Coast Public Works Yard, 1 Wellfield Grade, off U.S. 1 just north of Palm Coast Parkway, Palm Coast.
If you have sandbags of your own, they can be filled at these three additional self-service sand stations:
Holland Park, 18 Florida Park Drive, Palm Coast
Indian Trails Sports Complex, 5455 Belle Terre Pkwy., Palm Coast
Seminole Woods Neighborhood Park, 350 Sesame Blvd., Palm Coast
Since sandbag supplies are exhausted, please consider using plastic garbage bags to make your own sandbags. For more information, call Palm Coast Customer Service at 386-986-2360.
Bunnell will have 5,000 sandbags available at its fire station on Moody Boulevard starting Thursday morning, with a limit of 8 bags per vehicle.
Click to access flagler-disaster-emergency-guide.pdf