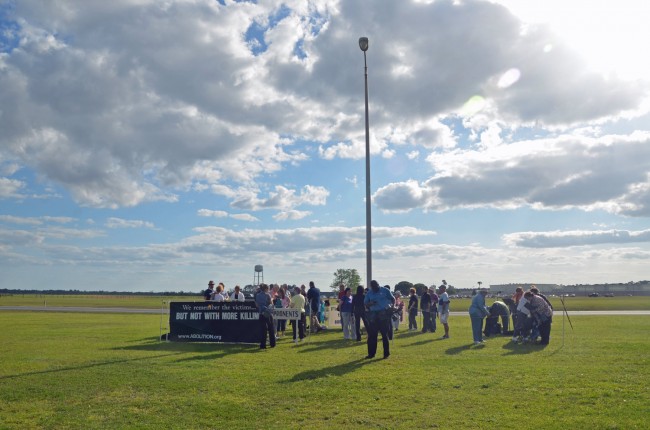 Last Updated: 9:39 p.m.
I'm inviting you to join me at an execution this evening, Florida's fourth this year. Larry Eugene Mann, 59, is scheduled to be killed at 6 p.m. by lethal injection in the state's death chamber at Starke prison, 75 miles northwest of Palm Coast. I've never been to an execution. And by going to one, I don't mean that I'll be a witness to it. I would refuse even if offered the dishonor, as reporters frequently are. I'll be witnessing the vigils, the protests and the counter-protests outside the prison grounds, which take place every time there is an execution. It's become part of the ritual of executions across the country, though neither executions nor protests (and supportive demonstrations, because those happen, too) get more than a few paragraphs' coverage here and there, and virtually no more than a passing mention on the evening news, ahead of the weather.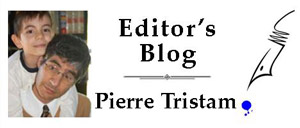 After covering a recent workshop on the death penalty in Florida, I decided to join Father Phil Egitto, the pastor at Our Lady of Lourdes, the Catholic church in Daytona Beach, and the bus-load of people he has taken to every single execution at Starke for years, to stand vigil. The bus made a stop at the Winn-Dixie shopping center near Woody's Barbecue on State Road 100 at 3 p.m. this afternoon. I boarded it, along with Jackie Morelewicz, who organized the March workshop, and who usually stands vigil, in protest of executions, outside the Flagler County Courthouse, whenever needles ready to end a life in Starke. We're not likely to be back in town until 9 or 10 p.m. I have no idea how the afternoon and evening will go. I will do my best to chronicle it here as it unfolds. the account will be written in reverse order: the fresher entries will appear at the top.
We were told to bring food or a snack and some drinks, because of the length of the trip. I brought a ham-and-cheese sandwich (American cheese, incidentally: the Swiss don't execute) and a container of water. I mention these details because to me they're no less absurd than talk of the walking dead man's last meal: we're going to an execution, but we'll still get hungry and thirsty, which seems to me natural and obscene at the same time, as matter-of-factly obscene, actually, as the entirety of the rituals surrounding an execution, inside and outside the prison walls.


9:39 p.m. Time to call it a night. We're approaching Palm Coast on I-95. We'll be dropped off at the Winn-Dixie shopping center. We'll reclaim our cars, drive home, have a beer, watch what degenerate TV may be worth watching with spouse and son–skipping the 11 o'clock news, as always–and eventually go to sleep like any other night. In some ways we might as well have gone to a minor league baseball game. We might as well have gone to the Lake County fair. Or to a beheading. There's an inevitable blending of absurdities when horror and banality so easily mingle, or maybe collude–what Hannah Arendt called the banality of evil in a somewhat different context that happens to apply just as well here: she argued that the Holocaust wasn't the work of nut jobs, but of men who thought what they were doing was as normal as it was necessary. The very same principle that underlies our own machinery of death, and why Father Egitto so easily–and with so much conviction–calls it "evil." Some people like to think they touch the face of god once in a while. We grazed the face of evil today, from quite a distance, but distances in that context are irrelevant.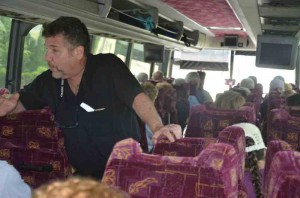 9:14 p.m.: On the way to Starke I had a conversation with Father Phil Egitto, the pastor at Our Lady of Lourdes in Daytona Beach and the sort of priest who (are you listening Colleen Conklin?) makes me think twice about having revoked my one-time citizenship-in-fanatical-standing in the Catholic church. He reminds me of our own Beth Gardner (the pastor at Bunnell's First United Methodist Church) for being more grounded in the here and now than seduced by the sort of gauzy Christian platitudes that are indistinguishable from Hallmark cards, but with saccarine halos all over them. No holier-than-thou bullshit from this Brooklyn-born, Gator-bred priest. ("I knew I wasn't meant to be a monk," he said at one point, explaining his spiritual evolution before the self-evident punch-line: "I'm from Brooklyn.")
The barbarism of state-sponsored executions is his here and now. He's been going to those vigils for seven years. It hasn't always been in a bus as big as the one we're riding now (at a rental cost of about $800 to a parish that is nowhere near rich: "We're living paycheck to paycheck," Egitto says.) But the groups have been sizable. That's a lot of executions. Today's was the 15th since the beginning of 2006.
"We do this because the state kills in our name," Egitto says. "If we don't do this then we're complicit with evil. So we do this because we want to say to the governor, to the state, that you're not killing in my name." As Egitto saw it, he had two choices: he could leave Florida, or he could stay and protest. He stayed. He doesn't call it capital punishment. He doesn't even call it killing. "I consider it murder," he says. And murder worse than most murders committed by the sort of people who end up on death row–more premeditated, more sober, less excusable by mental imbalance or psychosis or drugs or alcohol or misjudgment or youth or whatever else death row defendants throw at the justice system when they're trying to get out of their sentence. When the state kills–when it murders–it is doing so with ultimate premeditation. "We are knowingly, premeditatively, planningly, willingly killing somebody," Egitto says. And, he adds, we're "teaching the culture that it's all right to kill."
A little after 9 p.m., Egitto took to the bus' microphone and spoke of the afternoon and evening, and asked various members of the group to describe how they felt. One man spoke of anxiety ion the approach of 6 p.m., then relief after the ringing of the bell. A woman called Ellen said: "It was her first time, she didn't know what to expect, she liked the prayer service and the ringing of the bell, and described the whole experience as "very sobering and touching, particularly the attorney." She was referring to the inmate's attorney, who came out to speak with the group after the execution. (See below.)
"On behalf of the people from Flagler County we want to thank you," Jim Morelewicz said, representing the congregation from Flagler Beach. "It has been a very warm and gracious group. We are very thankful."
I also spoke with Sean O'Dell, principal at Lourdes Academy. He's been making the trips to Starke for seven years as well, at times with students. He described his first time, different from all other times since, because you "can't really believe you're really there as someone is being killed across the way." This time, he said, he was surprised by the number of "proponents" of the death penalty, though they did not do what they had once done at a previous execution, when O'Dell had brought several students with him: the proponents cheered the moment the protesters rang the bell to signal the moment of death.
8:37 p.m.: As we ride the bus back to Flagler in the dark, we pass by a burst of lights in the myriads scintillating against the black sky like a flying-carpet casino. Someone in the bus yells out, "Hey, it's the Lake County Fair!" There's a faint cheer, maybe more sardonic than wistful. If not, it ought to be sardonic. None of us is quite in a fair mood. The bus–one of those gigantic things you see shuttling people to airports or around the Eiffel Tower–never slowed.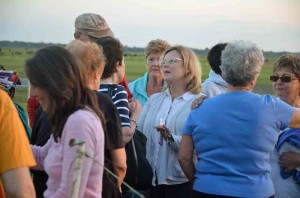 8 p.m. Larry Eugene Mann was pronounced dead at 7:19 p.m. No explanation about the delay. Elisa Nelson's family had witnesses to the execution. Mann had a choice of only two: his spiritual adviser and his attorney. He chose his attorney. He was not allowed to have family present as witnesses. Sometimes the family of the person being executed joins the protesters, to be in company of the closest thing to a supportive group they may have. In this case, there was no one, except Marie-Louise Samuels-Parker, who joined the church group shortly after Mann was pronounced dead, and after the passing of the hearse. "It was not botched," Samuels-Parker said of the execution. And Mann had no final words. The attorney works frequently with men and women on death row (there are four women among the 406 Floridians on death row). She said she tells them of the people–like this very church group–who are working on their behalf to end the death penalty. It was a brief encounter between the attorney and the group, but also a sort of catharsis in reverse, a chance for a few people to hug the attorney and get at least a sense that the senselessness is not unanimous.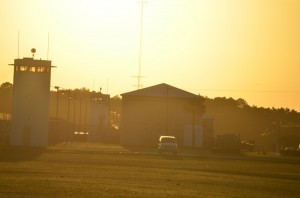 7:34 p.m.: The vans have come out, bearing the execution's witnesses. Not yet clear if the hearse has followed. (It actually did, a white hearse, but it went in an opposite direction, toward the funeral; home.) The sun is setting immediately behind the prison. it's what you'd call a spectacular sunset, if it weren't for the guard tower in the way. What's supposed to follow is a news conference, so called, though that too is part of the ironies of the day, a staged segment of the Department of Corrections' ritual that works more to legitimize the killing that just took place than to explain it. There would be nothing to explain, at any rate. But the news conference also at times allows members of the murdered victim's family to speak their hearts, much as they might in a sentencing hearing. This family has been waiting 32 years.
7 p.m.: There's a white tent set up with a modest dais a couple of football fields' length from the pro and con gatherings, where the witnesses to the execution are supposed to be taken, along with members of the victim's (the murdered victim, not the murderer's) family. But so far, no sign of life anywhere. We only hear the mooing of cows in the distance (there are innumerable cows lounging in packs along the fence that separates their pasture from the state prison's grounds). Next to the white tent, just two television trucks. Sometimes there are many more, Mark Elliott, who heads Floridians for Alternatives to the Death Penalty, was telling me moments ago, after remembering the time 32 years ago when the murder took place, not far from his neighborhood: he's from Tampa. He comes to these executions every time. Has been making the three-hour trip for about 10 years or so.
"To have executions and not have anyone here," Elliott says, "anyone bear witness, anyone protest, that's what I would worry about the most." But he's not been having to worry about it. The crowds are growing, not diminishing, just as the movement to abolish the death penalty is gaining momentum, if not quite as much in Florida. "It's our elected leaders who haven't evolved as much as their constituents. But they will."
6:05 p.m. After a long silence, the church group began ringing the loud, cylindrical bell, at 6 p.m., signaling the death of the inmate.
Several members of the church group rang the bell, yelling out "Not in my name" and "not in God's name," among other words. Then silence. Murmurs. Low chatter. The odd laughter–unrelated to any of this–from a small group of Florida Highway Patrol troopers, who have simply been assigned to these grounds and have no official interest one way or the other in the proceedings.
Then the wait: first for the van that carries out the witnesses the execution. Then for the hearse–or the coach, as they call it here–that brings out the body of the dead man.
I'm not going to say that any of this is surreal, because it's not. There's too much traffic–traffic of every kind: passing cars, people, voices, birds, bugs–to lend the scene anything surreal. This is common. It happens every few months here, every few days somewhere in the country. That's what it's been reduced to (not that it had ever been elevated into something else): a vague event a few people will pay attention to, a cause for small (very small) protests and counter-protests, for a few hours anyway, and then onto the next execution. The irony is how cheap death can be made to seem, in a system that costs the state $50 million a year.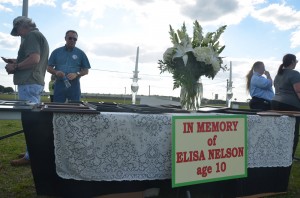 5:45 p.m. It's a quiet scene: the opponents of capital punishments roped off in their own square of grass, the proponents squared off across the field, with a row of Florida Highway Patrol cruisers lined up between the two camps. The cruisers look superfluous. There are no intentions on either side to engage. The state prison is across the road some 300 yards away, to the west. The opponents held a brief prayer service, sang a few songs. The proponents were gathered in a circle of lawn and beach chairs, speaking with each other, wondering if there'd be any stay of execution. There wasn't. The centerpiece of the proponents' display is a long table covered with framed pictures of Elisa Nelson, the 10year-old girl murdered in 1980. And a vase filled with white flowers.
5:24 p.m. We arrive on the prison grounds. There's a little excitement in the bus when the passengers eye another bus already here. Not of the same thinking: it's a bus-full of proponents of the death penalty, bringing people from the Tampa Bay Area, where the victim of this latest murderer to be put to death was killed in 1980.
5 p.m.–We arrive in Starke, a town like any other, as unremarkable as its Kangaroo, where we stop for the first time since Palm Coast to give the two dozen people aboard the bus a chance to stretch out, buy a few snacks. I'm nagged by this memory, or odd connection: how the Poles and Germans who lived in the towns neighboring Nazi death camps would go about living their lives, watching the trains come in with their loads of human cargo, go back empty. There's no serious comparison, except in the particular of one method: it was in Nazi death camps that lethal injection was first developed.
4 p.m.–There is virtually nothing redeeming about Larry Eugene Mann, the 59-year-old scheduled to be killed by the state of Florida, by lethal injection, at 6 this evening. Thirty-two and a half years ago–the morning of Nov. 4, 1980–Mann murdered 10-year-old Elisa Vera Nelson as she was biking to Palm Harbor Middle School, a bit late, with a note from her mother to her fifth-grade teacher to explained she'd been to the dentist that morning. She lived in a Tampa suburb.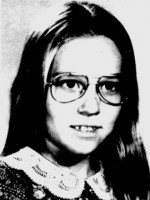 Mann, a convicted sex offender who'd raped a woman in Pascagoula, Miss., in 1973, intercepted her. He thought of raping her. That had been the reason he'd grabbed her. But he didn't. He cut her throat. He fractured her skull with a cement-encased steel pipe that was found next to Elisa's body. After the murder Mann went home and slashed both his wrists. The attempted suicide failed. He told police at his home that he had "done something stupid and needed help." At the time, police presumed he was talking about the attempt on his life. It wasn't. Four days after the suicide attempt, Mann asked his wife to get his glasses from his pick-up truck. There, his wife found the blood-soaked note Elisa's mother had written to her teacher. Mann was arrested on Nov. 10.
He was sentenced to death three times, beginning in March 1981. The first sentence was vacated by the Florida Supreme Court, the second by a federal court. The third, in 1990, stuck. Mann's attorney, Marie-Louise Samuels-Parker Friday sought a stay of execution from the Florida Supreme Court.
Elisa would have been 42 this year.