Flagler County school board members agreed Tuesday to interview four candidates for superintendent on April 20. Only one of them–James Tager, the principal at Atlantic High School in Volusia County–won unanimity from the five board members. That, and a more fractured remaining field, makes Tager the front-runner, though interviews will be key.
Jeffrey Umbaugh, an administrator in Clay County schools, was on three board members' lists of names to be interviewed. Phyllis Edwards, a superintendent in Georgia for 12 years with extensive administrative experience in Flagler schools before that, was only on two members' lists but finally made the cut for interviews when board members agreed to expand the list from two candidates to three, then to four. The fourth candidate was Gerald Wilson, the only candidate from out of state. He was also on two board members' lists. Wilson is not currently employed. He was the superintendent of a district in Maryland for four years, and its interim until last year, according to his application.
Three of the four candidates had been recommended by a citizens' advisory council the board appointed to sift through the applications. Wilson was the exception. The advisory council had also recommended Ronnie Dotson, a superintendent in a Kentucky school district who'd landed on several board members' lists of favorites. But Dotson withdrew his name from consideration Monday–not because he got another job, but because, as one board member described it, he got to see the board in action by video and did not like what he saw. He even had advice for the board.
"After hearing the comments of board members and those present at the last meeting, I do not think it is a good fit for me," Dotson wrote the district in an email, explaining his decision. "I would encourage both the board and community to move past the candidate that withdrew his name from consideration and focus their attention on students as opposed to this one adult."
Dotson was referring to Vernon Orndorff, the deputy superintendent in Flagler who'd initially applauded ed and been considered a front-runner until his decision to accept a job in Texas, to the chagrin of some board members.
Dotson was the fourth candidate to withdraw, including Orndorff. Another seven candidates were disqualified "because they failed to provide the documentation required to be considered a complete application," in the words of School Board attorney Kristy Gavin. That left board members with just 30 of the 41 original applicants to choose from. Umbaugh, in fact, has been offered a director's job in another district in Florida, but he says–according to Messina–that he's holding out for Flagler's decision, as he'd prefer to be superintendent.
Flagler Superintendent Jacob Oliva's decision to take a job at the Florida Department of Education precipitated the search for a replacement by May. Oliva was not at today's board workshop in Bunnell.
There was little discussion about the candidates' backgrounds today. The discussion focused mostly on procedural issues, and getting to a list of interview subjects acceptable to all. The candidates' qualifications came into play only when Andrea Messina of the Florida School Board Association, who's been facilitating the process for the Flagler board with two colleagues, sought to find common ground for more candidates to be interviewed after the first two had been settled on.
The meeting started with the explanation of a concordance system that could have challenged the most seasoned biblical scholar: the school board attorney and the board's three advisers from the Florida School Board Association, hired to aid the board in the search's logistics, had come up with a numbering system to keep track of eligible candidates. It wasn't clear why simply going with names, in pool of just 29 candidates, wasn't enough. The numbers correspond with each candidate's application, the lot collected in binders the size of cinder blocks.
"let's just go with names and you guys just fill in numbers," School Board Chairman Trevor Tucker finally said, almost half an hour into the meeting, and before a single word had been spoken in the actual discussion toward a shortlist.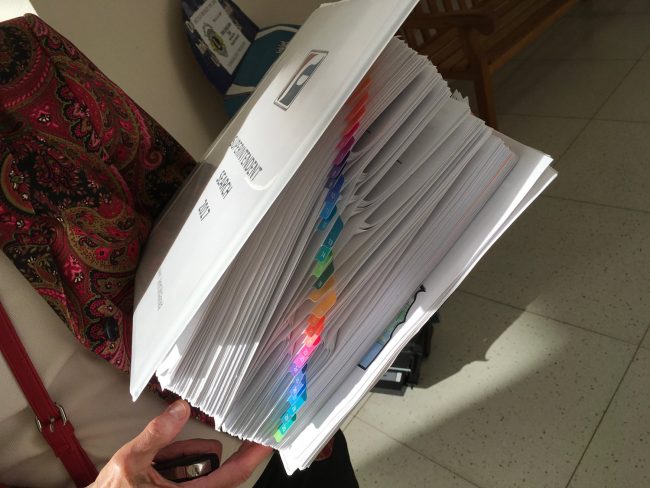 But then Messina had each board member in turn offer up the names of candidates he or she wanted to interview, rather than have them write their names on a ballot for tabulation. The verbal approach meant that with each board member speaking his or her choice, the remaining board members had the advantage of knowing which way the winds were blowing and could potentially change a name along the way. Here are the names each board members presented, in the order in which the board members spoke:
Tucker: Umbaugh, Kenneth Green, Tager.
Maria Barbosa: Umbaugh, Tager, Daniel Gilbertson, Phyllis Edwards
Janet McDonald: Wilson, Tager, George Bohatch. ("I had others, but they're no longer available," McDonald said, Dotson having been one of her previous choices.)
Colleen Conklin: Edwards, Tager, Wilson. ("Dotson was one of my top choices, I'm very disappointed that he withdrew," she said.)
Andy Dance: Umbaugh and Tager.
Dance did not feel the need to put forth additional names, though he said he looked forward to interviewing all four candidates. "Those are the two I wanted to hear from, that's all, but nothing against the four we're moving forward with," Dance said. Tucker said he was "looking for someone who can continue the innovation that's been in this district."
It was at Conklin's and Barbosa's instigation that the list of interviewees was expanded to four, from the two that Dance and Tucker favored, with McDonald eventually providing the tie-breaking vote to go along with Conklin and Barbosa. That same split has prevailed in several regards throughout the process. Tucker and Dance had also wanted to hire from within, and hire Orndorff specifically, skipping the national search. Conklin, Barbosa and McDonald overruled.
The candidates will be invited to Flagler County for three days. On April 19, they're expected to meet with the community in a two-hour appearance at the Buddy Taylor Middle School cafeteria, from 5 to 7 p.m. The four interviews are scheduled for the next day, starting at 8 a.m. The interviews will each run for 90 minutes. Meanwhile, the candidates not being interviewed will get a tour of the district by community leaders. For lunch, all will gather at Matanzas High School, where culinary students will prepare the meal. That evening, candidates are expected to attend the district's annual awards ceremony, where students receive their scholarships. On April 21, the candidates will be interviewed again, this time one-on-one for an hour with each board member.
Every step of the process will be open to the public, though only the interviews with the entire board will be broadcast live.