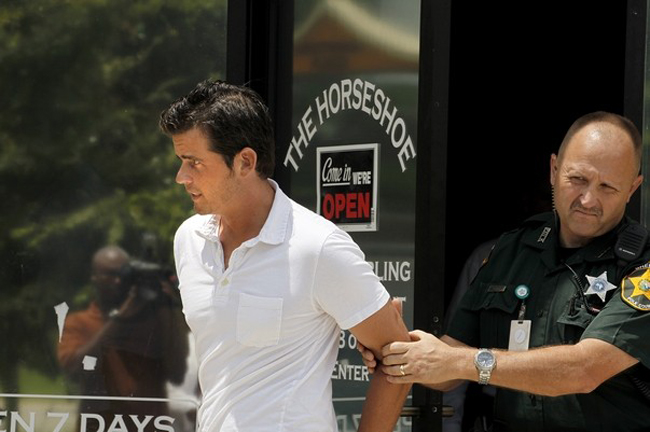 The business tucked inside a shopping center off of U.S. 27 in Polk County marketed itself as an Internet sweepstakes cafe, but Polk deputies who shut it down Monday said it was being used as an illegal gambling house.
The Polk County Sheriff's Office closed The Horseshoe and arrested 30-year-old Ryan Ault of Orlando, who they identified as the owner of the business.
Swipe cards were sold to customers who then played illegal games using software programmed into HP desktop computers, Sheriff Grady Judd said at a press conference outside the business.
Tallahassee gaming lawyer Marc Dunbar said they have become a billion dollar industry, and they are in communities throughout the state.
"We went from having none of these five years ago to having about 1,000 today," Dunbar said.
The Sheriff's Office said The Horseshoe is the only one of its kind in Polk County, but the businesses have proliferated elsewhere in Florida: At least seven such gambling halls operate in Palm Coast, and nine businesses in Bunnell, including non-profits, have gaming machines that yield cash winnings based on chance games. Bunnell and Palm Coast are debating ordinances that could recalibrate the legality of the establishments. In Bunnell last week, the city commission tabled a proposal that may have expanded the allowance for gambling machines, pending an opinion by Sheriff Don Fleming on whether the machines amount to gambling or not–and whether he'd treat them as such, as Judd is doing in Polk County.
Judd said the Horseshoe used 50 regular desktop computers that had a slot-machine screen savers. The computers recorded wins and losses on swipe cards, and the business paid customers however much money they won, Judd said.
"We're here today busting up a gambling operation," Judd said. "Some people call it an internet cafe. We call it gambling. And that is against the law in the state of Florida. It's patently clear in the state statutes that this particular operation is illegal." He continued: "I find it interesting. The Horseshoe. 'Not a gambling establishment,'" Judd said, citing the notice on the front door of the business. "But you have to be 18 years of age to win. I mean, to enter. Keep in mind, they tell you that oh, we're not gambling in here, we're selling Internet minutes. Well, if you're just selling Internet minutes, why can;t a child under the age of 18 come here and use the Internet like they can at a library? I'll tell you why. Because it is a gambling establishment, they're running a facade here. They were running a facade here. But the message is clear. If you come in this county, open up an Internet cafe to gamble, we're going to investigate you and subsequently arrest you and we're going to take your property and take your cash. So let everyone heed the warning. It is illegal and we will charge you and put you in jail."
The business in Davenport had been open for about two weeks.
As in Palm Coast and Bunnell, the cafes have defended their operations by arguing that they are selling Internet time and customers are then eligible for sweepstakes, much like other contests at some restaurant chains, Dunbar said.
But Judd said he didn't buy that the business was not a gambling house.
"You're not buying Internet time, you're gambling," he said.
The Sheriff's Office got a tip about the business Aug. 1, and Judd said undercover deputies went to it last week. They found 15 to 20 people playing illegal games on the computers, he said, and a worker at The Horseshoe told the deputies that the maximum cash payout was $300.
On Monday, deputies also arrested an employee of The Horseshoe, Angela Byers, 37, of Deltona.
Like Ault, she faces 50 third-degree felony counts of keeping a gambling house — one for each of the computers used at the business — and operating a gambling device, a misdemeanor. Ault's bail was set at $13,500 as of Monday. Information on Byers was not available Monday night.
The investigation is ongoing, Judd said, and although Ault said he owned The Horseshoe, the sheriff said it might be part of a bigger gambling business from Ohio.
"Our goal is to cut the head of the snake off," Judd said.
Whether or not Internet sweepstakes cafes are considered legal depends on where you live in Florida. Some communities have embraced and legalized the cafes while others have deemed them illegal, like in Polk County, Dunbar said.
Dunbar said sweepstakes cafes have thrived in communities in Florida where traditional casinos aren't accessible.
"Those folks can't get to slot machine casinos," Dunbar said. "It offers to them a taste of a gambling life that they otherwise can't attain."
Dunbar said the legality of the cafes is being debated in other states, as well as Florida. He said Massachusetts and Virginia have deemed the cafes illegal.
Authorities in Pinellas and Pasco counties have shut down Internet sweepstakes cafes, and the Seminole County Commission passed an ordinance declaring the cafes illegal. The ordinance is being challenged by an internet cafe operator, Allied Veterans Inc. The case is pending.
Last month, the St. Petersburg Times reported that about 100 people protested at a Pasco County Commission meeting after deputies raided Internet sweepstakes cafes. The protesters wanted the businesses to continue to operate.
Not far from Polk County, Calypso Sun Cyber Cafe operates in Valrico in Hillsborough County. Manager Angel Nicolodi said it is part of a chain that owns seven other cafes in Florida.
Nicolodi said the sweepstakes cafes are not gambling houses.
"It's not a game of chance, it's pre-determined," she said.
Christina Daugherty, who works at Exclusive Villas Florida Property in the same plaza where Horseshoe was located, said she didn't know what The Horseshoe was being used for. She said she figured it was a sweepstakes place like others that she has seen in surrounding counties.
"I'm just curious," she said. "There are some places down the road like this."
–Elvia Malagon, The Ledger, and FlaglerLive