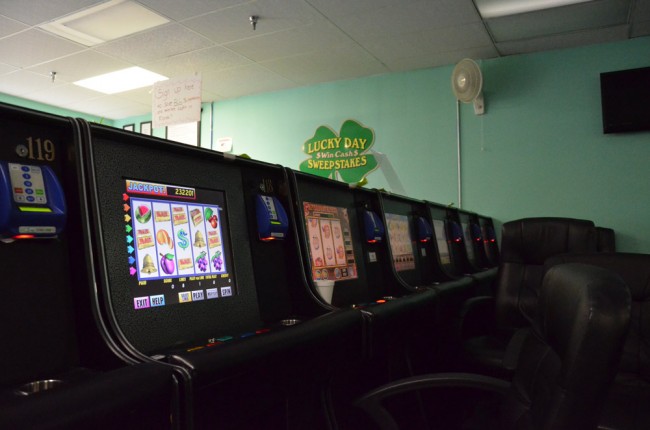 The Illegal Gaming Task Force served search warrants today in five Florida counties targeting internet cafés owned by a man in Lake Mary and another in Neptune Beach.
The more than two dozen warrants served at businesses and homes represent a continuing crackdown on the operators of illegal gambling centers around Florida known as internet cafés. The Legislature essentially banned such businesses last year. At one point at least seven of the gambling parlors had been operating in Palm Coast, but none in Flagler Beach or the unincorporated part of Flagler County.
All the businesses and homes searched today belong to either Ivan Vega of 1873 Pine Bay Drive in Lake Mary or to Peter Miller of 120 Sand Castle Way in Neptune Beach.
Vega was also arrested on a warrant from an earlier investigation conducted by State Attorney Willie Meggs of the 2nd Judicial Circuit. Vega was charged with keeping a gambling house, manufacture, sale, possession of coin operated devices, lottery, and plays at games of chance.
"These warrants are a key step in investigating organizations claiming to be 'internet cafés' but actually conducting illegal gaming," Attorney General Pam Bondi said in a news release. "My Office of Statewide Prosecution will continue to collaborate with law enforcement on these cases."
Search warrants were executed in Duval, Columbia, Marion, Brevard and Lake. (See the full list below.) During the searches, Gaming Task Force investigators seized computers, cash related to the illegal activity, banking records and employee rosters.
"These warrants will likely lead to the arrests of key figures within these organizations for racketeering and money laundering," said Florida Department of Law Enforcement Commissioner Gerald Bailey. "This is a warning to other so-called internet café operators. If you operate outside the law, you are a target."
Members of the Illegal Gaming Task Force include FDLE Agents, Seminole County Sheriff Donald Eslinger, Volusia County Sheriff Ben Johnson and the Office of Statewide Prosecution.
"This Task Force is sending a message to internet café operators who operate outside of the law. We are going to continue to enforce the laws of the state and you will be held accountable," Eslinger said.
"This is a statewide issue that demands a strong, unified law enforcement response. And that's exactly what this Task Force is delivering," Johnson said. "Businesses in Florida have been given ample warnings that internet cafés are illegal. The take-away from today's actions is that we're simply not going to put up with businesses that continue to defy the laws of this state."
In addition to warrants served by the Illegal Gaming Task Force, local law enforcement agencies served additional warrants in their jurisdictions today, including Lake and Brevard County Sheriff's Offices and Rockledge, Palm Bay and West Melbourne Police Departments and in Monroe County by State Attorney Catherine Vogel. State Attorneys Brad King, Phil Archer and Willie Meggs are assisting in the investigations along with the Columbia and Marion County Sheriff's Offices. The Brevard County Sheriff's Office arrested five internet café site managers as part of the operation.
A list of warrant locations is below.