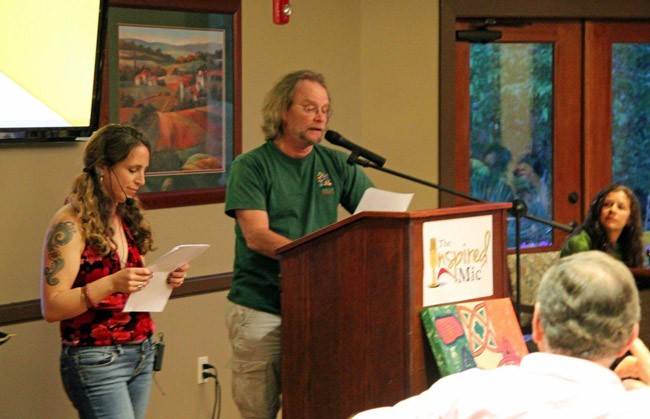 Michael Ray King's chief inspiration for starting The Inspired Mic "was to help writers overcome their fear"–a fear of speaking in front of audiences, which he once shared.  So he launched and emcees a monthly event unique in Palm Coast: an open mic evening held at Leroy's 19th Hole  on Easthampton Boulevard that now attracts some 60 people an evening, as the mid-March edition did. They come to watch an unpredictable roster of performers for the six-minute slots they're granted.  Everything is allowed: poetry, prose, political essays, war memoirs, children's books, early chapters in progress, even manuscripts relating to various aspects of music. Or magic performances.
It's on again Tuesday evening, from 6:30 to 9:30 p.m., and next month it marks its second-year anniversary.
The first two speakers of the night at March's event were military veterans. Jim Farrell read from his book, "The Extra Ordinary Banana Tree," his account of the fall of Saigon. The second speaker, Ernie Gallo, a survivor of the USS Liberty naval attack of 1967 by an Israeli air force jet fighter and a gunboat, read from his memoir: "Liberty and Justices: a Survivor's Account of American Bigotry." While the attack was reportedly accidental—Israel claimed the ship was mistaken for an Egyptian one—according to official accounts, Gallo's story recounts the personal injustices he and other survivors experienced in their own country for refusing to "lie" about the "deliberate" attack.
Michele Berg, a native of South Africa who maintains a full- time studio at the Salvo Art Gallery, began with a poignant  poem called "Bird by the Sun," about her brother, whose birthday it would have been just the day before, had he lived. "All that remains are the remnants of you. Once a snowball of passionate adventure, now you're not broken and shattered. Bird by the sun," she recited.
Bob "Sh'mal" Ellenberg got very esoteric. "We can wonder where did the being I was go? Who do we ask? What part of who we are remembers who we were?" he asked. "There's part of me who feels more Native American than my birth parentage of grandparents born in Russia and Romania."
Becky Pourchot, author of the Flagler Beach-based "Hungry Ghost" series, read alongside Tim Baker, local author of crime thrillers, in a collaborative reading of a story to appear in Baker's upcoming anthology about his mythological character, Ike.
She didn't seem to have any fears to overcome. At the beginning of the reading, Pourchot assumed the role of a nasal older woman, clearly hailing from the New York Tri-State area. "For you," she said to Ike and before the audience.  "I'd walk through the desert on my hands and knees—and you know how we Jews feel about walking through the desert." Before long, she'd taken on the personality of a femme fatale who had been forced to take cover in a running shower in Ike's "palatial" Casa Monica hotel room. While she stood clothed, next to her was Ike, completely bare, "water running off his shoulders," as he let the blood run off him—blood left behind from a head he'd just kicked in. Lying on the other side of the tub was the man, unconscious, who the head belonged to. His face was "beyond recognition."
Pourchot's character pulled the curtain shut. "I scanned the situation, several times, up and down," she narrated. "Damn this man! I wanted to devour him right there, but I refused to give him that satisfaction."
During intermission, Pourchot called The Inspired Mic events an excellent opportunity to help her up her storytelling technique— "to develop my skill as I go." She got started practicing that same technique in front of a room of five-year-olds, when she had been a preschool teacher. "That's how I learned to tell stories, because you have to keep their attention. So, basically, I started doing this, thinking my same technique that worked as a preschool teacher, thinking the same way that grown-ups are just like kids. They need to be enticed," she said.
What's different is the size of the story. Pourchot was actually one of very the first readers at the inaugural Inspired Mic, two years ago. She had had two books published at that time. She met Baker three-and-a-half years ago at First Friday in Flagler Beach, an art event. They connected.  For a time they thought authorship in the county didn't go much further than them. Not quite. The Inspired Mic, which has grown in its two years, has brought out the talent.
"When we put this thing together, it was just for writers," King said. At the first event there only 20 people, 18 of them readers.  The "Inspired Mic" has grown because people have come to understand how entertaining it is, King said.
For him, the event is the culmination of a life changing episode: King had a near-death experience. November 3, 1999. He almost died on the operating table. Peritonitis. The inflammation of the peritoneum, the thin tissue that lines the inner wall of the abdomen and covers most of the abdominal organs.
He'd been fighting it, secretly, for a long time. Not his disease, but a special ambition. A college professor had been telling King for years that he should consider a career as a writer. His refrain had always been the same: "I'm an accounting major!" But  for 20 years he'd always been what he calls "a closet writer," telling himself what innumerable failed writers tell themselves: "some day, I'll be a published author."
But then, that near fatal day. Two more hours and he would've been dead, the surgeon told him. "So from that point forward, I said, some days never happen. You have to make them happen."

Tuesday's Inspired Mic also takes place at Leroy's 19th Hole at 6:30p.m.  Presenters include: Onicas Gaddis, Kathy Fisher, Cyndi Rose, Jim Farrell, Stan Drescher, Desiree McDaniel, Mitchell Montegomery, Alexandra King, Angelica Timothy, Renny Roker, Dennis Alsobrook, Paula Felici, Jimmy Millhollin and Bodil Haheem. Beginning April 8, King started posting a profile of an upcoming speaker each day on his site, www.michaelrayking.com. That way, audiences can get acquainted ahead of time. The following May 5 event marks the Inspired Mic's official two-year anniversary and it's going back to its inspired roots—taking place at Flagler Beach's Beach House Beanery, outside. Tickets are $10 when ordered in advance or $15 at the door.