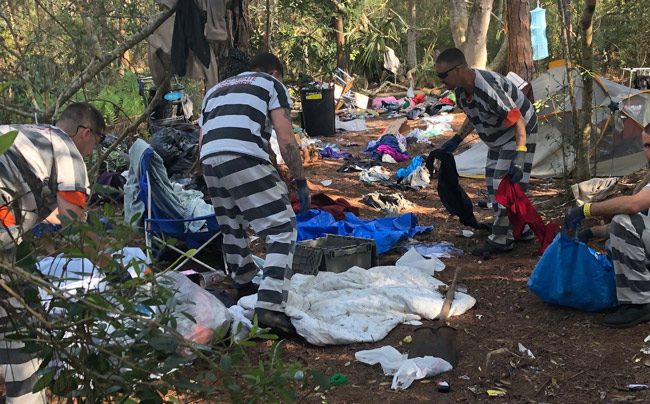 An inmate work crew from the Flagler County jail was among crews conducting the cleanup of county grounds around the Flagler County Public Library off Palm Coast Parkway this week and last.
The grounds had over the years become home to some three dozen homeless individuals, with larger numbers clustering there in the past year and a half. The grounds had unsanitary, with large accumulations of garbage, feces and abandoned property, triggering complaints from neighbors and library staff. The work was completed this week, Interim County Administrator Jerry Cameron said–and the homeless were to be granted access to the property again, since the county has no alternative for them at the moment.
The use of inmate work crews began out of the county jail last summer as part of the sheriff's "Stride" programs designed to rehabilitate offenders and reduce recidivism. For the inmate crews, it was the latest opportunity to work outdoors and, as the sheriff sees it, to save taxpayers some money. Inmates volunteer for the program, and usually do so with enthusiasm: it's a chance to get out of the jail complex and for some, a chance to develop skills they can later apply in gainful employment. As inmate workers, they're not paid–a condition that's raised the ire of prisoner advocates over the years–but the unpaid work is no different than unpaid work carried out by so-called trustees at the jail, in the kitchen, in the laundry room or on other assignments.
Currently, according to a sheriff's release, the "Inmate Work Crew," as the agency refers to its workers, provides landscaping and grounds keeping services to thirteen locations within Flagler County including the jail complex at the end of Justice Lane, the nearby fire tower training center area, the (evacuated) Sheriff's Operations Center, whose grounds must still be maintained in accordance with Bunnell regulations, and several other county facilities. By state law, wardens are prohibited from using inmates on private property.
The inmates selected to participate in are all non-violent county-sentenced inmates, as opposed to inmates in pre-trial detention (who form the majority of the jail's population). They are supervised by a trained detention deputy at no additional cost to tax payers. In addition to landscaping, the Inmate Work Crew tackles other tasks on an as needed basis like removing old graphics on police vehicles going to auction, moving furniture, and much more. During Hurricane Irma inmates filled sandbags for residents to use in protecting their homes.
Since last summer, the sheriff's office estimates that the inmate work crews have performed the equivalent of $75,000 worth of work, an amount that would otherwise have had to be paid with taxpayer dollars to regularly paid work crews.
"The Inmate Work Crew has been beneficial for everyone involved," Sheriff Rick Staly said. "The taxpayer savings from not having to pay for outsourcing these services speak for themselves. There is absolutely no downside to having the Inmate Work Crew, we are saving tax dollars and providing much needed work experience for the inmates where they learn how to use landscaping equipment. Programs like the Inmate Workforce and Stride are used to rehabilitate offenders and encourage them to turn their lives around and become productive citizens by providing them the tools to be successful when released from jail."