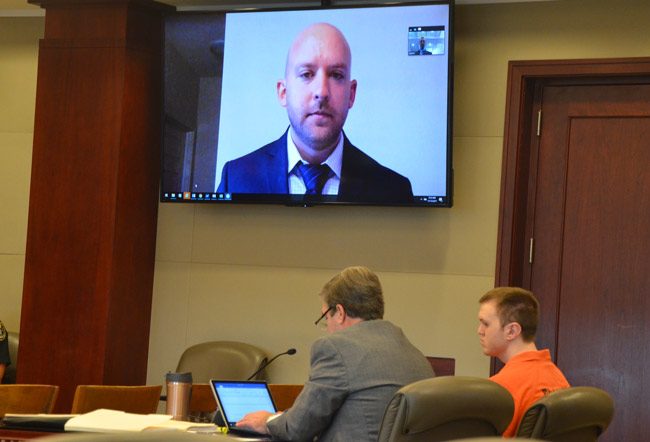 There is a basic rule familiar to most: a suspect in a crime has the right to remain silent, and the right to have an attorney present if and when speaking to police. Any information obtained in violation of that rule is not admissible in court, being the "fruit of a poisoned tree," as the legal language goes. Those rights are guaranteed by the Fifth Amendment to the Constitution and backed up by solid precedent. It's called the "exclusionary rule."
On April 6, 2015, Florida Department of Law Enforcement agents Veronica Edwards and Travis Smith broke that rule when they interviewed Paul Dykes at the Flagler County jail. Dykes days before had been booked on charges of possession of child pornography. Detectives working on the case noticed that Dykes had been in communication with someone else in Palm Coast by various electronic means, and had gotten images of that woman raping a toddler, but they didn't know who the woman was. The agent had gone to the jail to ask Dykes, and Dykes had volunteered the name and the address. At that moment, perhaps unwittingly, Dykes had become the prosecution's most valuable asset—against himself.
That broke the case wide open: the house of the woman, Erin Vickers, was searched and electronic devices seized, which led not only to dozens of charges against her, including child rape, but to evidence the state is using to pursue dozens of additional charges against Dykes, also including child rape.
Vickers, 23, was found guilty of raping her daughter last September, and still faces numerous other charges. Dykes is to go on trial over some of the charges against him on Dec. 4. (The trial was supposed to begin this week, but was postponed.)
There is no argument from the prosecution that Dykes was illegally interviewed in jail that April. Bill Bookhammer, Dykes's public defender, put forth a motion to suppress all the evidence gathered through search warrant as a result of that interview, which includes a lot—but not all—of the evidence the state has arrayed against Dykes in the upcoming trial. If that interview was illegal, then Bookhammer should have had little trouble winning his exclusionary rule motion, which he argued in court this morning.
He did not.
There is often a sense of inevitability—of fatalism—in many cases at the trial level, especially high-profile cases that draw a great deal of state resources to prosecute, and that happen to be built on a very large amount of evidence, however some of it may have been dubiously obtained. No matter what the defense throws up as objections, the conclusion is largely foregone. The momentum and scabrous nature of this case had it heading for trial no matter what, as no judge was going to "excuse somebody or give them a free pass"—in the words of the prosecution—if he could help it. In this case, the inevitability was framed in legal precedent.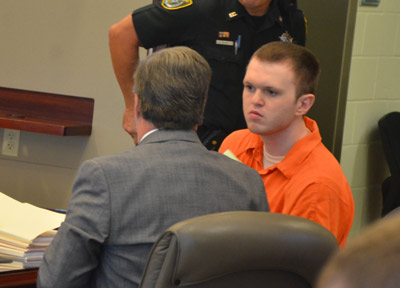 It so happens that detectives legally obtained plenty of additional evidence linking Dykes to possession of child porn, with hundreds, possibly thousands, of images and videos (Assistant State Prosecutor Jason Lewis was not precise about his distinction between hundreds or thousands of items). So they could have tried him on just that. But the most incriminating evidence, visual evidence linking Dykes to a child's rape, was in Vickers's possession, and it was that evidence his attorney was seeking to keep out of the coming trial.
And those allegations are what they are trying him for come Dec. 4, which alone, if he is found guilty, could result in a life sentence without parole, making the remaining dozens of charges moot if not for appeals of the more severe conviction.
In other words, much rode on Bookhammer's motion to suppress: winning it would make the defense's case much easier and unravel the prosecution's case.
That's when the sense of inevitability kicks in—when the question isn't whether the search following the illegal interview was illegal, but how it would be determined to be legal by the prosecution and the judge, who was the ultimate arbiter on the motion.
Even in constitutional law—especially in constitutional law—nothing is absolute. There is a Fifth Amendment right against self-incrimination. But there are exceptions when it comes to the results of an illegal interview. It's called the "inevitable discovery doctrine."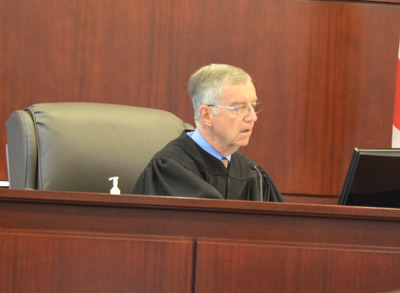 It's not in the Constitution. Rather, it was carved out of the exclusionary rule in a famous footnote to a 1977 Supreme Court decision and affirmed as precedent in 1984. Those cases left intact the protection against self-incriminating statements, but opened the door to protecting evidence gathered through illegally obtained statements as long as that evidence was going to turn up anyway. How that evidence would turn up so inevitably was never specified, leaving it in the realm of speculation, a fundamental flaw in the inevitable discovery doctrine that prosecutors have been exploiting to great effect since. As the prosecutor did in Dykes's case.
Yes, when Agent Whiteside's colleagues interviewed Dykes at the jail (Whiteside himself was not available that day) he did so illegally and therefore the information obtained as a result was unconstitutionally acquired. But, Lewis argued before Judge J. David Walsh this morning, FDLE agents had been working on the case enough that it was just a matter of time before they zeroed in on Vickers and her home anyway. Figuring out who she was would happen regardless. Because it was "inevitable," the evidence obtained in the search of her home should not be thrown out.
"There's too much of this what if or maybe or could have or we would have," Bookhammer said in his argument before the judge, referring again and again to the speculative assertions of the prosecution. "That's too much to assume." The agents after all were searching for laptops and phones: how could they be so certain that those "mobile" pieces of equipment would be at the house, Bookhammer asked.
But Bookhammer himself knew it was a long shot: until the trial was postponed, it was supposed to begin this morning, immediately after the motion to suppress, even though, had a judge ruled in favor of the defense, the prosecution would have had to rethink its strategy and rebuild its case on scantier evidence. That's why Walsh's ruling was no surprise. (Walsh retired in 2015 but is called in on senior-judge duty to fill in when other judges are not available. Judge Dennis Craig would normally have presided over the motion. He is presiding over a trial in DeLand this week and next. Walsh, in any case, had been the sitting judge when Dykes was first arraigned.)
After going over the cases the two sides siubmitted to justify their positions, Walsh found the prosecution had made "a reasonable showing" that the evidence against Dykes would have been discovered through Vickers whether he had spoken to an FDLE agent or not, as "there already was an intense investigation under way."
He said the conclusion was "not speculative." Therefore the evidence against Dykes is admissible "as an exception to the exclusionary rule."
Dykes was in court throughout, looking ahead either because he was paying attention intently or because his mind may have gone elsewhere—as it sometimes does, according to his mother's testimony last month. She herself sat in the courtroom, the only member of the public—other than a reporter—as she has throughout her son's proceedings. At the end of the hearing Dykes shook hands with Bookhammer and was led away, back to the county jail. His next appearance will be without chains and in civilian clothes, when his trial begins on Dec. 4, with jury selection.
Correction: An earlier version of this story had incorrectly stated that Agent Whiteside had interviewed Dykes at the county jail, when in facet FDLE Agents Veronica Edwards and Travis Smith did so.