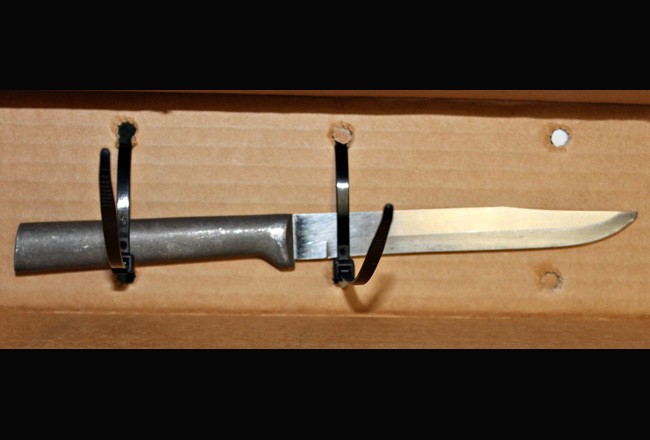 A 13-year-old Indian Trails Middle School student, on probation over a drug charge, was arrested Tuesday on a felony weapons possession charge for taking a knife to school after authorities discovered he had allegedly given a stolen .380 Glock 42 to a friend. The Glock was apparently not taken to school, but had just been reported stolen.
The student, Marion Gavins, likely faces expulsion from the school under the district's zero-tolerance weapons policy. He was released to the Department of Juvenile Justice and placed on home detention supervision.
The Glock was reported stolen by a W-Section resident on Tuesday, from the resident's loaner car, after the car had been parked on Woodhaven Drive. The resident wasn't sure when the crime had occurred, but believed it was over the weekend, according to a sheriff's report. The resident reported the theft around mid-morning Tuesday.
A couple of hours earlier, a Flagler County Sheriff's deputy had responded to a house on Paul Lane in Palm Coast, where a 42-year-old mother had learned that a gun may have been hidden in her son's room. Her son is friends with Gavins. According to the incident report on the case, the unidentified boy had recently joined a gang and received the firearm as a result.
The mother went to her son's room, found a silver metallic box, and found a Glock wrapped in a yellow bandanna inside. She also found two pairs of sunglasses, a wallet containing a birth certificate and a Paul Lane address written on a piece of paper. None of the items belonged to her or her son. She described how he had recently begun hanging out with two other boys, one of them Gavins, whom she described as "trouble," as she knew that Gavins was on probation, but didn't know the reason why.
With the mother's consent, the room was searched but yielded no additional items of concern. The deputy then asked and received permission to interview the woman's son at Indian Trails that morning.
When the boy was called down to the dean's office, he disclosed that the gun had been passed to him by Gavins, who was then called to the dean's office as well. Gavins would not speak to either the investigator or school administrators about the matter, asking, as is his right, to have his lawyer and mother present first. But because of the nature of the case, Justin Cronk, the dean, searched Marion's backpack, and found an 8-inch kitchen knife concealed there.