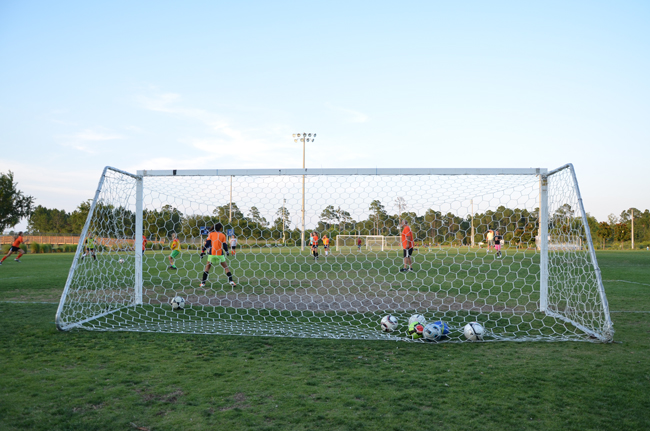 The Indian Trails Sports Complex is expanding for the second time in three years, a reflection of Palm Coast's success in attracting quality sports tournaments that draw thousands of out-of-town visitors to the county, filling restaurants and hotels. The Palm Coast City Council Tuesday evening unanimously approved expanding the complex from eight fields to 10, just three years after the complex was expanded from four fields to eight.
The project fits into the city's Prosperity 2021 plan, which envisions a city focusing on spurring the growth of small businesses and niche sports and other special events. The plan doesn't rest on speculation but on demonstrated increase in the city's and the county's ability to attract state and regional events to the area. There were just 10 tournaments in fiscal year 2012, with visitor spending at $2.7 million, according to city estimates. The following year, there were 14 tournaments, and $3.1 million in spending. Some 24 tournaments are scheduled at Indian Trails this year, with spending increasing apace.
One of the reasons for the city's success is the quality of the fields at Indian Trails. "It really gets back to our employees and our staff who really work hard to keep these fields in premier condition, and the word is getting out," Louanne Santangelo, the city's parks and recreations director said.
A tally of those events in the last eight months points to the success: A three-day soccer tournament in mid-October brought 82 teams and a total of 1,148 participants. Estimating 2.5 spectators per participant, the tournament drew 2,870 spectators. A lacrosse tournament around Veterans Day drew close to 5,000 spectators and almost 2,000 participants, with an economic impact of more than $500,000. The State Cup Soccer tournament in late March drew 60 teams, 840 participants and 2,100 spectators, with an economic impact of more than $100,000.
The city's own public works department—not a contractor—will start work in June, at a cost of around $200,000, mostly to cover materials, not labor. "This is part of their schedule for the summer," City Manager Jim Landon said, meaning that no staffing needs be added to the city payroll to complete the work. "I can assure you this crew of ours is very popular right now, has a number of projects we all rely on and saves us all a lot of money."
The $200,000 is budgeted in the city's capital improvement program. The county's Tourist Development Council is expected to approve a $150,000 grant to cover most of that cost. That money is drawn from the county's 4 percent bed tax, levied in addition to the regular sales tax on all motel, hotel and short-term rentals. It was another $150,000 grant that underwrote the expansion of Indian Trails three years ago.
TDC capital dollars are awarded to any local non-profit or government agency that invests in projects that, in turn, draw more overnight visitors to the county, and compel those visitors to spend nights and dollars in the county. "We have overwhelming data to demonstrate that," Palm Coast Mayor Jon Netts said.
A half dozen people addressed the council about the initiative, mostly in support, but also with cautions about lacking parking at the sports complex—even before the additional fields are built—and bathrooms that are in short supply. (The complex could use additional bathrooms, Landon said, but portable bathrooms are also in place, though most people don't like using them.) Parkview Baptist Church and Indian Trails Middle School both accommodate overflow parking, Landon noted. "Having an empty parking lot is not necessarily what your desirable situation is," Landon said. "We know that parking is a problem and we're working in trying to solve that."
Palm Coast resident Norman Weiskopf was critical of the project—not because it isn't worth completing at some point, but because other, worthier projects should be done first. His suggestion: the dog park at Holland Park, which he said attracts visitors from out of state as well, but still "looks like a pig pen." He also cited sidewalk construction and street lighting. "It's pitch dark on my street where I live. You can't see anything, it's dangerous, and I think it encourages crime," he said. Landon, the city manager, said the Indian Trails project is not slowing down scheduled improvements to the Holland Park dog park which, in any case, could not benefit from TDC dollars.
Gretchen Smith, who usually addresses local government boards as the government affairs representative for the Flagler County Chamber of Commerce, did so this evening as a mom who travels a lot on away lacrosse games for her children. "To be able to have the pride to have more fields here and more events here and the kids to be able to say we have home town advantage," Smith said, "I think that speaks volumes, and so kudos for the expansion and I hope it goes through."
The council voted 5-0 to approve.