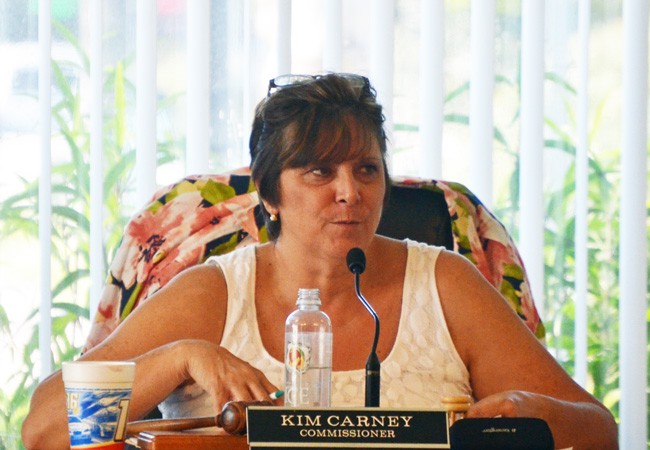 I was not going to dwell on this issue, but the action of the Flagler Beach City Commission tonight compels it, as does the continued and astounding, but perhaps not surprising, inappropriateness of Commissioner Kim Carney. Not surprising, because it was just seven months ago that fellow-commissioner Steve Settle tried to have Carney removed from her chairmanship. Her loose cannons were becoming artillery. At the time I thought the move heavy-handed. I might owe Settle an apology.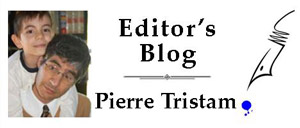 Marshall Shupe, the commission chairman, took a few moments toward the end of tonight's meeting to apologize, on behalf of the commission, for comments Kim Carney had made "relative to a private matter."
Shupe was referring to Carney's involvement in the case of James McDevitt, the Palm Coast resident who last week pleaded guilty to raping a woman in Flagler Beach in 2013. He's awaiting his sentencing in May.
Carney is a friend of the 22 year old's mother, Lisa McDevitt, and has led fund-raisers on her behalf. No one begrudges that involvement. But Carney went much further. She sought to discredit the victim of the rape and elicit a story from FlaglerLive to that effect, while also attacking the local judicial system and the victim's advocate system. Her comments were published in a FlaglerLive story the day of McDevitt's plea, when Carney was in the courtroom. After the story appeared, she directed further insults at me, saying she'll never speak to me again. Not a problem: in light of her behavior then, and again tonight, I would be the fool to seek her out again outside of quoting what she may say on the commission. He credibility was suspect to many, though I always gave her the benefit of the doubt. Her moral credibility, however, is beyond repair. There are certain people—I can count them on less than a hand—whose input in this community I never seek out, however "high" they may be placed, or think they are. She is now one of them.
It was not clear which part of Carney's inappropriate remarks Shupe was referring to. There's so much to choose from. But I was glad he said what he did, even impressed: our elected officials rarely speak so forthrightly about one of their own, especially when media are involved in any way. I will quote Shupe's eloquent words tonight, then add the context of Carney's earlier remarks, in full, so there's no doubt left about the record.
"We all know that our comments are held in high standard because we are elected officials," Shupe said. "We must realize that what we say and do reflects on the city as a whole. Although others can speak and write their personal opinions, we as elected officials must be cautious. The comments, as they've been quoted, and I'm assuming, when I read something in the media that has quotes around it, it is accurate, made by Commissioner Carney relative to a private matter, have embarrassed and angered citizens of Flagler Beach. I would request that we, and I don't know if this is appropriate or not, but I think that any commissioner or public official that is not aware that they should be censured, maybe we as an elective body needs to censure any positions so that it doesn't portray the city or any residents in a negative light."
"I was misquoted and I accept that," Carney then said tonight, immediately after Shupe, and, of course,  incorrectly: she was not misquoted. (See below.) "Yeah, there's a whole long story there that never came out, it never will come out, so I do understand it, it was not vindictive at all. But having—I've cleared things up with Pierre, so it's unfortunately the way he took it."
Shupe: "It's still out there and he did put quotes."
Carney: "He did, and he also took it, put one or two words in that—he didn't keep going."
For starters, Carney and I haven't "cleared things up." That makes two misstatements in the space of three sentences tonight, with another McCarthyist innuendo thrown in between: the allegation of that "whole long story there that never came out," repeated again tonight, is just what got her in trouble in the first place—the implication that she knows something the rest of us don't, excusing her scurrilous attacks on the woman who got raped, and her unfounded attacks on law enforcement and the justice system that handled the case subsequently.
Let me explain why Carney was quoted in the April 16 story about McDevitt's plea.
In early March I made a public record request for McDevitt's court file in order to prepare for his upcoming trial, which at the time had been scheduled for mid-April. He had not yet decided to take a plea.
Somehow, Carney found out about my request. That may be a story for another day. Shortly after I made the request, I got the following email from Carney. It was addressed to my FlaglerLive email, it was formal, it had no off-the-record preface. To the contrary: she was seeking a story. Here's the email in  full, with necessary redactions explained below:
Pierre,

I am contacting you to make sure you know who James McDevitt is.  James is the son of Lisa McDevitt the Director of the Flagler Auditorium. I do not know that you will do a story on his upcoming trial, however, I'm asking if you are that you talk to his friends and family as well as Pastor Charles Silano.  This young man may have made a bad decision, but not something to put him in jail for the rest of his life.  I have learned so much from standing side by side with Lisa through this horrible injustice.  I hope you will join with me after this is resolved to uncover an absolutely inadequate, inefficient, inept Flagler County judicial system.

If you find it necessary to do a story, please remember the family and friends that are going through hell.  IF you want the real story we will help you.  The woman's, almost twice his age, name is [REDACTED]. This case is being used to promote a totally useless Victim's Advocate system in Flagler County.  The District Attorney is asleep and only wants a conviction, of course keeping him in jail for almost 2 years they have to "justify" themselves.  James is the victim believe me.  [REDACTED]  She herself is [REDACTED].

Call me if you need the real story.  Again, I ask you to keep the family in your thoughts as you move forward.

Thanks,

Kim
Below Carney's signature appear these two lines: "Flagler Professional Women" and "Woman of the Year 2013." With women like that ("James is the victim believe me") misogyny needs no men.
The redacted parts of the email are where Carney named the victim and went into her background at length, to discredit her. None of it can or should be reproduced: it would be as vile as Carney's implications.
The email was disturbing on many levels. I'm used to getting manipulated. All reporters are. But this was offensive through and through. I have no reason to be unsympathetic to Lisa McDevitt, whom I know well, have worked with and advertised with, as she continues to advertise the Auditorium on FlaglerLive. But that relationship was not going to influence what coverage the McDevitt issue had received in 2013, and there was plenty of it, nor the coverage it had to receive this month, and will again receive next month.
At the same time, it would have been unethical to go near a story like the one Carney was suggesting at the time, outside of court records. And the premise was based on something utterly revolting: blaming the victim.
I'm not sure if Carney called me or I called her: the Sea Ray zoning matter was going on around the same time, and Carney, who'd never hesitated to try to use the site to her advantage before, wanted FlaglerLive to give voice to the rezoning's opponents. But when we spoke, I told her that I found her email improper, especially because of her public role as a commissioner: this was not the sort of thing she could publicly and cleanly involve herself in, nor was it the sort of story that any media would pursue outside of the bounds of court records and the suspect's background. However honorable or prominent, his family, to put it bluntly, was irrelevant as far as the case and the coming  trial were concerned. Carney spoke of things along the line of the real story and what stories the depositions were telling. If I could have access to depositions, I'd look at those, I told her, since they are part of the record. That had been one of my purposes behind the public record request. But depositions aren't usually made public until trial.
Carney's email could have been a story in itself: for a city commissioner to reflect that sort of abject thinking, and to push in the direction she was pushing, was newsworthy and revealing. I did not sit on the story for Carney's sake. I did so because publishing that story before trial would have given Carney's motives some play regardless. It would have to wait, and be correctly calibrated: once McDevitt had pleaded, Carney's role was revealed toward the end of the story.
I then received her second email, with the subject-line, "Thanks." The email in full: "This email is to serve as written notice that you are NEVER to call me for a comment about ANYTHING in Flagler Beach again.  I have your phone number blocked.  I have your email address blocked. I will not respond so do not attempt to call me.  My relationship with you is over.  You are a media whore." (With the same woman-of-the-year honors under her signature.)
I don't mind being called a whore. All reporters are whores in one sense or another, whatever they do: it's the nature of the job. But those last five words in the McDevitt plea story were paraphrased as "a sexually laced expletive," because I don't think Carney used the word whore only in reference to me, but as an echo of her vile thinking about the case. She chose the word purposefully, and I think ignobly.
That blame-the-victim narrative is what so many people have rightfully found insulting, and what has tainted the commission she serves on and the city she serves.
Some 45 minutes after I got her email, I wrote her my last five words: "Your inappropriateness has no bounds."  That's been it between us. Nothing's been cleared up, because nothing needs to be. Needless to say, there's been no misquoting. And my fear is that there's been no mis-speaking, either: these seem very much the words Kim Carney believes. Judging from tonight's remarks, she either has no clue or seems intent on sticking to her noxious campaign.
I can't conclude with words any better than those Commissioner Steve Settle spoke tonight at the end of the discussion: "I want to thank Marshall for bringing this, it took some guts, I'm glad you did. All I would like to say is I for one want to distance myself from those comments because they're absolutely contrary to what I believe and what I will ever believe. So thank you Marshall. I'm glad at least we're facing it publicly."

Pierre Tristam is FlaglerLive's editor. Reach him by email here or follow him on Twitter @PierreTristam.