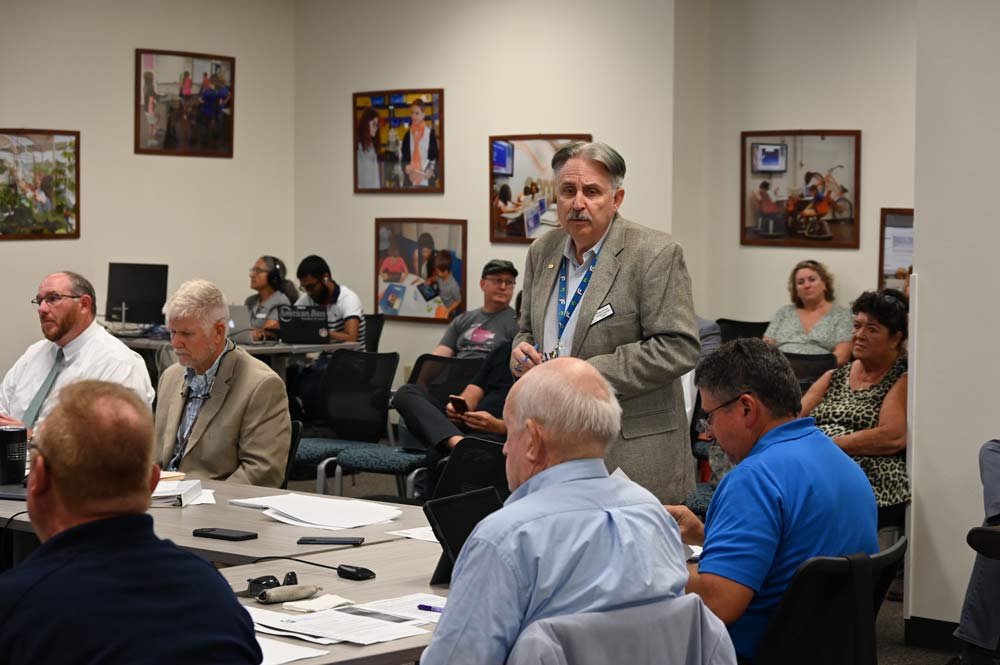 Are Flagler County's public schools adding students? Will the district need to build new schools? Should it be drawing money from developers today even though it has no certain plans to build schools yet?
Those questions were asked and answered with varying degrees of certainty and a lot more disagreements on Thursday in the latest meeting of a joint committee of local government representatives in charge of reviewing how much money developers are required to pay to defray the cost of new school construction.




It is the so-called "ILA Oversight Committee" (ILA stands for "interlocal agreement"), with two or three elected officials from each of the county's major governments–te school board, Palm Coast, Bunnell, Flagler Beach. It meets periodically in compliance with the agreement, and to decide whether the county's student population growth, such as it is, has triggered the next milestone that would require builders to pay $500 more in school impact fees per house.
Right now they pay $5,450 per single family home. The school district last year wanted the fee set at $7,175 (raising it from $3,600). Builders and developers objected, so did the County Commission and Palm Coast government, saying an increase that sharp was not warranted, because school enrollment figures have been flat for a decade and a half. They're right. Enrollment figures are still flat, with the only growth seen in charter and online schooling. Online schooling doesn't require new schools.
So the new impact fee was set at $5,450. Builders normally pay it at the time the house is going up. But in some cases they have to pay a "proportionate share" ahead of time, if their development is of such size that it would require the district to prepare building a new school to accommodate the influx, sooner rather than later. If the school district can convincingly show that it needs to build a school sooner, than it has a stronger argument for collecting that "proportionate share" sooner. If it doesn't, then builders and developer have a stronger argument against paying that proportionate share.




That makes school enrollment figures and enrollment trend key to the discussion. It also makes the validity of school enrollment projections and the method of calculating growth key premises to the discussion, if everyone is to be on the same page.
The problem is: the various governments, plus the builders and developers, are not on the same page. Thursday's meeting of the ILA committee was not nearly as contentious as those meetings had been last year. But civility did not mask deep disagreements over the most important figures.
The school district thinks it will be adding 200 students per year, and that every 100 new homes in the county and its cities are generating 24 new students. The district thinks it will have to build a high school before the turn of the decade, and a middle school soon after that.
Palm Coast, Flagler Beach and the builders don't agree. They consider the 24-student-per-100-home somewhere near preposterous. They don't see the 200-a-year growth. And if anything, as both James Sherman and Jane Mealy, the Flagler Beach city commissioners, cautioned from different angles, they see a possible enrollment cliff in the next decade, which could potentially leave Flagler County with empty schools. (See: "33% Increase in Flagler's Population, 0% Increase in District's 9 Public Schools' Enrollment Over Past 17 Years.")




"We are increasing in students, somewhere between 1,000 students in the next four to five years," William Whitson, the district's intergovernmental planner, told the committee. "If you look at the 10-year forecast, you're looking at 2,000 to 2,600 students in the next 10 years. And it's expected to grow." 
"As we sit right now, we're good," School Board Chair Cheryl Masaro said. "We're in sound position, number wise. And it looks at this particular point even historically, we're definitely going to do 200-plus every year, and stay that way for a little while." 
On paper, the numbers are on the district's side. Palm Coast and Flagler County are still growing substantially, though not as fast as last year, when the county and its cities issued a combined 3,000 residential building permits. In the first six months of this year, only 817 building permits have been issued. But no fewer than 6,000 housing units–single family homes, apartments, duplexes, town homes–have been approved for construction, though not yet issued a building permit. So a lot more growth is ahead.
Going by the district's 24-students-per 100 home ratio, those 6,000 homes would generate only 1,440 students. But the county has added thousands of homes over the past decade, yet public school enrollment has remained static. Why? Because the disproportionate majority of the county's influx of new residents is of people 55 and over, people without children, while the proportion o school-age children has diminished. Also, because there has been substantial growth in private and home-school enrollment, and now the state is offering $8,000 in public money per student if parents want to enroll that student in private school or educate the child at home. All of those things have been a drain on district enrollment, and appear only set to accelerate, not diminish. Only a surge in population could reverse the trend.




School Board member Colleen Conklin said those very factors leave open the possibility that many families sending their children to private school, or home-schooling them, could change their mind for any reason and shift their children back to public schools. That would create a crunch the public schools have to accommodate.
"I'm not disagreeing," Palm Coast Mayor David Alfin said, "but based on current predicted political trends with regard to schools, the risk of a significant movement away from the charter/private programs, I've not seen that ever happen anywhere before. So it would be a first."
"There's no history of it going one way or the other way, because it's brand new to all of us, and even brand new to many of the states that are engaged in it," Conklin said. "So it could go where you have a larger number of students actually attending homeschool and private schools, which would create a shift, and it could go likewise in the other direction, you just don't know."
What is known are the current numbers, and the current numbers argue for a trend in favor of private and homeschooling rather than the other way around. The district last year had roughly 500 students benefiting from the state's private-school "vouchers," a school official said. That was before the new law kicked in the $8,000 per student, no matter what the socio-economic background of that student's family may be. Millionaires qualify for the money.
The committee debated those points Thursday, each of its members taking one position or another, without resolving the long-term issues. They could only agree to this, so far: Flagler County schools' enrollment is growing and in fact as of Thursday, its enrollment of 13,571 students was almost 200 students more than at this time last year. But that includes about 150 students who are attending online. It is doubtful the district will add 300 more students by October, when the official calculation is made and the trigger point for an additional $500 in impact fees is reached.
Michael Chiumento, the land use attorney who represents innumerable developers and some of the largest developments in the county, questioned the district's studies, which have conflicting numbers even though the studies are only three years apart–2020 to 2023. In 2020, the district's study cited a student-per-home ratio of 14.5. In an impact fee last year, the rate was listed as 19. This year, the latest study puts that figure at 24. (Officials refer to that ration as the "generation rate," as in: each home generates so many students.) Clearly, those figures can't be that fluid. He also pointed to the sort of "bubble" that Sherman and Mealy alluded to, and that may be forming in the county: elementary school enrollment is proportionately lower than middle school and high school enrollment, which means that future years could see a decline in the higher grades' enrollment.




"So we're concerned that the generation rates aren't correct," Chiumento said. "We're planning on spending millions and $100 million dollars on schools that may never come to fruition, or that could even be built because we know you're not going to build a high school unless when they move in it's going to be about 60 percent full."
Greg Blose, a representative of the local chamber of commerce was more truculent was he hectored the district about doing what the district is legally entitled and required to do–collecting impact fees, but, in Blose's view, only to let them sit in a bank account. He also claimed, falsely, that the district's information on impact fees was inaccessible and insulted the committee's work as "almost like a rubber stamp deal." Conklin corrected him, calling his screed "disingenuous" and, though she did not use the term, cherry-picking: the district did rezone last year, sending sixth graders from elementary schools to middle schools, to alleviate pressure in some elementary schools and balance out the numbers, while designing the expansion of Matanzas High School, now under construction, with those dollars Blose claims were sitting in bank accounts.
Still, the signal to the school district from builders is that its figures are not as solid as it projects, and the tug of war between the district and builders, if not two other cities, at least over school impact fees and proportionate share requirements, has not been put to rest.