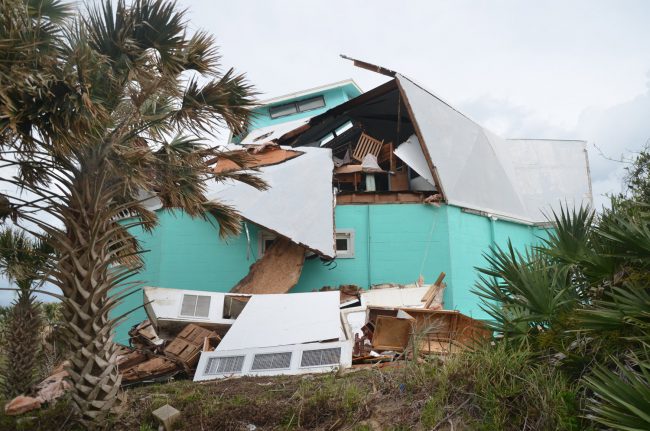 When he was running for a Flagler Beach City Commission seat 11 years ago, Warren Sanson was asked in an interview whether he thought the city was prepared for a hurricane. "Right now," Sanson replied "we have a little geodesic dome that is down the street from me. It's an ugly little structure but the truth of the matter is, if we get a pretty direct hit, like Daytona Beach, or even if it is reasonably close, like St. Augustine – it doesn't even have to be a direct hit – probably pretty much the only thing that is going to be left on the island is that geodesic dome."
Flagler County was under a tornado watch, with severe storms popping up all over Northeast Florida, though somehow avoiding Flagler. Except for something that may have happened at around 2:30 p.m. near the north end of Flagler Beach, right around those two iconic geodesic domes sitting like gargantuan mushrooms since the early 1980s between the Oceanside condominiums and the Si Como No Inn.
The only thing that suffered was the larger dome. It collapsed.
"We were in the trailer. The trailer went like this," Daniel Farley, who co-owns the building with Emmett Mood, said, gesturing to show how the trailer rocked significantly, like a boat struck by a big wave. "It sat back down, and the rain was going sideways so hard you could hardly see, and it just took it out."
But it's not certain that there was a "microburst." Bob Pickering, the weather specialist at Flagler County Emergency Management, said he had "a trained weather spotter right there when it fell" (she called fire rescue to the scene) "and no severe weather was observed at the time of the incident."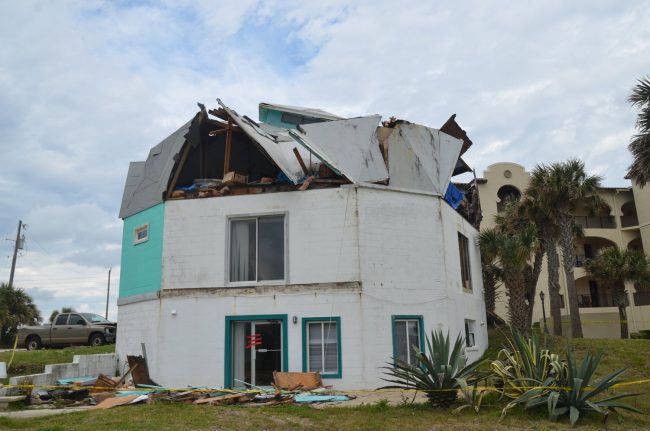 Either way, no one was injured. No one was living in the 5,000-square-foot building. Emmett Mood had bought the building in 2003 for $200,000 from a group called Life Forces Research Foundation, a non-profit corporation with an Oregon address, according to property appraiser records. It's not exactly clear when Farley became an owner. He says he's been at the properties for 18 years.
The second dome house, to the north of the damaged one, is smaller, at 4,000 square feet, but more valuable, and lived in by two renters. It was only recently that Farley had managed to finish the re-roofing of the smaller dome, after Hurricane Matthew. "We were having a hard time finding a roofer," he said. Work was progressing on the larger dome too.
But it won't look as iconic anymore. "We're just going to go ahead and tear it down," Farley said. "We're going to tear down the top off and just put a flat roof on, until we decide what we're going to do." Farley had kept it for storage. Previously, there was interest from some people to turn the building into a biker bar. "I didn't want a biker bar next to me," he said.
So why the shape of those domes? Something to do with "healing power," Farley said, his voice more skeptical than necessarily believing as he spoke in this afternoon's gusty winds, standing between the two structures. "That's what we were told," he said. "You know, we've heard so many things." But now he'd like to sell them and move down south to a house on a small island off the Brevard County coast.
The collapse saddened him though, "because a lot of people liked these domes," he said. "But I just don't want another dome roof. I'm going to put something else on it." Meanwhile, yellow "do-not-cross" tape wrapped around the building from palm tree to palm tree, and a stop-work order was posted on the relic's door.
Sanson didn't win the election when he predicted the survival of the domes even in a hurricane. He has since stuck to his day job as a math teacher at Flagler Palm Coast High School.